Reliance has indeed changed the internet landscape of India by announcing voice calls free forever, and eliminating the roaming charges. The provider has also stated its data charges to be the lowest in the country at Rs. 50 per GB. The announcement has raised a new hullabaloo across the market. Counteracting the existing Jio tariff may sound tough for its competitors (although there are tariff reductions getting announced here and there), but there are several acts simultaneously occurring to slow down the buzz Jio has created.  One such attempt has appeared in the form of documents that are allegedly being circulated to dealers and retailers by incumbents teaching them how to tackle questions about Jio by subscribers and convincing them that incumbent operators' networks are better.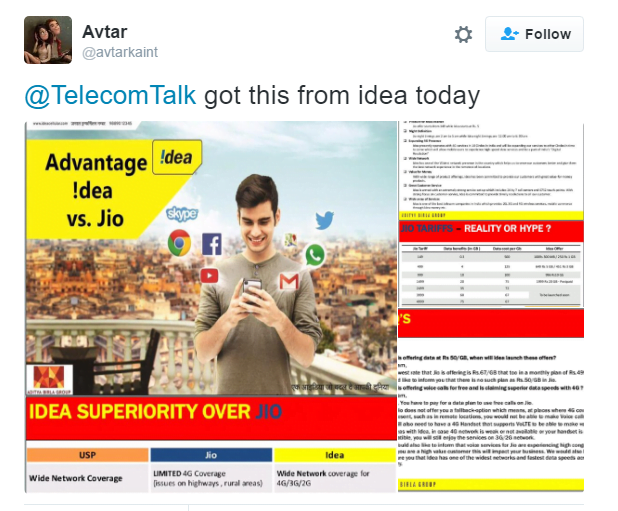 The three documents – Airtel v/s Jio, Vodafone v/s Jio and Idea v/s Jio– contain data to showcase why the Jio plans are a marketing gimmick. It compares the merits of the incumbents to the drawbacks of Jio. The primary drawback of Jio stated in the documents is that "Jio is a 4G only network", meaning in the case of poor network/no 4G coverage, the services of Airtel and Vodafone allows a fallback to 2G/3G networks. In the case of Jio, poor coverage will lead to call drop. Also, the 4G services of Airtel and Vodafone work on all handsets whereas voice calls of Jio works only on selected 4G handsets supporting VoLTE.  Moreover, the documents point out that Jio's welcome offer is limited only to one registered handset. The benefits will get lapsed if the user changes the handset. In India, 4G coverage still is limited across the country and hence, Jio can survive only in places where there is good 4G coverage.
The documents, carrying the branding of Airtel and Vodafone, also have attempted a tariff comparison. "Jio is not offering Rs. 50 per GB in any mobile plan. Lowest rate offered is Rs. 67 per GB. Voice user needs to shell out a minimum of Rs. 149, whereas a data user needs to shell out a minimum of Rs. 499 for service," stated the documents. "The lowest rate that Jio is offering is Rs.67/GB that too on a monthly plan of Rs.4999."
Airtel v/s Jio Plan Comparison in the document: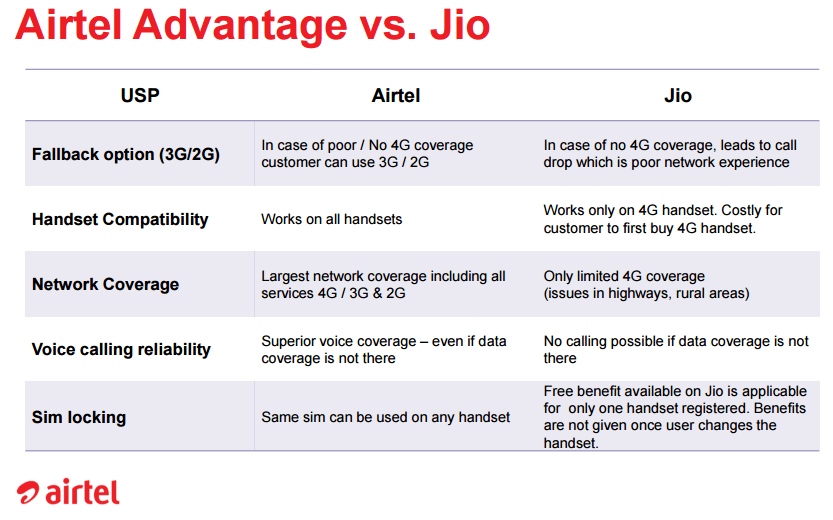 Airtel has declined to comment about the documents getting circulated under their brand name. Let us know your views through the comments section.