India has been one of the central markets for smartphone makers, but according to a report by International Data Corporation (IDC), the growth is falling short. To be specific, the smartphone sales in the 50 major cities of India dropped by 30.5 percent from October 2016 to November 2016 (month on month basis).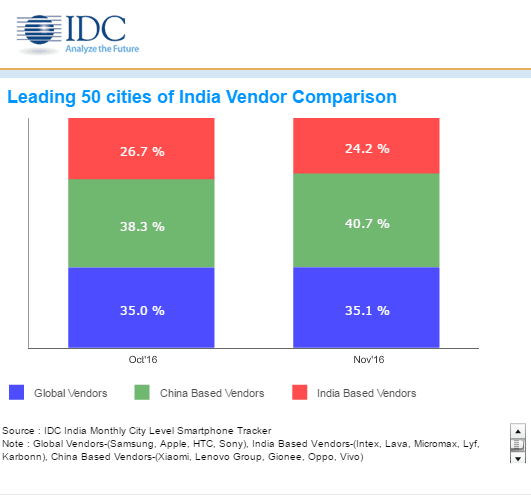 One of the major perhaps obvious reason behind the downfall is demonetization. The cash crunch contributed to the season after festivities.
IDC India's Senior Market Analyst, Upasana Joshi said,"Demonetisation has impacted the smartphone market at almost all levels including the customer demand and stock movement in the distribution channels. The slowdown was seen across all city tiers, with a de-growth of 31.7 percent in Tier 1 cities and 29.5 percent in Tier 2,3 & 4 cities in Nov 2016 over Oct 2016. There was a huge drop in inquiries and significantly reduced footfall at the retail. To counter this, mobile phone retailers together with microfinance companies started offering zero down payment options to stir sales."
Also, Joshi said that the sales of flagship devices witnessed growth, thanks to demonisation that pushed consumers to use the old currency to buy expensive phones. Vendors in India faced significant blow from demonization; there has been a decline of 37.2 percent in November, last year across 50 major cities in India. On the contrary, vendors in China had only faced 26.5 percent drop while global vendors marked 30.5 percent drop.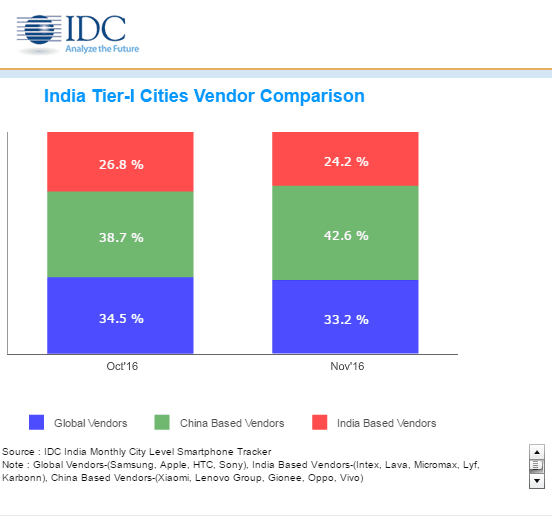 Speaking about the impact of demonetization on flagship sales in India, IDC India's Senior Research Manager, Navkendar Singh said,"The demonetization came on the heels of a hit festival season in Oct, during which the smartphone industry is expected to have sold around a third of entire years' volume. Cash purchases make up a significant portion of these purchases in both online and offline channels. Hence the impact seen was immediate and more in below $200 price range which still makes up a large portion of the market."
In China, the vendors enjoyed an improved market share in November due to their better marketing tactics and credit line that lead consumers to invest more in buying products. In contrast, the Indian vendors suffered a decline in November due to demonetization and also the lack of good range of devices available for offline selling.