According to latest COAI subscription data, India's GSM subscriber base grew to 781.14 million with GSM telecom operators including Airtel, Vodafone and Idea together adding 2.09 million subscribers in August. The combined subscriber base grew upward even though Jio was offering free benefits under preview offer. Total subscriber base of these six operators grew at a rate of 0.26% when compared to July 2016 subscriber figure of 779.05 million.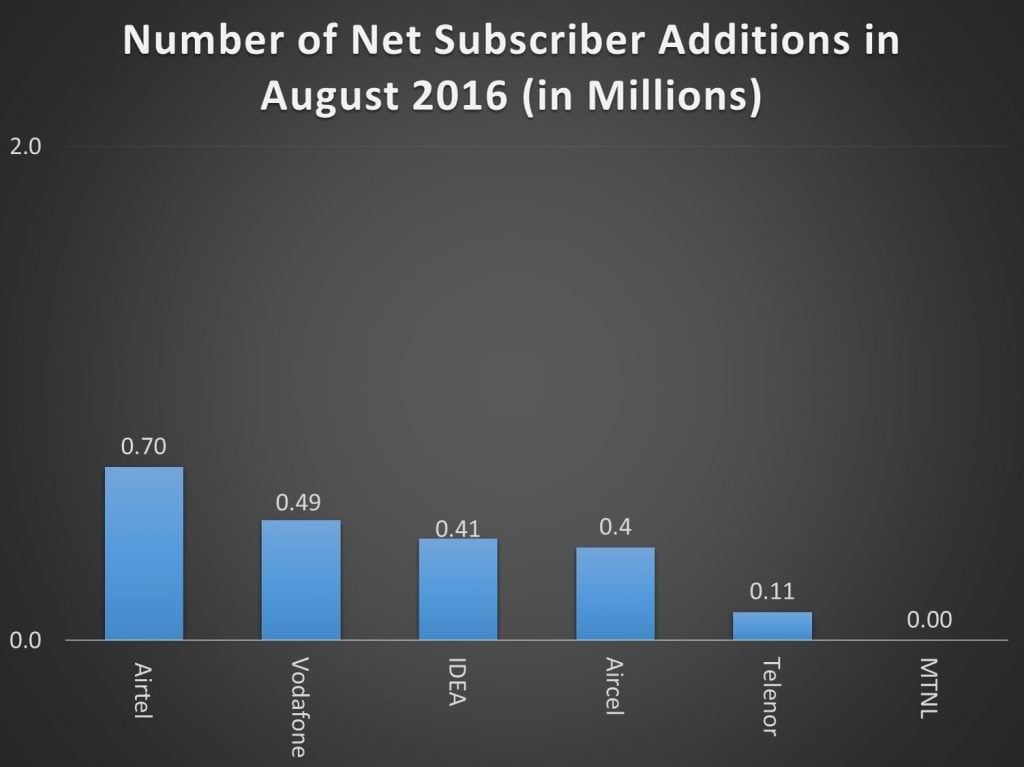 Telecom major Bharti Airtel led the growth by adding 0.70 million new subscribers taking its total mobile customer base to 257.51 million, representing nearly 33 percent of the overall GSM subscriber base in the country during August.
Second largest operator Vodafone India which received an equity infusion of Rs 47,700 crore from its parent company Vodafone Group before the spectrum auction, added 0.49 million new subscribers taking its total subscriber base to 200.20 million. The company also became the second operator in the country to cross 200 million subscriber mark behind Bharti Airtel.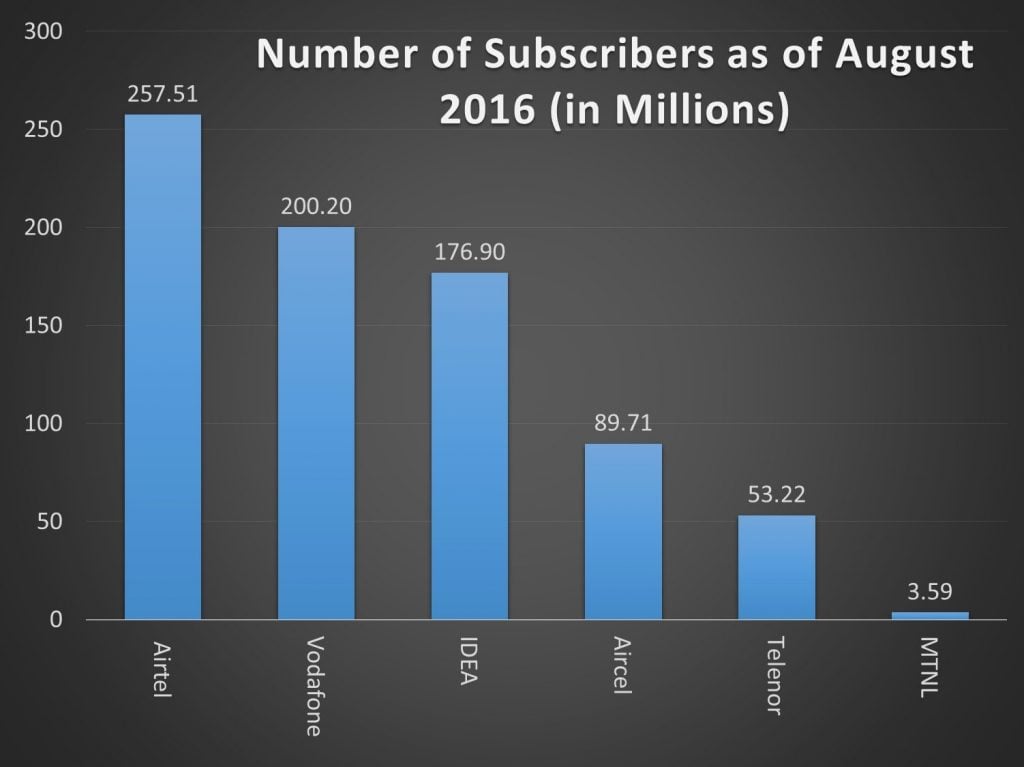 Third largest operator Idea Cellular added 0.41 million subscribers taking its total mobile customer base to 176.90 million. Aircel which announced merger with Rcom added 0.40 million subscribers on its network. While smallest operator Telenor which has a regional presence added 0.11 million subscribers and state owned MTNL reported zero net addition during August. Uttar Pradesh (East) remained the largest telecom circle with 71.51 million GSM subscribers while Bihar added the highest number of subscribers for the month with 0.39 million new subscriptions.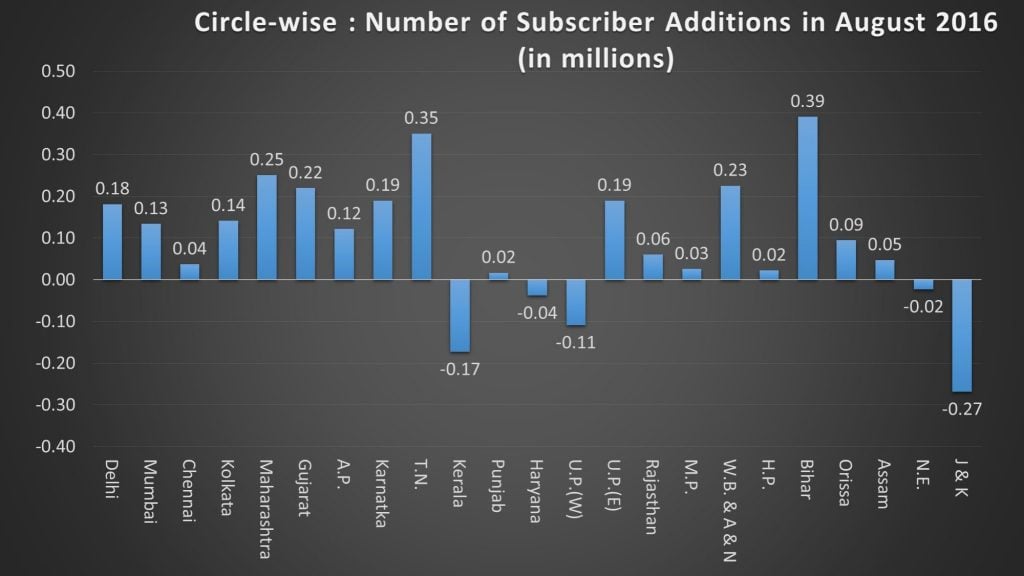 Though, five circles including Jammu & Kashmir, Kerala and UP West experienced negative growth, jointly these five circles lost 0.61 million subscribers. Bihar remain the third largest circle after UP (E)and Maharashtra. Together the three circles represent 204.91 million subscribers of the country.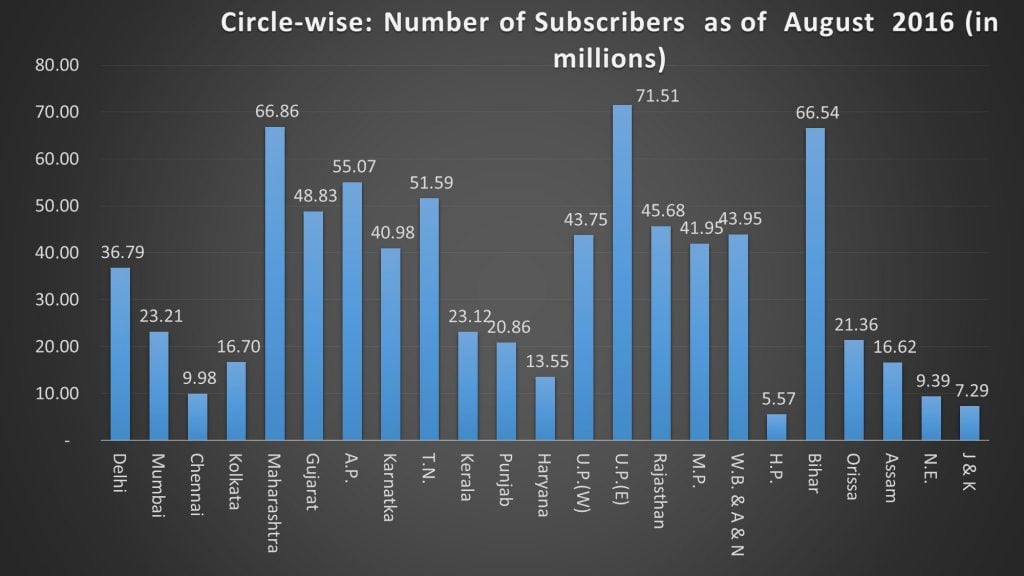 The data released by COAI does not include subscription data of state-run public sector unit BSNL. Other GSM players, Tata Teleservices, Reliance Communications and Quadrant (Videocon Punjab), also do not share their subscriber numbers with COAI as they are not its members. It also excludes the subscriber details of Reliance Jio as the company formally flagged off its 4G services on September 5.