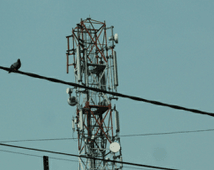 The Indian Government is trying to speed up the reforms it has planned for the telecom sector before the spectrum auction takes place in February 2015. It wants to clear the proposal of spectrum trading and sharing as soon as possible in order to set a positive tone for the next auction. Telecom operators currently are allowed to share only passive infrastructure like mobile towers which helps them in reducing operational costs but not active infrastructure like spectrum.
Seeing the fact that telecom operators have to shell out large amounts of money for spectrum auctions, they can't buy it in all the areas. So this is where spectrum trading and sharing can become pretty effective in saving costs. The operators haven't yet got the spectrum they won earlier this year and that has sent a negative wave through out the industry. The new move can send a positive message to all the operators and they can bid more freely in the next auction as a result of it.
The spectrum is currently with the defence ministry and it hasn't freed the network yet. It had to free 65 MHz of spectrum in the 1,800 and 2,100 MHz band but hasn't done so because it was to get an optical fiber network in return from the Department of Telecom which it hasn't got yet. So the operators aren't feeling positive about the next auction as issues ailing them aren't getting sorted out. The Government intends to speed up these reforms to help the telecom operators.