MTS India, the mobile and data service provider is really serious about CDMA technology in the country, has launched several CDMA smartphones in India under its MTag brand. Currently MTS has MTag 3.1, MTag 401, MTag 352, MTag 351 and MTag 281.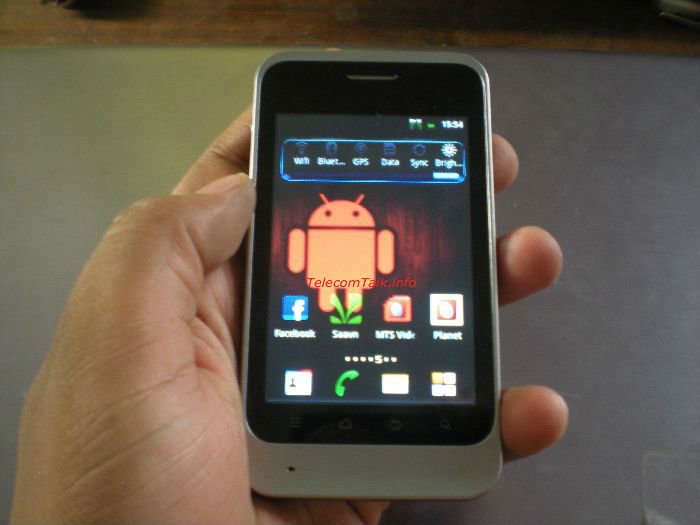 Bringing pocket-friendly CDMA smartphones MTS India is certainly creating a buzz among youngsters who are looking to jump into Android arena. MTS makes the deal more lucrative as bundle offer adds voice, text and data benefits.
We had the opportunity to try out MTag 351 and MTag 352. In this post I will share my experience with MTag 352. MTag 352 is priced for Rs 6499 (MRP).
First impression & looks
When I just got my hands on MTag 352, I find it looks better than MTag 351 – stylish, fits well in my hand, touch response is quite fine. It has new generation buttons at the bottom of the front, compatible with Android 4.0 Ice Cream Sandwich, though it runs on Android 2.3.6 Gingerbread. The back is matte finish for easy grip. On the top there are lock button and 3.5 mm audio jack point. At the left side the volume +/- buttons are there.
SIM slot though is not under the battery, you have to remove the battery to remove the SIM card. But microSD card slot is hot-swappable without removing the battery, but you have to remove back cover.
Hardware
MTS MTag 352 comes with 800 MHz Qualcomm MSM 7625A ARMv7 Processor, 256MB RAM, Adreno 200 GPU compatible with OpenGL ES 2.0, total user memory 152 MB (approx). I find that MTag 352 is actually a CDMA variant of ZTE Kis or Roamer 2.
Android version is loaded is 2.3.6 and it is quite the stock version apart from some pre-loaded apps like MTS TV, MTS Planet, MTS Video Bites, Nimbuzz for MTS, MTS Info, Saavn.
Display
The 3.5 inch display with capacitive touchscreen has 320x480 resolution. Touchscreen is well responsive, resolution is not bad either.
Camera
It has a 3 mega pixel camera capable of video recording also. At this budget the camera performs well; good pictures at outdoor at daylight, while the photos are compromised at indoor and at low light.
Connectivity – It is well connected with WiFi, WiFi Hotspot, USB, Bluetooth and EVDO Rev A (3.1 Mbps downlink and 1.8Mbps uplink). GPS reception is good while used for Google Maps and Navigation.
Performance – Though it is thousand bucks less priced than MTag 351, I find MTag 352 works better. I used it rigorously as a second phone for two days, and it never hangs. On Antutu Benchmark it scored 2634. I played Angry Birds, the phone went smooth during the whole time.
The battery life is pretty well, stands for nearly 20+ hours with mediocre use like voice calls, photo shoot, video recording and internet access. Call quality is decent, though on speaker mode audio is quite low. WiFi Hotspot is easy to set up and works smoothly without any hiccup. FM Radio has good reception. With Cowon's earphone I find music quality is good.
Verdict
At Rs 6500 (You can find better deals for MTag 352), I find this phone is very good considering the specs and bundled offers. I rate it 85/100 and would suggest you to go for MTag 352 instead of MTag 351.
Check out MTag 351 review on the next post...