With Supreme Court's verdict regarding cancellation of 122 licenses for 2G mobile services given in 2008 Credit Analysis and Research Ltd has come forward with a in depth analysis on future implication.
Incumbents will be the beneficiaries
Supreme Court verdict has negative implications for telecom sector, lenders and overall business sentiments in country, shattering India's image as an attractive investment destination.
The verdict will bring some cheers to incumbent players as it will lead to much needed rationalization in the overcrowded telecom sector as it will bring down the number of players per circle by a few.
At the same time, it might have some negative repercussions for the incumbents as Supreme Court has objections to the government.policy of 'First-come-first-serve' which was used for all 2G license allocation, in future the incumbent players might also be dragged into the controversy, as they were unaffected this time because they were not a party to the case.
Rating Implications: CARE Ratings
The following is the portfolio of the telecom service providers rated by CARE Ratings.
Service Provider

Outstanding Rating

No of circles where licence has been cancelled

Aircel (includes Aircel Ltd, Aircel Cellular Ltd and Dishnet Wireless Ltd)

CARE A-/CARE A1

[credit watch]

-

Idea Cellular Limited (ICL)

CARE AA/ CARE A1+

9 circles

Loop Mobile (India) Ltd

CARE BBB-/CARE A3

[credit watch]

-

Reliance Communications Ltd

CARE AA/CARE A1+

[credit watch]

-

Sistema Shyam Teleservices Limited (SSTL)

CARE A1+ (SO)[backed by a 100% cash collateral to the extent of the PBG]/CARE A2 (SO)

[backed by a guarantee from Sistema JSFC]

21 circles

STel Private Limited (S Tel)

CARE BBB

[credit watch]

6 circles

Tata Teleservices Limited (TTSL)

CARE A+/CARE A1+

3 circles

Tata Teleservices (Maharashtra) Limited

CARE A/CARE A1

-
CARE Ratings believes that the ratings of Idea Cellular Limited (ICL) and Tata Teleservices Limited (TTSL) will not be impacted by the cancellation of some of their licences as the impact on revenues of the circles related to the cancelled licences is not significant.
The ratings of Sistema Shyam Teleservices Limited (SSTL) are either backed by 100% cash collateral or by guarantee from the promoters and hence derive their strength from the structure and not from operations of SSTL in India.

Limited impact of tower companies
Some of the tower companies might be affected due to the verdict as they lose some of the new entrants as tenants, bringing down the already low occupancy rates.
Investments by impacted players to be delayed.
Substantial investment was planned by some of the affected players like Idea, Sistema Shyam and S. Tel, to roll out their networks, in the next 2-3 years, which might get delayed or cancelled.
As per Centre for Monitoring Indian Economy (CMIE) data, Idea, Sistema Shyam and S. Tel have planned investments of Rs. 12 billion, Rs. 275 billion and Rs. 20 billion for their network expansion and service roll out till 2014.
This in turn will impact the allied industries, including the telecom equipment providers and the passive infrastructure players.

Verdict is a negative for foreign investment in India
Most of the foreign players entered India as partners of local telecom firms after the license allotment. As in the last few years, India is already suffering from 'policy paralysis', the verdict will adversely impact the sentiments of foreign investors in India.
Rationalization
Out of the total 122 cancelled licenses, 39 license areas  were highly under-utilized as these five operators did not even have 1,000 subscribers in those circles as of December 2011, implying the services were not fully rolled out.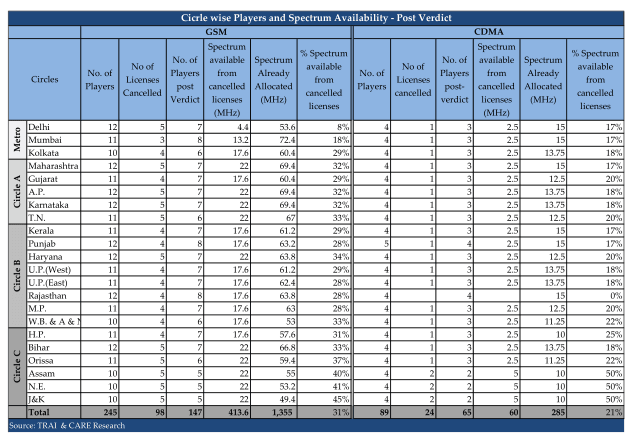 The new entrants had unused spectrum, as we look at the number of subscribers from the cancelled license areas, it stands at 7.5% of total subscribers, whereas spectrum issued to these players stood at 31% and 21% of total spectrum allotted for GSM and CDMA respectively.
In other words, the impacted players had 7.1 MHz per million subscribers as compared to the overall number of 1.8 MHz per million subscribers. Based on this statistics, we assume that not all the players whose licenses were cancelled will participate in the auction, as it would require them to put more money for buying the license and spectrum at market rate.
This will reduce the number of players in almost every circle leading to some rationalization.