Bharat sanchar nigam Ltd. the largest PSU seems to be tired of so called 'false' complaints of slow broadband speeds by its subscribers across the country. BSNL is of the opinion that most of the consumer complaints about slow broadband arise from false results given by third party servers on speedtest.net and the speed of broadband is actually not that slow.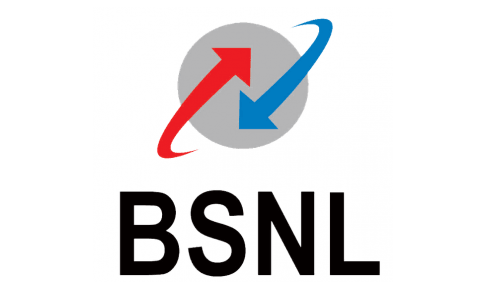 To alleviate the fears of its subscribers and to essentially cut down the number of complaints, BSNL has set up 4 servers, one for each of its four zones which subscribers of that zone can select manually to perform the speedtest. The server for West zone is located in Pune, the server for North zone is located at Noida, server for South zone is situated at Bangalore and strangely the server for East zone is set up at Mumbai and not Kolkata, for reasons best known to BSNL.
| | | |
| --- | --- | --- |
| BSNL Zone | Server physical location | Spedtest.net URL |
| West | Pune | bsnl-pn.speedtest.net |
| North | Noida | bsnl-nda.speedtest.net |
| South | Bangalore | bsnl-bgl.speedtest.net |
| East | Mumbai | bsnl-mum.speedtest.net |
BSNL will only entertain low speed of broadband complaints if the subscriber has tested the speed using its own servers and not third party servers. I personally use Hathway cable broadband connection in Mumbai with 50Mbps download and 10Mbps upload speeds for my home use. I decided to test the speed  results I get when testing on speedtest.net using the newly set up BSNL server in Mumbai and compare it to the results I get for the same connection using Reliance Jio Mumbai server. I am sharing the two speedtest result screenshots along with the direct links, both the tests were done back to back in the same time period.
Using BSNL server: http://www.speedtest.net/my-result/4727971284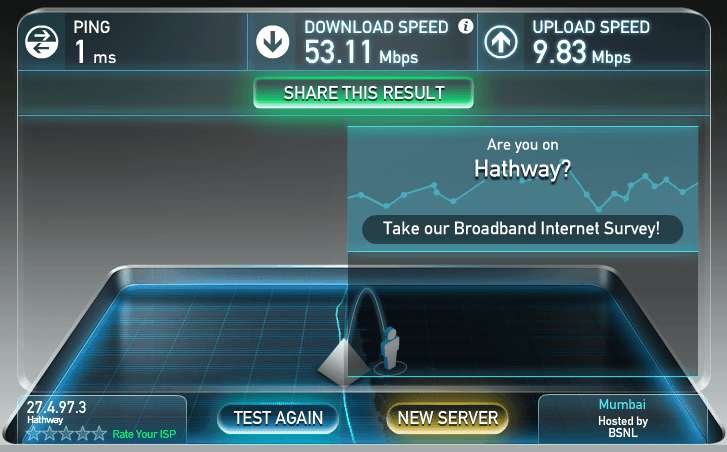 Using Jio server: http://www.speedtest.net/my-result/4728009559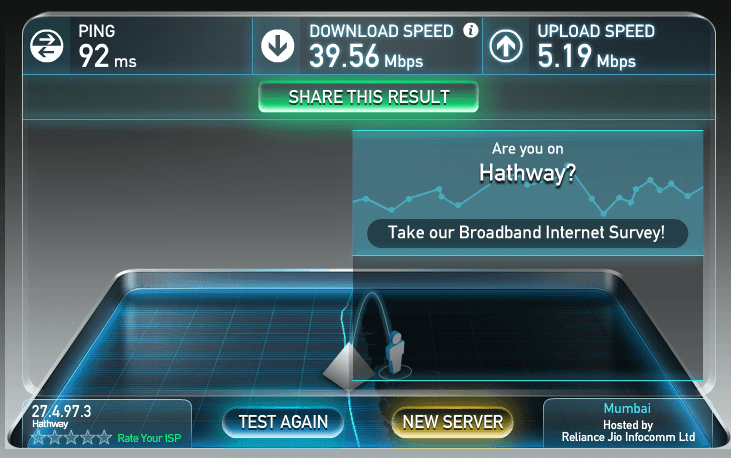 Strangely somehow the results given by BSNL server consistently showed faster download and upload speeds and lower latency in comparison to the results given by Jio server located in the same city. Whatever be the reason, it seems BSNL may afteral be successful in reducing the inflow of slow broadband speed  complaints from its subscribers.
Note: The above test was performed on Hathway connection, it can differ from ISP to ISP.
What do you readers feel about this new move by BSNL? smell something fishy? let us know your views and opinions through your comments.