BSNL has launched new plans for the residents of West Bengal. A total of five plans has been unveiled by the company, out of which three plans are for new users, while the other two are for existing prepaid customers. The first three recharge plans are of Rs. 6, Rs. 7, and Rs. 55, whereas the prepaid user STV plans cost Rs. 21 and Rs. 24.

Both the FRC 6 and FRC 7 offer similar benefits, minus the minor differences in terms of voice call charges. The FRC 6 and FRC 7 offer Rs. 60 free balance, split into Rs. 20 per month for three months. They both offer 300MB data, which will be valid for 30 days. When it comes to call charges, the FRC 7 will charge 10 paise/minute for on-net calls and 30 paise/minute for off-net calls. Under the FRC 6, voice calls will be charged at 1 paise/3 seconds for on-net calls and 2 paise/3 seconds for off-net calls. The voice call benefits will be valid for 180 days.
The FRC 55 plan, on the other hand, will be valid for 365 days and offers voice calls at 1 paise/2 seconds for any operator within the home network and 40 paise per SMS. It also provides 300MB data for first 30 days and free 1000 seconds, 75 SMS for first two months.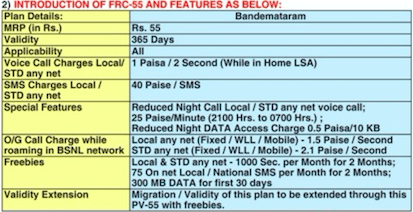 Then, there are two STV plans at Rs. 21 and Rs. 24. While the STV 21 offers voice call benefits; the STV 24 provides data benefits. Under the STV 21, all the voice calls will be charged at 30 paise/ minute. The STV 24 will give just 100MB data for 28 days. Both these plans are BSNL's promotional plans, and they will be valid for 90 days.
We have no information on when these plans will be effective, but we do know for sure that they will be available only for the residents of West Bengal. What do you think of these new FRC and STV plans from BSNL? Should they limit the offers only for West Bengal or make them available for all its circles? Let us know in the comments section below.
Inputs: Nachiketa Saha
Passionately following the Indian #Telecom Industry for over a decade from Business, Consumer and a Technical perspective. My primary focus area is Consumer & Digital Experience.