In this age riddled with technology and effortless connectivity, we spend most of our time on messenger apps and social media. India's homegrown social messaging platform, Hike Messenger, and the Facebook-owned WhatAapp are two such instant messaging apps that have the massive user base in the country as well as globally.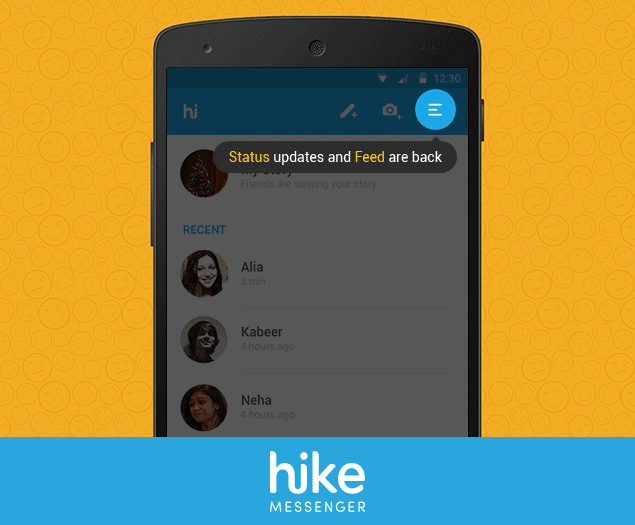 Reports estimate that the number of people to have installed at least one messaging app is expected to reach a staggering 3.6 billion mark by 2018. In other words, that would be almost 90% of the world's Internet-enabled population. That is a huge audience pool and the app wars to gain most users have been going on for a few years now.
With the recent developments to better enhance their applications, WhatsApp and Hike have climbed to the top of the messaging platforms list. If you are overwhelmed by the numerous options available to you, here's a short comparison between the Hike and WhatsApp messenger platforms.
Popularity
Currently, WhatsApp is evidently dominating the instant messenger market. Almost everyone with a smartphone and internet connection has been using WhatsApp over hike or Viber or many others. To be honest, the fact that almost everyone you know uses WhatsApp, in turn, helps the app gain more user base. Sadly, such is not the case for Hike. Not a lot of your contacts or close friends use the Hike Messenger, and that puts a damper on the number of people downloading the app.
As of 2017, WhatsApp has a monthly active user base of over 200 million while Hike has almost 100 million monthly active users in the country. So in terms of usability, WhatsApp is way on top of the metaphorical popularity ladder.
Flexibility
It is common knowledge that ads are basic resources for monetization of many mobile applications, and this is where WhatsApp has an advantage over other platforms since it offers clutter-free and no-ad service. Yet another advantage that WhatsApp has over Hike is that you can use it in the form of web based application, including in Chrome. Hike lacks this feature.
Features
There are two sides to a coin, and the same goes with this current discussion on WhatsApp versus Hike. The features segment is where Hike scores big points. Although WhatsApp comes with simple features, Hike has always been a step ahead in attracting users with a slew of advanced features such as offline chatting and free SMS facility. Unlike Hike, WhatsApp fails to work with no internet connection.
Hike offers an amazing collection of different stickers you can use while chatting to convey expressions. While WhatsApp does not have the stickers, the app comes with various emoticons. Unlike WhatsApp, on Hike, you do not have an option to back up your messages. Hike also has a 'hidden mode' that its counterpart lacks, which basically allows you to keep your private chat hidden from prying eyes. Hike Messenger clearly emerges as a winner here.
Updates
Hike maintains a good user interface by effectively coming up with routine updates to the app. These updates usually bring in new features and improve the speed of the app. Recently, Hike introduced wallet services in its new Hike 5.0 version. Despite a proposed digital wallet by WhatsApp, the company has not introduced that feature yet.
Other functionalities such as online visibility, file sharing, audio calls, and video calls are common in both apps, however, audio and video calls on WhatsApp are much more refined. WhatsApp has also introduced its fair share of updates in the past few months including WhatsApp stories, chat shortcuts, and we do look forward to its upcoming 'recall message' feature.
Conclusion
Although Hike takes the cake with its extra set of interesting features and options, the WhatsApp brand still dominates over any other messaging app. The familiarity, reliability and its huge popularity among users give WhatsApp an upper hand over Hike.