Ever wondered if you are on a call and can check another incoming call in the background, put the present call on hold and answer the call which is waiting in the background, swap the calls, Divert the call to another number or finally join a conference to speak with more than a person at a time? Yes, all this is possible with Call Management Services provided by the Operators. Now let us check what are the different Call Management Services provided by the operators as well as supported by the handsets in general.
This table shows the availability of services with different operators. 

We will have a look into what these services actually are:
Call Waiting: Lets you to know about an incoming background call if you are already on a call, so that based on the importance of the calls you can switch between. This is a basic and free CM service provided by all the mobile operators.
Call Hold: This is a facility which is used to keep your ongoing call on Hold – something like pause and make a new call or answer a call which is waiting. This is also a free service from the operators who support this feature.
Call Conference*: Lets you to speak with 5* different people at a time so that you can have grouped conversations simultaneously with all the people in the call. Charged as a normal call according to your tariff to each individual call, this is a free service provided by the operators.Very bad that Reliance and Vodafone IN (in some circles) are not providing this feature for prepaid subscribers at present which is a very basic service.
Update on Vodafone:Service not available for Prepaid customers in AP, Kerala and Karnataka.
Call Forwarding*: Lets you to forward or divert calls to other numbers on some predefined conditions (busy, switched off or not reachable, forward all calls). The numbers to which calls can be forwarded varies with different operators so please check with your respective operator to know about the service completely. Call forwarding is a free service from all the operators except the normal call charges apply when a forwarded call is answered.
Call Barring*: Many operators tend or even boast to provide this service, but in fact this service is perfectly provided only by Airtel, Tata DoCoMo and Aircel. Call barring is a service where you can bar (stop) your incoming and outgoing calls temporarily on requirement which is password protected by the operator.
If you need assistance for the service from the above mentioned operators you can contact and get this service active on your number.
Coming to the call barring service, I really feel there is a need to discuss on how aware the operators and the cc executives are on their own services provided by the company and in an urge I'm putting my experiences below:
Vodafone IN:
Though Vodafone IN shows up this service in their call management services on their website this service is not available for prepaid subscribers and only available for Post Paid subscribers.
I tried to activate call barring service initially on my Vodafone number and failed .I complained to Vodafone care and they took it so extremely well that they checked with their technical team and informed me clearly that this service is available only to postpaid subscribers and hence you are not able to activate it. Though the information present on their website is not updated accordingly they cared to clarify me on of the issue.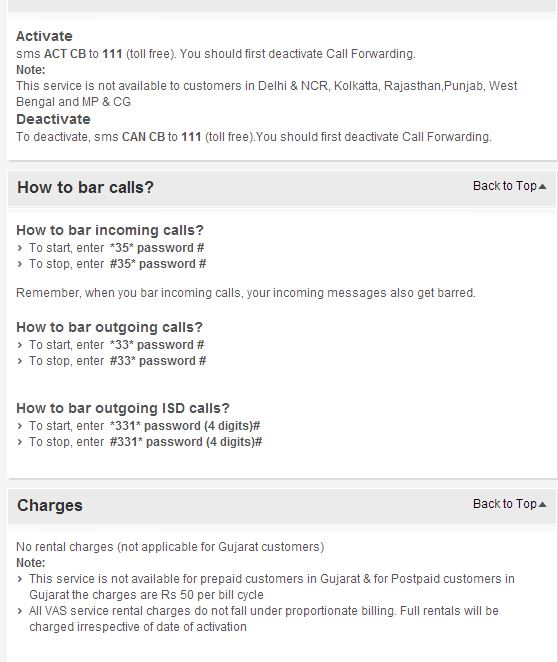 Nowhere on their website is mentioned that this service is not available for prepaid subscribers, but their cc team finally concluded that this service is available only on postpaid which should be mentioned in the website as well to avoid confusion. Anyways Thanks to Vodafone for providing clarification on the issue.
Idea Cellular: The same case with idea cellular. I have been trying to activate the service on my idea cellular number and failed many times.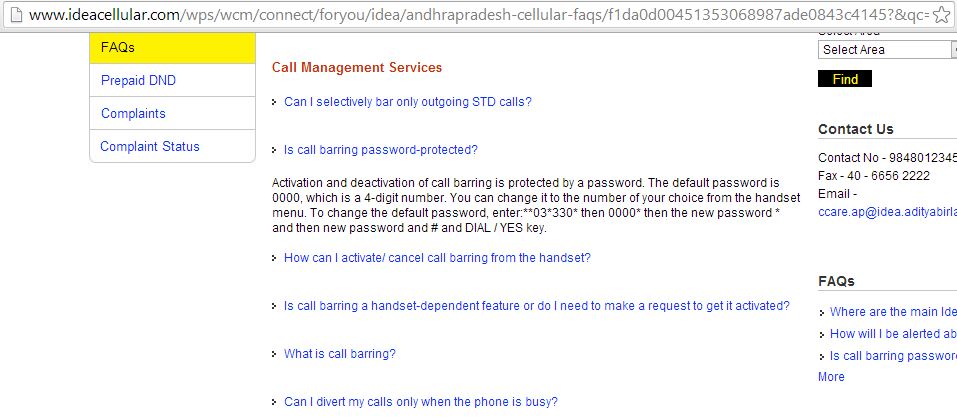 To my astonishment Idea cellular briefed up an entire section for this service in their FAQ's section but it failed to provide the service as mentioned on their site. The Customer care representatives are not even aware of this service and if strongly requested the only response we can get from them is "This is a handset dependent feature and for password or other required details please check with the support team of handset manufacturer or take your phone and go to the service center".
This is the dumbest answer any cc team would give without having knowledge of their services, which were clearly mentioned on their website.
CC Executive 1: Sorry sir, this feature is not at all available with idea.
CC Executive 2: Please call 12345 from respective number and request for service activation.
CC Executive 3: Sorry this is a hand set related feature please check with service center of handset manufacturer.
CC Executive 4: via email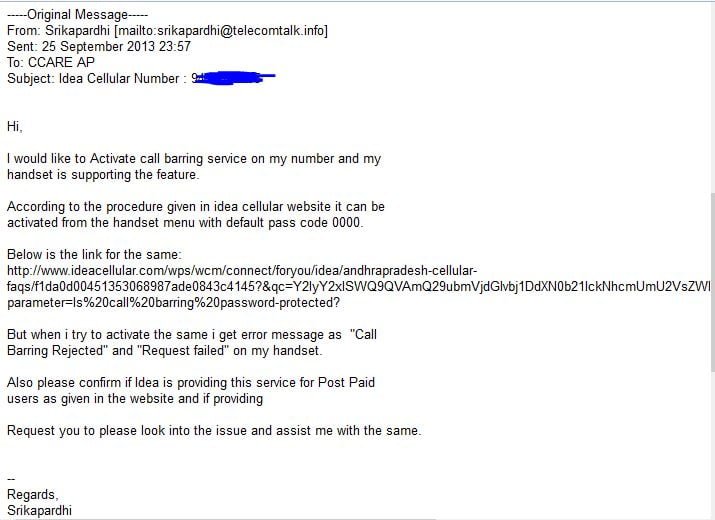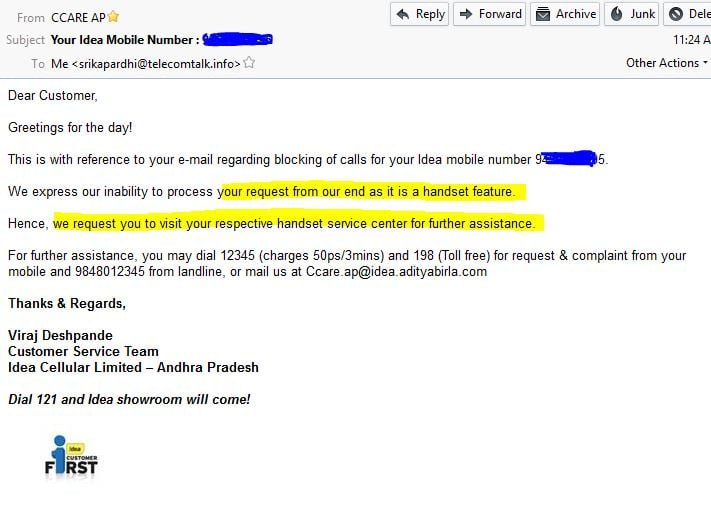 To who so ever executives from idea or Uninor read this: I wonder if this is a handset related feature why your company is mentioning this service on website as if you are providing it? And what is the answer from your side if the same service is provided by other operators,then it is not handset related? Does call barring service of that operator differ from yours? Please enlighten me. Let the handset manufacturers boast them for this service and you relax if you are not able to provide it and finally please remove this service from your list of services in your website when you don't provide it properly.
PS: I tried to activate this service on both prepaid as well as postpaid for idea cellular and miserably failed.
Uninor: And here comes our new entrant Uninor too following the footsteps of Idea Cellular.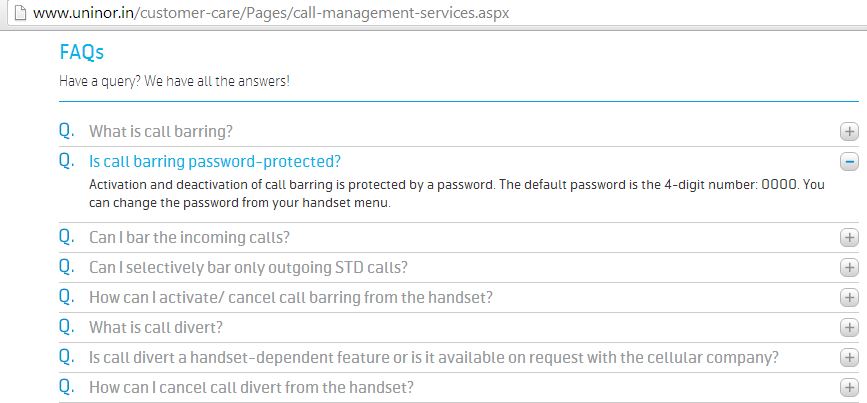 Their cc executives are also not aware of this service but these operators show off as if they provide this service by allocating some space over their website about activation and usage procedures which are not at all useful in activating the same. I experienced a similar situation of idea cellular with Uninor as well.
What Actually it is: This is a Network (Operator) supported feature which can be easily activated/deactivated via handset menu (ultimately if options appear in menu, your phone also supports this feature) if available using the 4 digit default password which is set by the network usually 0000 or 1234 or can also be activated and deactivated via USSD codes provided by the operator. While majority of operators are not providing this service properly and blaming to check with handset vendor as it a handset dependent feature I really appreciate Airtel, Tata DoCoMo and Aircel (recently set things right with this service) for providing this services flawlessly. Who knows many be their cc executives may also be not aware of this service. I leave the use of this service to personal preferences and choices. *When you bar incoming calls incoming messages will also be barred and same with outgoing.
        6.  Call Filter: It is a special service but not provided by all the operators to filter or block calls from certain blacklisted numbers            without knowing the actual status of your number to the blacklisted numbers.  Not a free service from any operator but acts as a              powerful tool to filter callers.
        7.  MCA: While TATA DoCoMo started it as a free service and failed to keep it free, BSNL is doing it the right way out there and is                still providing the service for free. This is a service which helps users know who called them at times of no coverage or when phone          is switch off via sms as soon as they switch on their phone or come into an area with Network.
This is all about call management services as of now and we can clearly see Airtel,Tata Docomo and Aircel win over other Network operators in providing call management services.Have you experienced any such situations with cc executives not knowing the services which their company provides and give you false solutions? If so please let the Indian Telecom World know about your experiences with comments.
*Check with the availability of Services from your Operator,may be specific to circle. Some services may or may not be available within your region.Requires Handset support as well for activation of some services or can also be activated if your operator provides USSD for respective service activation's.