The GSM operators in the country lost a total of more than 7.10 million subscribers in August 2012, bringing down the total subscriber base in the country to 671.95 million as per COAI stats.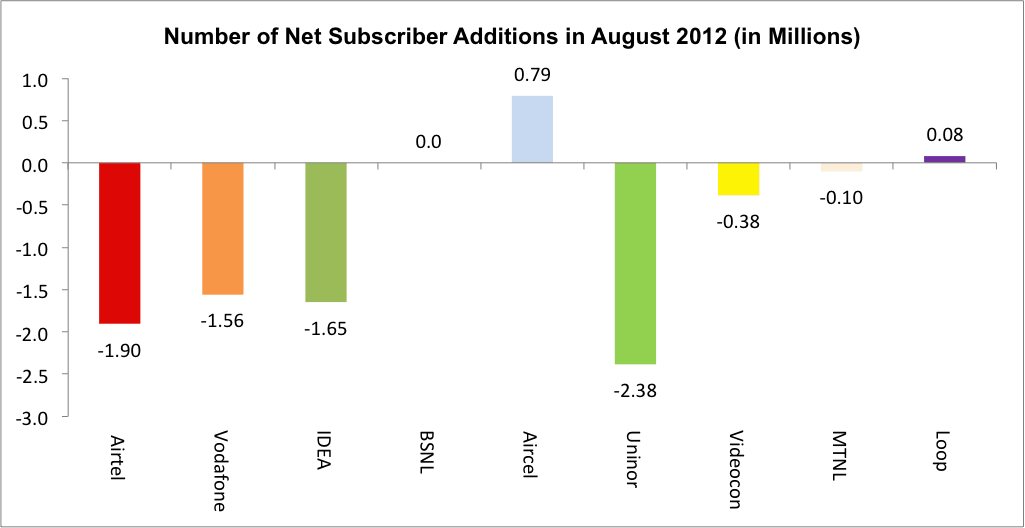 India's leading top three operators Airtel, Vodafone India and Idea Cellular lost more than 5.1 million users in August, according to data released by Cellular Operators Association of India.
Airtel lost 1.90 million users during the month, taking its total its subscriber base to 186.9 million. Airtel had a 27.82 per cent market share as of August 2012.
Idea Cellular lost 1.64 million users and its total subscriber base fell to 115.97 million, while Vodafone lost 1.55 million users. Vodafone's total user base fell to 153.35 million.
Aircel and Loop Mobile were the only two operators to have recorded subscriber additions. While Aircel added 793,717 new users, Loop Mobile added 79,842 new subscribers.
Uninor witnessed the sharpest decline of 2.38 million users, taking its subscriber base to 42.11 million. Mahanagar Telephone Nigam Ltd lost 103,553 users, sinking its user base to 5.12 million.
According to Telecom Regulatory Authority of India report, the country's telecom subscriber base had fallen by more than 20.61 million to 944.81 million in July. This was following large scale disconnections by some service providers. The subscriber base fell by 2.14 per cent from 965.52 million a month ago. This also pulled down the overall tele-density, or telephones per 100 people, to 77.79 from the earlier 79.58.
Now we ask you is this the end of golden tenure of Indian teleco's or the game has just started do let us know via comments can small operators compete the big one in coming days ?