5G has been rolled out at a rapid pace in multiple parts of India by Airtel and Jio. Both telcos are employing different technologies and follow different strategies when it comes to 5G rollout. The effect has largely been positive for the consumers when it comes to mobile services experience. According to the latest Opensignal report, 5G has pushed the average download speed in India between 12.2 and 26.2 times higher than 4G. Across telecom circles, the report said that video experience became better by 19.9% - 32.4%, and games experience became 14 - 44.4% better because of 5G.
5G Download Speeds Chart
The data shows that amongst the telecom circles, Kolkata users got the best average download speed with 5G. It is worth noting that Kolkata is majorly covered with 5G by Reliance Jio, while Airtel recently started services there. The data collected is for November 1 and January 29, when only Jio was available in Kolkata with 5G. Compared to 4G, Kolkata users could get 26.2 times faster speeds with 5G. Even when it came to peak download speeds, Jio customers in Kolkata got 950.4 Mbps download speed. You can take a look at the chart above to see how other states or telecom circles performed.
Read More - Vi Might Face Heat from Airtel, Jio Recent Move in Postpaid Segment
5G Availability in India
Again when it comes to users latching to the 5G networks, the 5G experience in the Kolkata metro circle was the best, as users were connected to 5G 43.6% of the time. Followed by that, it was Gujarat circle, where users were connected to 5G networks 30.6% of the time.
Opensignal said, "Unlike other methods, Opensignal's approach measures the real experience of smartphone users in all environments, both indoors and outdoors, at any time of the day. 5G Availability, therefore, provides an accurate and comprehensive representation of the real experience of the 5G network."
Gaming and Video Experience with 5G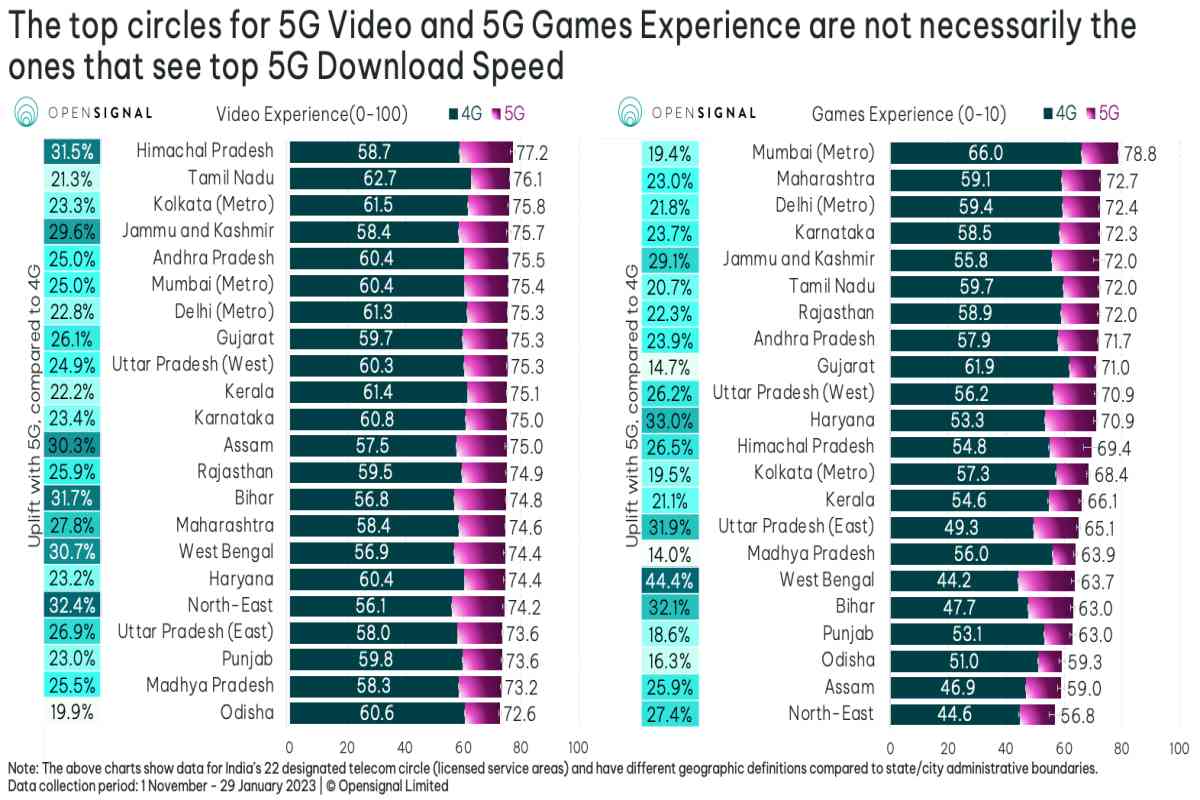 When it came to video and gaming experience with 5G, it was very good across all the telecom circles in India. 5G is definitely going to help you get an uninterrupted experience when you are streaming videos online or playing games. Users got the best video experience with 5G in Himachal Pradesh while the best gaming experience in Mumbai.