During its Windows 10 event, Microsoft revealed that Windows 10 would be a single platform for various devices, be it a smartphone, a tablet or a laptop. Microsoft showcased quite a lot of  Windows 10 features which will be available on smartphones and tablets.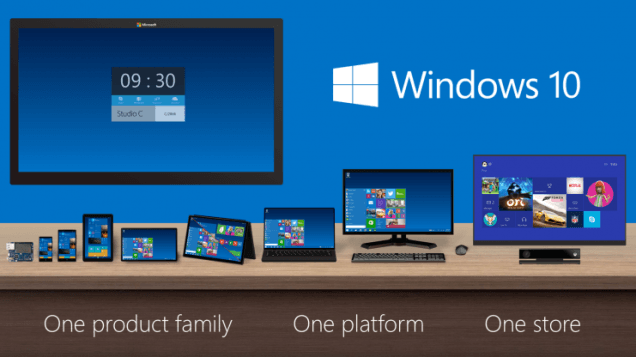 Features of Windows 10 for phones and tablets
Project Spartan

It is a codename given to a brand new web browser from Microsoft that will be a part of all forms of Windows 10 powered devices, be it smartphones, tablets, laptops, desktops, or wearables. It will brings forth a clean interface, and features like web page annotations, a distraction-free reading mode, and integration of Cortana for finding and doing things faster on the Internet. It is powered by a new rendering engine to load and display web pages faster, smoother, and with improved security.

More intelligent and accessible Cortana - Welcome Cortana to tablets, laptops, and desktops. Also, Cortana is now even more intelligent and more accessible. Cortana can even will remember where you parked your car, similar to Google Now.
Improved Action Centre - The Action Centre was introduced with Windows 8.1, which displayed notifications and quick setting toggles. The new improved Action Centre in Windows 10 displays notifications, which are synchronised with other Windows 10 devices like tablets, laptops, or desktops. When users dismiss a notification from their smartphones, they will also disappear from their Windows 10 device. It also has options to display more quick setting toggles, which are customisable of course.
Improved Notifications - With Windows 10, you can not only see the notifications at one place and access them, you can even do certain quick actions. This feature is similar to that of Android notifications. Also, inline replies for notifications are possible in Windows 10. This feature is similar to a feature from iOS, where you can just pull down the heads-up notification to reply at that instant, without a need to open the app.
Simplified Settings Menu - The Settings Menu in Windows 8.x as well as Windows Phone 8.x has always been quite confusing and unintuitive. This ends with Windows 10, as the Settings Menu has been starkly simplified in comparison to the previous versions of Windows.
Improved Keyboard - You can now move the keyboard wherever you want, which is especially useful in larger screen devices like phablets. Also, there's a nub on the keyboard which can be used to drag the cursor around a specific place. Keyboard also features Cortana integration for transcribing spoken text.
Wallpapers!Unlike Windows 7.x and Windows 8.x, Microsoft has decided to give its users proper wallpapers. Instead of containing backgrounds behind transparent live tiles, the new wallpapers are visible everywhere on the Start Screen, similar to wallpapers in every other smartphone, tablet, or PC operating system.
Universal Apps - As Windows 10 has the same code base for each type of device, developers can create universal apps, which can run across all Windows 10 platform devices.
Universal Microsoft Office App - For the first time, consumers can use full office features on smartphones based on Windows. Windows 10 brings universal Microsoft Office apps like; Microsoft Word, the Microsoft PowerPoint, and the Microsoft Excel now feature complete features list which is available on PC/laptops or tablets. The new Ribbon UI will bring complex things to mobile apps such as formatting commands to the table.
New Outlook App - The new Outlook app, which handles all the emails on Windows 10, is a universal app. It now sports an even cleaner interface and support for a swipe-based interface for email management, similar to Mails app on iOS or Mailbox app. Composing emails will now be handled by Microsoft Word, which will be built right into the Outlook app, so you can do rich email composing such as inserting tables or other things.
New Messages App - The Messages app in Windows 8 used to include Facebook messaging, which was later removed as the Facebook Messenger app made it to the Windows Phone Store in due time. The new Messages app in Windows 10 for smartphones will bring a cleaner and more colourful UI along with a compatibility to switch instantly between SMS and other IM apps like Skype.
New Calendar App - The new Calendar App, which comes as a part of Windows 10, is a universal app with a cleaner and colourful UI. It shows a week view at the top and the individual day plan at the bottom.
Universal Photos and Camera Apps - The new Photos app is yet another universal Windows 10 app. It looks quite similar to the Photos app from Windows Phone 8.x, but it's smarter and has an ability to remove unwanted duplicate images, auto-enhance images, and organise photos in an improved way. It has OneDrive integration, so you can view all the photos from all devices at one place. Photos will be automagically arranged into albums, which are easier to share with friends. The Camera app now comes with automatic HDR and support for 4K video recording.
New Music App - The new Music app on Windows 10 comes with OneDrive integration, which means that you can save all your offline music to the cloud and stream directly from the Internet.
Wireless printing support - The new Microsoft Office apps will come with inbuilt support for wireless printing, though Microsoft hasn't yet explained the full details about this feature.
Also read : Next Windows 10 for smartphones will reportedly run on ARM as well as Intel processors
In a nutshell, the Windows 10 experience will remain as close as possible to each other across the platforms, and from what we are seeing as of now, we quite like what Microsoft is offering. Microsoft will display even more features at its BUILD conference later in the year. The first preview of Windows 10 for phones will be released in February, but it will be available to general consumers from Q2 or Q3 of 2015.