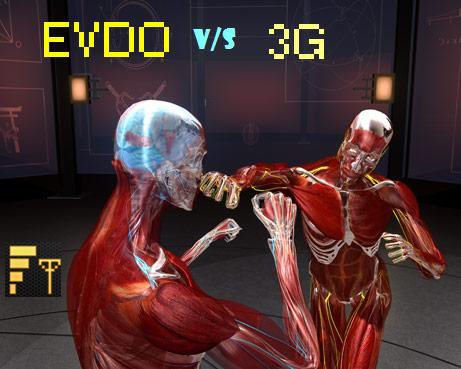 As 3G services from the mobile operators are rolling out over the country, highspeed wireless internet will be more popular to be used on desktop or laptop.
Though wireless option will be costly and does not suit for high downloaders, it could replace wireline broadband (DSL, Cable and Fibre2Home) in coming days as Infotel Broadband is like to roll out in approx 700 cities at the end of 2011.
Infotel powered by LTE technology can offer more than 80Mbps on the move.Currently for wireless internet we have mainly 2 options - EVDO and 3G. WiMAX (from BSNL, TTSL & RCOM) and MiMO (used by Tikona) do not have wide coverage like EVDO and 3G.
| | |
| --- | --- |
| 1x -EVDO | 3G GSM (UMTS, HSDPA, HSPA & HSPA+) |
| Downlink upto 3.1MbpsUplink upto 1.8Mbps | Downlink upto 21.1MbpsUplink upto 5.76Mbps |
| | |
| Tata Photon+ | BSNL |
| Reliance Netconnect+ | MTNL |
| Virgin vFlash | Tata Docomo |
| MTS MBlaze | Reliance |
| BSNL EVDO | Airtel |
| | Aircel |
| | Idea |
| | Vodafone |
| | S Tel |
As we find GSM gives us more freedom in case of changing the operators by just changing the SIM and now with the power of MNP we can change operator without changing our mobile number.
GSM (3G) Advantages:
• Same SIM card for using on mobile, tablet, data card
• No need to upgrade SIM card to avail 3G services
• Using data card, you can also call, send sms and access internet.
• GSM data cards easier to configure (you have to know APN) and unlock (in case it is locked)
• To change operator, you just need a new SIM from your new operator and inset it on your data card.
• Operators' do not stop you from USB teethering (except so-called customer friendly Tata Docomo)
And also right now state-owned BSNL & MTNL offering rock bottom 3G data tariffs – you can get unlimited data usage for Rs 700-750 per month!
EVDO has better coverage with 800MHz spectrum but I must tell you why you should not take EVDO:
| | | |
| --- | --- | --- |
| | EVDO from Private operators | EVDO from BSNL |
| Can you use your data card? | No | Yes |
| Do they sell RUIM card for using it on data card and mobile? | No | Yes |
| Is the data card locked? | YES | Not always, RUIM enabled Micromax 300C comes unlocked |
| Plans | Costly; best plan is MTS MBlazer 999 offers 12GB at high speed, then slow speed for 30 days | Very reasonable and affordable, Unlimited usage for a month costs just Rs 750. |
| Coverage | Good | Not good all over the India |
First thing I object on EVDO from private operators is the pricing, they did not pay such huge amount of money like 3G players, still EVDO from private cdma players come costly.
Secondly they program the device internally, which is not easier to unlock and configure. Most of the devices do not have RUIM slot, so you can't use BSNL RUIM card to use BSNL EVDO. So if you like to leave a EVDO operator and opt for a new operator your old device (for which you paid around Rs 2000) turns a toy!
And these CDMA players have some data plans on mobile only; if you go for teethering (using the mobile as modem) you have to pay 50p/MB or more.
My Suggestion to CDMA players:
• Make the tariff plans affordable, match with BSNL's tariff plans.
• Opt OMH technology – allow the same RUIM for using on mobile & data card.
• Do not force the new customer to buy a new device, rather re-program the device for some bucks (BSNL asks for Rs 350 for activation).
For the last point, I talked with Reliance Netconnect+ & Tata Photon+ guys over twitter, but all went vain! They simply asked to buy a new device from them.

Right now, I strongly suggest you to go for BSNL/MTNL 3G which giving better 3G coverage in 600 cities over India, seamless national roaming at no extra charge & most affordable 3G plans.