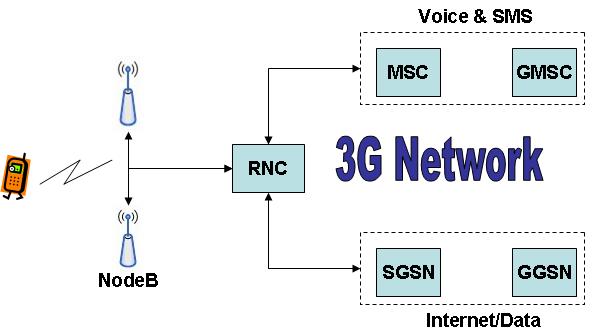 3G is here or will be here! Much awaited spectrum has been auctioned and service providers are gearing up to launch their services.
Even the mobile phone manufacturers are excited too. 3G has been around for a while in Europe and East Asia and has been refined to work efficiently there.
International Telecom Union (ITU) tracks the evolution of the mobile communication systems. Universal Mobile Telecommunication System (UMTS) from GSM world and CDMA2000 from CDMA world were given status of 3G.
According to ITU a 3G system should provide faster communications services, including voice, fax and Internet, anytime and anywhere with seamless global roaming. ITU hasn't mandated any data speed for 3G but a minimum data rate of 2 Mbit/s for stationary user and 384 kbit/s for a user in moving vehicle is expected.
Moving forward from UMTS are HSPA (High Speed Packet Access) and HSPA+ which are further referred to as 3.5G and 3.75G. GSM operators in India currently support GPRS/EDGE, which is 2.5/2.75G technology, which gives around 300Kbps speeds.
Next upgrade from EDGE is UMTS, but HSPA or HSPA+ should be the most preferred technology in India. HSPA is supposed to deliver 7 Mbps in downlink and around 2 Mbps in uplink depending on the network traffic conditions. Wait and watch!
Transition from GPRS to EDGE simply required a software upgrade on network and on mobile phone but 3G is an entirely different technology from 2G. Though the core network looks similar but the air interface technology is totally different, which means there is need for new antennas to be put up everywhere.
This incurs heavy costs the core network components are to be made more robust so as to handle high data speeds. More over the deployment scenarios are to be looked at and networks need to be refined. There is just so much work to be done but thanks to 3G deployments in other countries, service providers should be able to learn quickly.
During the first phase of 3G don't expect the services to be next to God. Don't expect your 3G mobiles to show continuous stream of videos without buffering fevers. The service is definitely going to be bad and there shall only be pockets of 3G deployed.
While you are outside you may experience a 3G network but once you are inside home or office the service might fall back to 2G. And with internet on mobile revolution catching up in India it's going to tough time ahead for the network and service providers.
It's interesting to note that how India has missed entire internet revolution on computer and started catching it up on mobile phones. In few days people who never operated a computer shall start viewing videos on youtube. This is quite a revolution considering how people learnt using internet on mobile in rest of the world.
3G should be big relief to the enterprise customers as their blackberries will be beeping faster with increase in incoming email rate due to high speeds. Another market to look at is net-books. With 3G technology and net-books being cheap the combination will work excellent for students and for people who are on the move.
There will be a whole new era of prepaid internet soon. All this at what expense is the question. Unlimited plans, limited plans, all you can eat plans, fair usage policies! There shall be a whole new trend in India in next few months. Hope things turn out good.
Next time! Untill then adios!