Vodafone India Limited, will hire over 130 management trainees by 2015, through their 'DISCOVER CAMPUS PROGRAM'- a signature cadre program designed for grooming business leaders of tomorrow. DISCOVER is an aspirational 'management trainee' program that provides fast-track career growth, exciting and challenging opportunities and a potential to connect with fellow alumni open in nations where Vodafone operates. Since the launch in 2010, Vodafone has hired 292 fresh talents through the DISCOVER Program from more than 20 top-ranked B-Schools and T-Schools in India such as the IIMs, XLRI, MDI, SIBM, IIFT, JBIMS, SCMHRD, SP Jain, FMS, NMIMS  amongst others.
Starting their careers as Management Trainee at Vodafone, 38% of them now are working as mid and senior management. What makes the program aspirational is the variety of exposure across B2B, B2C, technology and financial services like M-Pesa. The breadth of distribution, exclusive retail and customer management provides a chance to be entrepreneurial in your approach in a young company and in dynamic environment.
Ashok Ramchandran, Director - Human Resources, Vodafone India said "Our aim is to be a leading customer and talent-centric organisation that energises and engages our people. We have always focused on providing enriching careers and long term growth opportunities in a fair and collaborative work environment. Vodafone's 'DISCOVER CAMPUS PROGRAM' is designed with an aim of identifying and grooming young leaders for bigger roles in the future. We expect our ideal DISCOVER trainees to be shapers of the world around them and the business that they work in Driven, entrepreneurial, competitive people who will live by the Vodafone Way and willing to travel and relocate to challenging markets."
DISCOVER is a 12-month development journey wherein prospective leaders undergo job stints in different functions and markets depending upon their abilities and a predetermined path that ensures block building experience playing different roles. Throughout the journey, young leaders get an opportunity to work with channel partners, the internet & app ecosystem, business clients and also with exceptional colleagues and senior leaders across different stints. In each stint, they are provided with the knowledge and optimum exposure they need in the function, granting them the chance to learn; shadow and experience corporate situations, thus enabling them to actively participate in the business and adding value to Vodafone.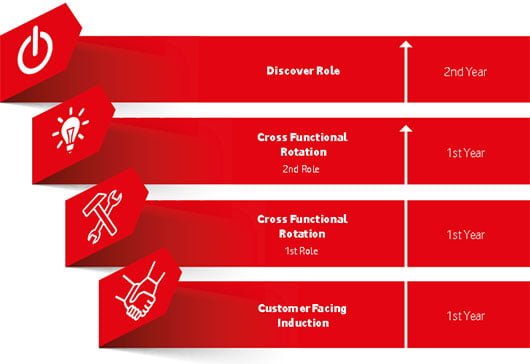 Top 5% to 10% of DISCOVER Graduates (high potential performers) are put through international assignments under the Columbus – Vodafone's Graduate International Mobility program. This international assignment program is an accelerated career path for graduates to make an impact at the early stages of their career.
Currently, Vodafone India employs 13000 people across the country.