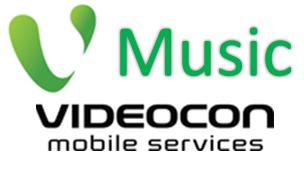 Videocon Mobile Services launches V Music, a unique mobile radio service for anytime, anywhere music.
Now, the customers of Videocon mobile services can dial V for music, anytime, anywhere as the nextgen mobile service operator today introduces V Music, a value added service for unlimited access to music.
The pack which is priced at Rs. 30 gives 30 minutes of music. However, as an introductory offer, 70 additional minutes of music is loaded on to the pack absolutely free!
The all new 'V Music' is a unique mobile radio service with an extensive library. 'V Music' library has an unlimited playlist feature loaded with latest Bollywood, International, Regional and Devotional tracks.
Announcing the launch of the service, Mr. Sunil Tandon, Chief Marketing Officer, Videocon Telecommunications Limited said, "In line with our commitment of providing our customers with what they want and, in the most convenient and affordable format, we introduce V Music.With V Music, we are empowering the customer to choose content, and with 70 free music minutes, that's even more so! Music lovers dial music at a single number gaining the freedom and convenience of accessing the songs of their preference anytime, anywhere."
This service is currently available in two models – pay-per-use which can be availed at Rs. 3/min and subscription which can be availed at Rs.30 for 30 minutes with a validity of 30 days. To subscribe, customers can dial 500500. It is available in Mumbai, Haryana, Punjab and Gujarat circles and will be shortly launched in other operational circles as well.
Dial the easy number – 500500 – from your Videocon number for your daily dose of music.