Imagine turning on your broadband router or just plugging in the cable to the ethernet port, browsing to a login page and selecting a service provider there. Yes, this is exactly what is available for residents of City of Ammon, Idaho, United States. The city uses what is known as Open Access Virtual Infrastructure (OAVI) model that makes the actual infrastructure available to the end user through the use of virtualization, rather than the infrastructure's service(s).
The infrastructure approach is somewhat similar to MVNO model but in the case of MVNOs, the infrastructure is generally provided by another full-fledged telco and the VNO pays regulatory charges and also the operator maintaining the infra.

How did it start?
It all began about seven years ago when the city government, suffering from horrible upload speeds, wanted a dedicated 100Mbps circuit between City Hall and the Public Works building, less than a mile apart. Qwest (now CenturyLink) didn't want the project, while Cable One offered to do it for a start-up fee of $80,000 plus $1,000 a month.

But city officials soon figured out that they could do the initial project themselves for just $22,000 and that they could also bring Internet access to government buildings and businesses, improving the city's ability to compete in a high-tech world in a fiscally responsible manner. [Ars Technica]
Key Features of the City's OAVI Model
OAVI supports net neutrality as the infrastructure owner is providing infrastructure to all users without discrimination rather than network service(s).
OAVI enables Innovation as the barrier(s) to virtual infrastructure ownership are eliminated. In a true OAVI model, there is no distinction between providers and subscribers, as all users on the infrastructure have equal access to the infrastructure through virtualization.
Within the municipal framework, utility infrastructure build costs are paid by the property owners desiring the utility service. This could be done via a standard municipal bond process which requires the support of the property owners who will receive the utility service.
The network is future-proof too as it is capable of providing Internet, IPTV and VoIP services. All of this efforts has now resulted in healthy competition among the providers using the fiber network. They are happy about it too.
CEO Jared Stowell of Fybercom, another ISP using Ammon's network, doesn't mind the competition enabled by the open access model. "We like the competition," he said. "It keeps us on top of the game so we can continue to provide a superior product and no one gets lackadaisical."
Can we have OAVI Model in India?
The Digital India initiative aims to provide broadband access to everyone at reasonable costs. A frontrunner here is the AP Government which will be providing 15 Mbps speeds at just Rs. 149 per month for home users.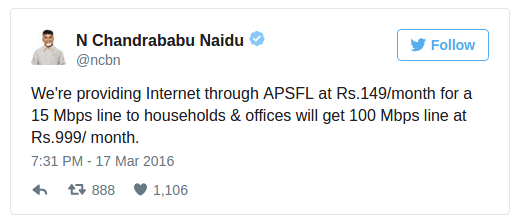 We believe the Ammon city model can be easily replicated by schemes such as the AP Government's FiberNet scheme paving the way for private providers to offer value added services and encourage healthy competition. In the case of Ammon city, they could break even in just three years and reportedly has no debts related to the fiber construction.
Another lucrative proposition would be to open up BSNL's wired network for the use of local private players. BSNL's wired network spanning all over the country is underutilized at its best, thanks to exorbitantly priced broadband plans and sub-standard customer support. Opening up that network to local private players might make some room for competition along with quality service.
What do you think about the ability to switch providers in seconds or having access to multiple service providers with just one fiber to your home? Let us know via comments or tweet to me @gischethans.