After Network/Affordable packs, Mobile users generally look for Quality and Information on Services via Self care Options which helps users to get control (Why we need control or information is left to individual opinions) over their account at their finger tips instead of calling CC, visiting Relationship centers and spending some time. Operators started to provide various Mobile Apps, SMS Short Codes, USSD Options and Web Self Care Options to provide a better experience. As of now we will consider only Web based self care services and discuss who are providing what, what are operators backed by Top IT's upto and how much care they have taken to tune and bring these out to their customers.
We have 5 different Operators who are providing these Web based self care services: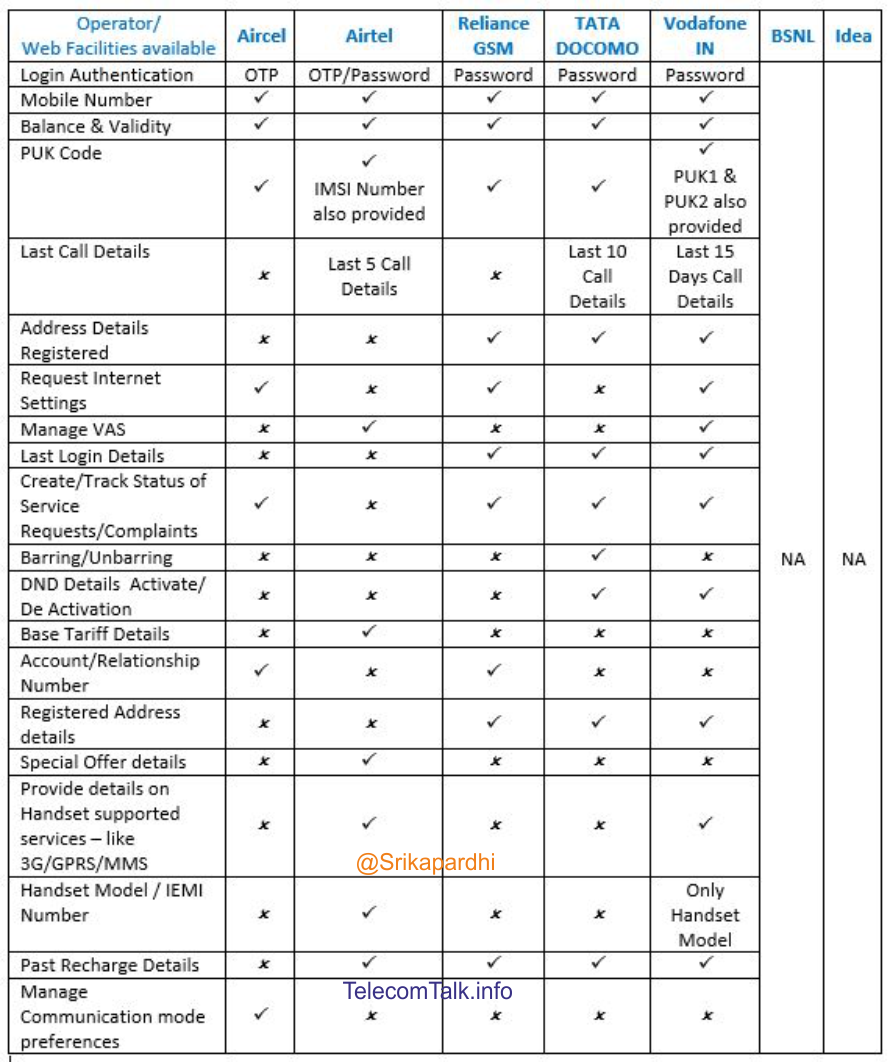 I couldn't find BSNL Mobile / Idea Cellular providing any prepaid Mobile Self Care portal services to users. If in case i'm right thanks to them for reducing my pain in sorting out the information.
Now let us analyze one by one :
1. Aircel : First loop hole to go with Aircel, its login method is only via OTP. It is secure, i agree. But what if a user wanted to login to self-care portal to know PUK ? How can any user get access to portal when SIM itself is locked via OTP? So, Aircel expects it's users to take a Note of PUK information and save it some where instead of logging into the portal and use it on requirement. In that scenario, user can directly call customer care and get this information.
Apart from Mobile Number, Relationship Number, PUK, Balance and Validity, Service Requests and Communication Mode preferences and Request Internet settings nothing interesting is available in the self care portal of Aircel. I felt it of no use in real life scenario as a customer. I have earlier raised a Service Request via this self care portal to which there is no response from cc. Wondering if anyone monitors requests from this portal.
2. Airtel : Coming to Airtel, I struggled a lot to browse the self care portal and gather information. It is like Self Hurdle for me instead of self care, as no page opens properly after the first page after login. Good that Airtel is having OTP/Password Authentication. I really liked this feature.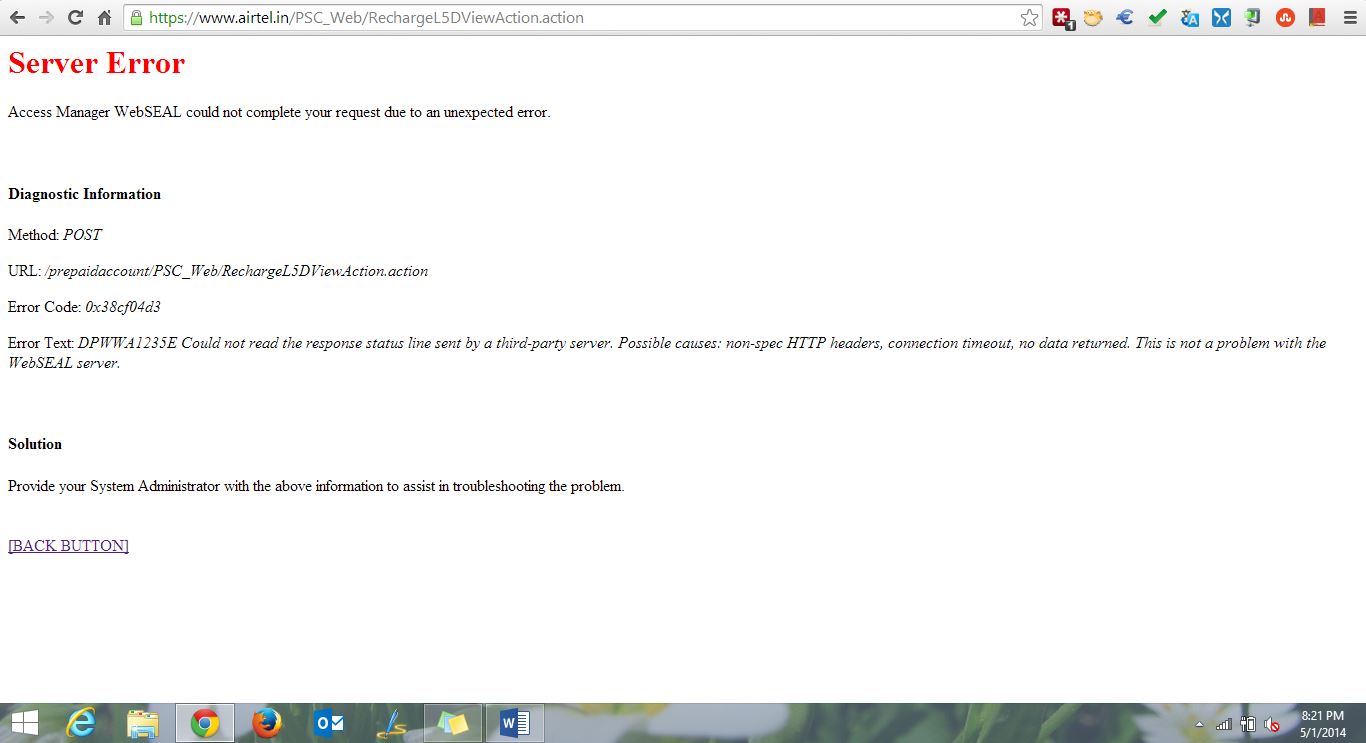 We have mentioned earlier as well about the performance of Airtel Self care portal, But it is of no use, as Airtel never cared about the quality offered by it till today as it remained the same for Prepaid users. The screen shot shows the date as well for reference ;) Don't know if any other Prepaid users are facing these issues as well but i can say Postpaid portal is not having these many issues.
If in case it opens we have the following page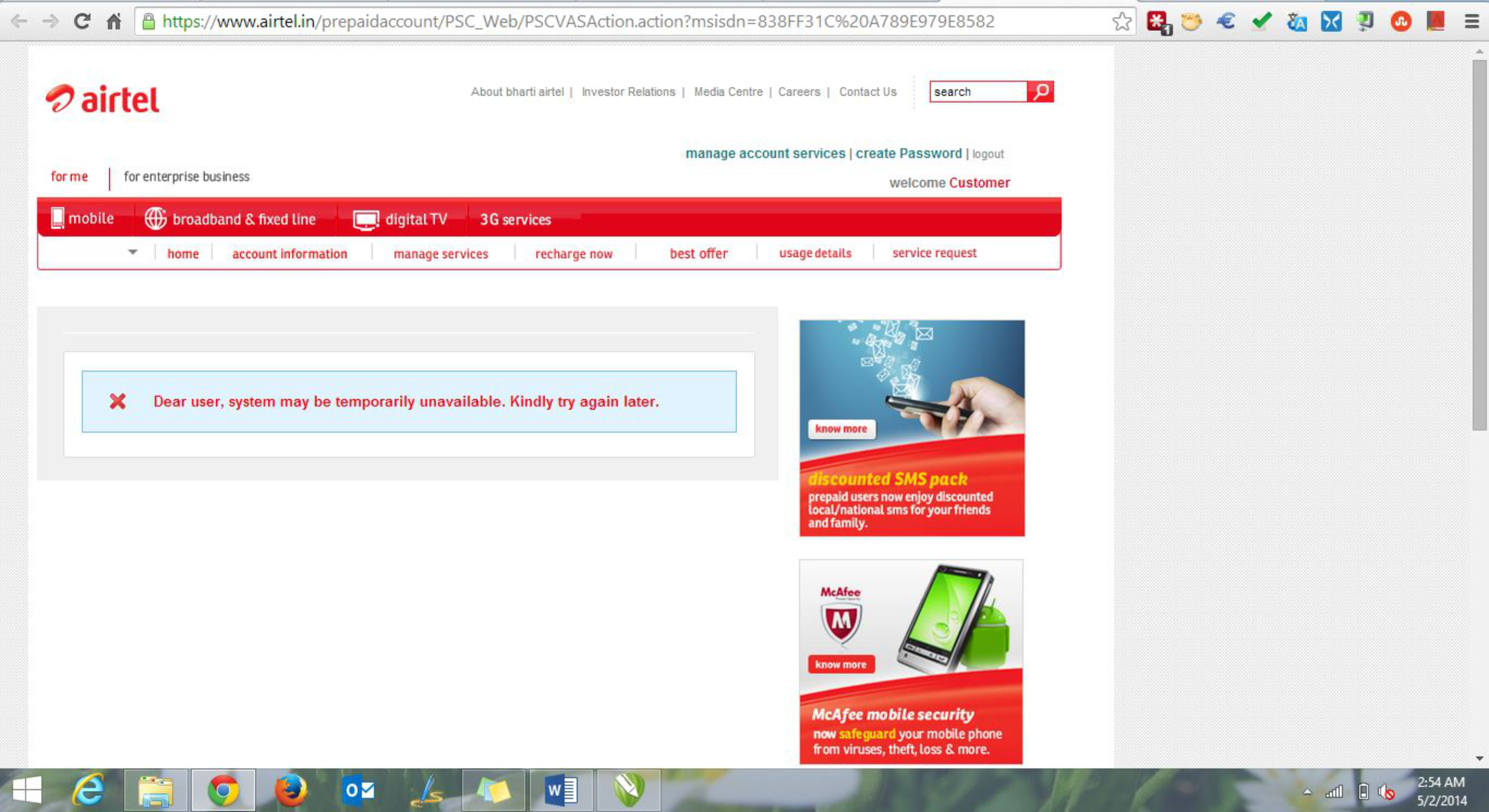 As tabulated Airtel is providing various services/options via this portal. I hope this information is useful to some extent if the website works well first of all.
3. Reliance GSM : Reliance self care portal though looks good, is really messed up with Prepaid,Postpaid and Wireless internet product Services. At least the options non related to particular Services can be disabled after selecting Services from Account Summary page. Only a few options provided will actually work with prepaid services as rest of others are for postpaid and wireless internet services. This is actually a bit confusing with users what actually are the services they are getting in prepaid.
4. TATA DOCOMO : It should be agreed, i have been using this self care portal since way back and its quality is promising. We get the required information and can perform the basic actions required. The most liked feature of mine is call barring/unbarring - which can be used to bar calls when we lost our mobile device to avoid any unauthorized usage. Though this doesn't complete the entire self care functionality this is a very useful feature to be present in every self care portal i can say.
5. Vodafone IN : Leaving some bugs-HTML/CSS issues aside in the website portal, i can say Vodafone tried to cover almost all basic aspects in a self care portal which any customer expects.
Coming to the bugs:
Balance : My Account Balance

Wondering why there was .01 difference showing on my mobile and MyAccount ? :(
Last Login Details :

Last login shows two different times - One time on Landing page and a different time after navigating to a different page.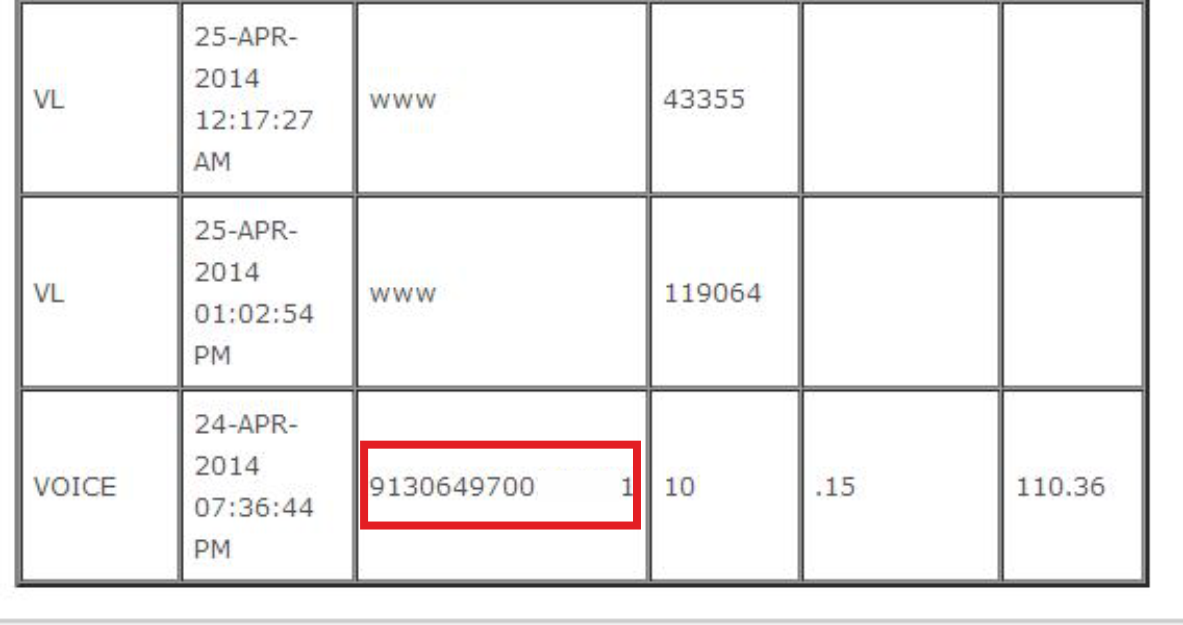 Good that Vodafone is providing last call details, it would have been more awesome if the details are presented after removing the appending extra digits(May be LRN numbers, but end users get confused - a differentiation would be better) to numbers. These generally confuse users,what planet numbers are these and when did i called to them :p ? Even TATA Docomo also appends LRN numbers in it's Destination number column. They can add a - to differentiate between numbers.
Wish Operators add more Quality and flavor to Self Care portals and make Customer Experience worth they are.
Not to rate,If all bugs/loop holes are removed we can consider this way -starting from good -Vodafone , TATA Docomo, Airtel, Reliance and Aircel.
Dear users have you used Self care portals of your respective operators and how did you felt about their usefulness and experience? We have some add ons to be considered for an ideal web self care service, Do you also have any options to be added for considering as an ideal Self care service? Do let us and other readers know via comments.
Note : Only Prepaid Mobile Self care Services are considered while writing this article. I have taken all necessary steps to avoid any mistakes in the table, as Data is manually fetched/verified from the operator's website in any worst scenario may contain error. If in case found let us know via comments.