Its again Tata Docomo who are ringing the bells and driving India crazy with their new service in the offering. Its 3G which is making headlines all over the telecom industry.
When Tata Docomo promised a quick 3G launch by Diwali we were sceptical how could a new operator be ready to commit a launch date ahead of the big players like Airtel and Vodafone.
While we carried the story many people were asking can they pull it off? In fact there were lots of critiques who said this is a marketing gimmick and the actual commercial end-user launch could be months away.
Well actually if we look very carefully the advertisements on TV aren't so fake as one might just think. Now if a company really means to launch their services they wouldn't be joking by giving a deadline in Diwali which is just around the corner.
So its really a surprise to see a company which has just planted itself in the soil giving such great results. Tata Docomo is really giving other operators tough time with its innovative offers and soon to be launched 3G. Its going to be the first private telecom company to commercialize 3G services if things go according to plan that is what we guess.

Over the last few days many TT readers have reported spotting Tata DOCOMO 3G signals in many places. We'd like you to let us know if you have also come across Tata DOCOMO 3G signal in your area. Just follow the simple steps to find out if there is 3G services awaiting for you.
Get a 3G handset and go to phone settings > set Network Mode to WCDMA/UMTS > then search for Networks Manually > It is expected that u will have Cellone/Dolphin (thats BSNL/MTNL) and Tata Docomo if available.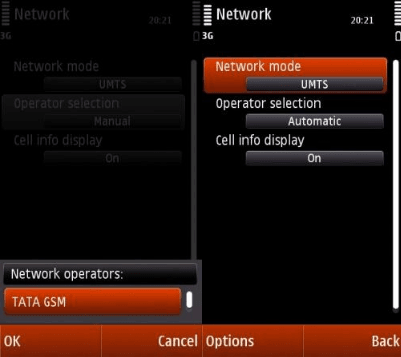 The above screen shot is shared by -Pankaj Sharma
You can also email us screenshots with your area name and we'd be happy to post them in this post. After all if Tata DOCOMO pulls off a Diwali launch it would be an achievement.Next we'd like to see how fast is Tata DOCOMO's 3G speed and how reasonable are their plans. To find out keep hooked to Telecomtalk. Your only stop for all news related to telecom.
TATA DOCOM 3G signal in –Meerut UP west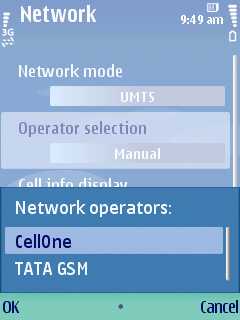 Shared by -Amit Sharma
TATA DOCOM 3G signal in –IIT Roorkee campus
Shared by -Anupam Singh Gautam
TATA DOCOM 3G signal in –ITPL, Bangalore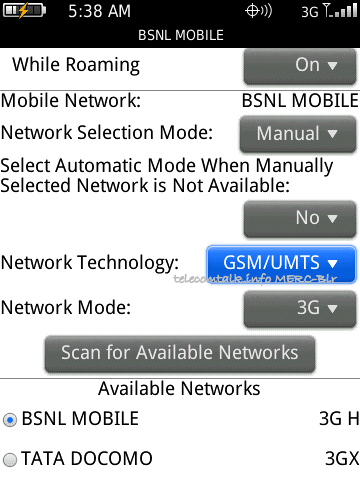 Shared by -Merc
TATA DOCOM 3G signal in –Trivandrum, Kerala
Shared by – Jaidev