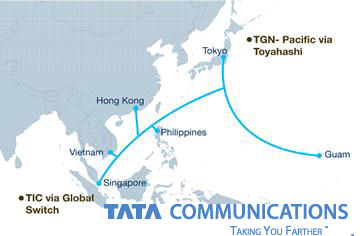 Tata Communications, together with its supplier Tyco Electronics, today announced that they have completed the installation, testing and commissioning of the TGN-Intra Asia (TGN-IA) Cable System.
The fully operational 6700KM TGN-IA system links Hong Kong, Singapore, Tokyo, Vietnam and the Philippines, providing route diversity throughout the Asia-Pacific region.
Simon Cooper Vice President Network Strategy Architecture & Optimisation Tata Communications quoted "the Tata Communications team is very excited to have completed our TGN-IA cable system, with the unwavering support of Tyco Telecommunications."
He also added this system will meet the ongoing need for increasingly robust international connectivity, and will help to enable continued growth and development in the Asia-Pacific region.
The TGN Intra-Asia Cable System is unique in offering a direct fiber path between Singapore and Tokyo, so delivering the fastest available connectivity (RTD is 63ms).