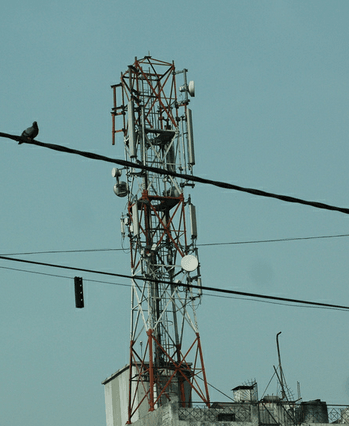 There is massive public outcry over health hazards of cellular tower radiation in all major cities. People across the country have lot of confusion and misconception about radiations, and they are suspecting them for increasing cancer risk.
After a string of street protests stalled life over cellular towers in the past few weeks in jaipur, experts gathered to clear the doubts around cell tower radiations.
Experts speak on the issue on a scientific session held on: 'Cellular Towers & Radiation- What's true and whats not.
Dr. Ajay Kumar the sole Indian member at the World Medical Council a representative body of doctors across countries cited "There is no conclusive scientific fact which can directly link cellular tower radiation with cancer. There are various other environmental risk factors also which could be responsible for increasing cases of cancer and authorities should look into it."
According to World Health Organization considering the very low exposure levels and research result collected to date there is no convincing scientific evidence that the week radio frequency signals from base stations and wireless network cause adverse health effects.
Dr Subir Ganguly, head of radiotherapy, NRS medical college and hospital, kolkata., said it is very important to have a conclusive scientific proof on the issue.This calls for immediate research to find out links, if any, between cellular tower radiations and increasing incidences of cancer.
The Cellular Operation Association of India conducted a study last year, on electromagnetic radiation from cell towers, which brought the interesting findings that cellular radiation is not hazardous.
The study conducted by IIT-Madras and Thiagarajar College, Madurai, found that cell phone tower radiation at 96 locations in Mumbai was within the permissible level of 4,500 mW/sq m.
The study, commissioned by COAI in association with United Telecom Providers of India, carried out to measure emission from 300 locations in Mumbai, Delhi and Pune, found the radiation levels from the cellular base stations were much below the compliance limit of International Commission on Non-Ionizing Radiation Protections (ICNIRP) standards.
Experts unanimously asserted on the importance of clearing all the doubts involving mobile tower radiation. If these radiations are really responsible for any diseases, then it is necessary to find proper measures to handle them or else procedures should be initiated to clear doubts.
Eminent doctors from all walks of life i.e. Cardiology, Radiology and Oncology converged for the workshop to participate in rigorous, expert-level discussions on the issue of cellular tower radiation and related health risks.