Reliance has started EVDO Rev B bandwagon with it's Reliance Pro 3 Network and plan offerings. After almost 3 weeks of usage experience here I share a review of the data card and network performance along with my personal experiences.
Data Card Specification: (As on the box)
Speeds : DL – 14.7Mbps , UL – 5.4Mbps
Micro SD Card Slot
Package Contents : ZTE-AC2791 USB data card, Getting Started guide, ZTE certification, Warranty Card and Service centers list
Speed Test Result :
On Reliance Communications Server: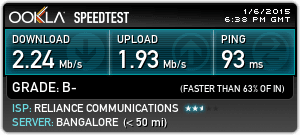 On Atria Convergence Technologies Server :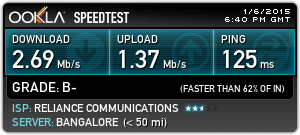 Real Scenario Download Speeds :

Maximum Download speed I experienced on Reliance Pro 3 network with full signal strength is around~455KB/s .This varies up/down widely at times. Sometimes the connectivity takes a pause and speeds go drastically low but maintains to provide a speed of 188KB/s on an average which is ok with Reliance offering of truly unlimited -no speed throttle plan.
Streaming Performance :
So as the speed performance and so is the YouTube performance. You can comfortably play YouTube as long as you  get good response from network and stream music.
I noticed that while streaming a 198kbps music stream the device dynamically tried to squeeze only the required speed as the Rec Speed on GUI also recorded 198Kbps through out the play times.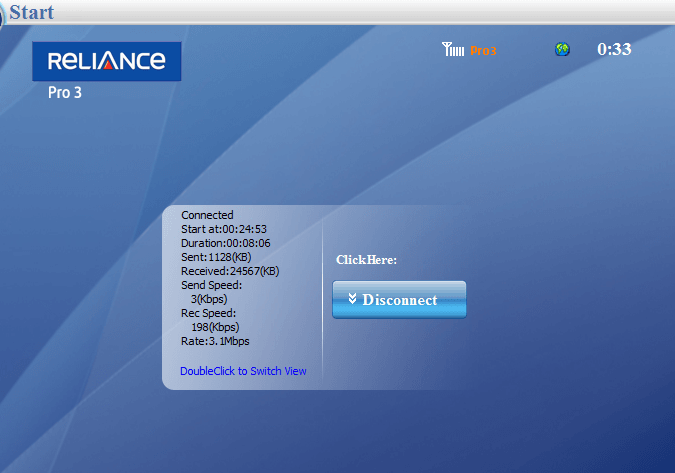 Application GUI : 
Just like a typical modem software you have functions to connect/disconnect, change network settings, data logs and help.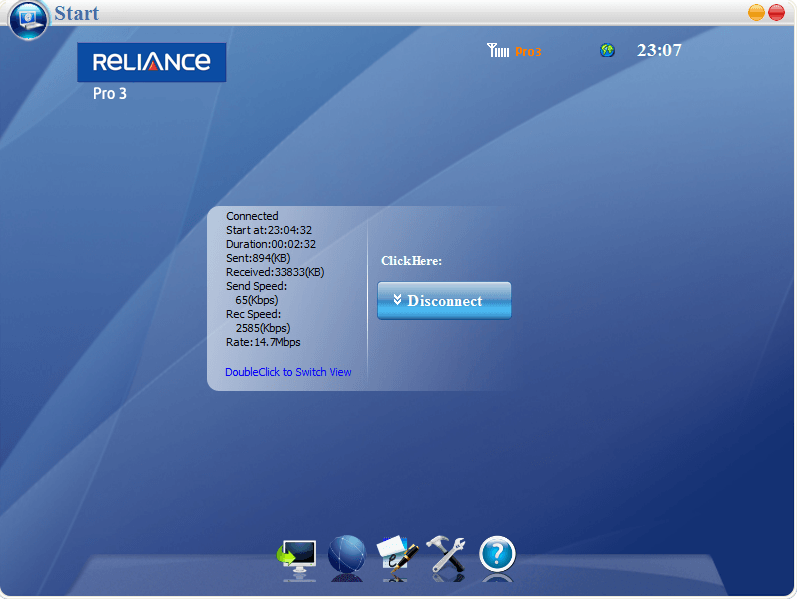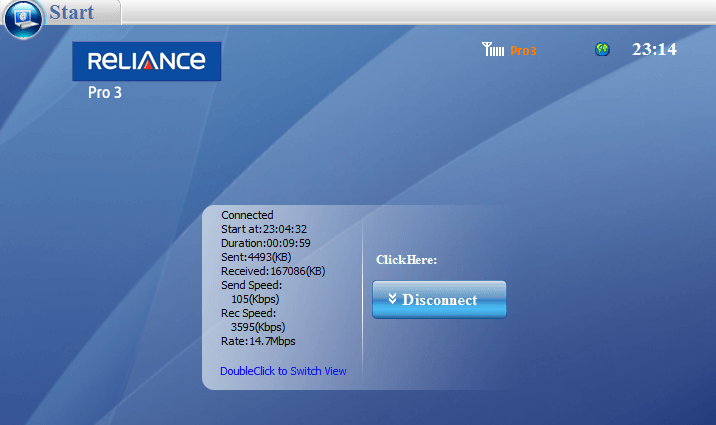 Down time: 
Yes, I faced downtime sometimes which included no response from the network or very slow speeds.
Heating issues : 
There were no heating issues with the device and it remained at normal temperatures like any other network device.
Operating System used on:
Windows 8.1 after the device software installation. I also tried to use the device like plug and play on Ubuntu 14.04 without any installation steps. The device was detected successfully but I was not able to connect to the internet. May be some extra installation steps are required which I didn't try them but the device works well on windows machine.
Self Care Portal :
One can view the Data balance, Validity and required information related to the device from the self care portal of Rcom.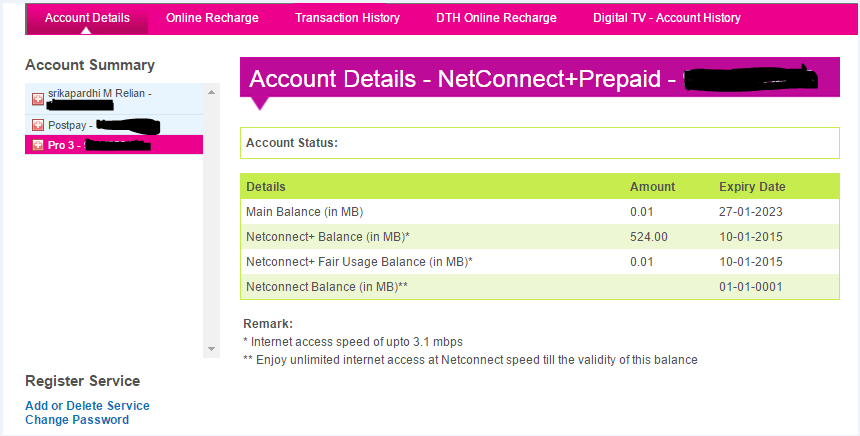 As claimed, I've not experienced 14.7Mbps speed at either of the two locations (Bengaluru/Hyderabad) I used the device where Pro 3 network is available at full signal strength. Indoor coverage is not extraordinary, at least in places I've used. Wish Wi-Fi facility would be an added advantage so that device can be located at a point of good reception and connectivity can be made wireless with devices to be used. If one can compromise on some aspects of the requirements the unlimited data offering from Reliance will be a lucrative deal for users.
There is no point in Reliance marketing this quality with pro 3 network with speeds of 14.7Mbps , poor indoor coverage, varied speeds and downtimes often. So, if one wants to use something for this quality and offering, a compromise is must. But is there any need for customers after paying for the marketed item in a way that it should work and compromising again?  Reliance needs to badly improve in qos.
Dear readers, do let us know your thoughts on Pro 3 Network and pack offerings from Reliance via comments.
 Thanks Reliance Communications for giving us an opportunity to review the Pro 3 Network/Device.
 Note : Signal strength, performance depends on multiple factors. Above impressions are only my personal experiences and the same may or may not be your case considering various scenarios. The experiences shared are under normal usage conditions and not on the move. Device used in Bengaluru – Whitefields area and Hyderabad - SR Nagar area. Performances may differ across locations.