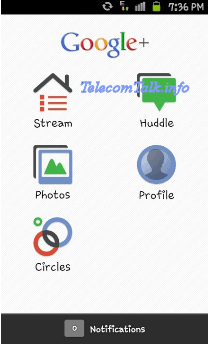 The Buzz is all around after Google released its New Social product Google+ a Social Networking Site to a limited number of users (and processing new invites) as an answer to its rival sites Facebook, Twitter and many others.
To my surprise Google also released an official app immediately in the Android Market for its Android users not to lose their mobile experience. Coming to the application I felt that the app hasn't missed anything that the Web platform performs. I am able to do everything in the app that I performed in the web version.
This indicated google hadn't missed anything in the app. More or less I felt that the app is similar to that of the Facebook app for Android.
In my view Google + is nothing but a blend of Facebook, Twitter, Foursquare, +1, Check in, buzz=Google+.
Interestingly, this app also has a widget so that we can update direct from the Home screen itself.
The 2nd image shows the update window after tapping the widget on Home screen. Your location is automatically updated, in case to add privacy you can even remove your location.
You can even attach photos to your updates. There is also an option in the settings which updates every photo you take from your device automatically to G+ update, this option can also be unchecked incase if one needs privacy.
The 3rd image is the main home screen of the application. If you flip the Notification bar upwards you can see your entire Notifications received.
The 1st image shows the update window from the application. The 2nd image shows your profile and the 3rd image shows your stream and updates on G+. You can even see all the images you have posted on G+
G+ is all about circles and managing the other G+ users in different circles which can be done very easily from the app also. You can even create circles or add people to the circles you have created.
G+ which is also acting as a place to update your location or check-ins also suggests a list of places nearby so that you can easily check-in and let people know where you are checked in, thus smartly acting as a brother of foursquare! And the settings window turns out to be as in the last image.
You can customize everything like Notifications, Update preferences and so on. I have used and tested this app/Widget on Samsung Galaxy S2 running on Android 2.3.3 and it performed flawlessly.
If you already accessed Google+ and experienced the new Social Networking site do let us know how you felt with the new Networking UI?  Those people who haven't tried G+ yet, do ask for an invitation from your friends or wait till Google process your requests: P! Overall it will be a good experience for G+ users who own an Android.
We are also on Google+ so put us in your Circle today https://plus.google.com/106134987743770890154/