According to the latest subscription data by Telecom Regulatory Authority of India (TRAI), Reliance Communications has added maximum number of wireless subscribers in May 2013 followed by Vodafone and Idea at the second and third spot respectively.
Total wireless subscriber base in India has increased from 867.02 million in April 2013 to 870.20 million at the end of May 2013 thereby witnessing an addition of 3.18 million wireless subscribers in May alone. Delhi shows maximum teledensity followed by Tamil Nadu and Himachal Pradesh Service areas.
May 2013 GSM Subscriber base India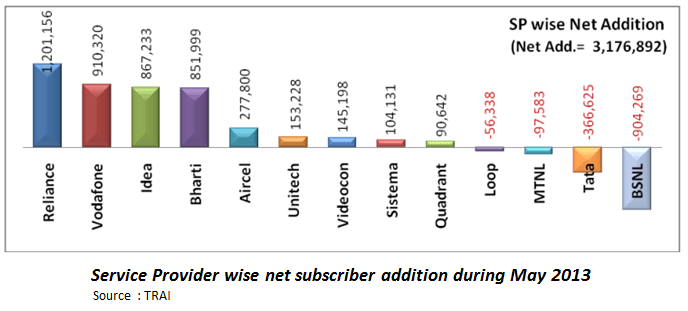 Mobile Number Portability: As per the data reported by the service providers, in the month of May 2013 alone 1.83 million requests have been made for MNP.
Broadband (256 Kbps download): Total Broadband subscriber base in India has increased from 15.09 million at the end of April 2013 to 15.13 million at the end of May 2013. As on 31st May 2013, there are 161 Internet Service Providers (ISPs) which are providing broadband services in the country, reported TRAI. Top five ISPs in terms of market share (based on subscriber base) are: BSNL (9.96 million), Bharti Airtel (1.40 million), MTNL (1.09 million), Hathway (0.36 million) and You Broadband (0.31 million)