Regular software updates play a key role in determining the customer loyalty and future of smartphone manufacturers. Oppo, the Chinese vendor of premium devices has just started rolling out the ColorOS v2.0 update for the Find 7 and the Find 7a. The ColourOS v2.0 is based based on Android 4.4 KitKat. The update has a file size of 914MB but isn't available as an OTA update.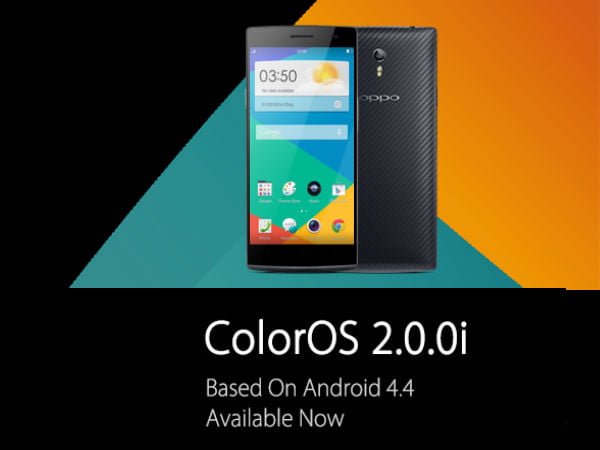 So what you need to do is that you first need to download the update package and then move it to the root directory of the phone. Post that you need to update the device while it is in recovery mode.
The ColorOS v2.0 Changelog
Refined UI Design
Global Gaussian Blur Effect: System wide Gaussian blur effect makes the whole system look better and consistent in different interfaces, such as the notification center, folders, music now playing interface etc.
System Wide Animation
Live Weather 2.0: It gets a new weather effect "Haze" and gets sound effects too.
Global Gesture Panel 2.0: The new gesture panel is now activated by slide up from the bottom of the screen. Each gesture you've used can be recorded and shown on top as a reminder.
Redesigned Task Manager: The new task manager design shows every task running in background as a card you can simply slide it up to close it or slide it down to lock it or tap the end all button to close them all (locked apps will not be closed).
Easy Crop for Screenshots: After you've taken a screenshot you can pull down the notification center to crop, share or delete it.
Single Layer Launcher: The changing from dual layer to single layer launcher is not simple a win/lose situation, both design has it's own advantage and disadvantage. ColorOS has this time around to go with single layer.
Super Power Saving Mode: Reduces animation, underclocks the CPU and shutdowns all applications except for calls and messages.
Memory Cleaner: It enables you to control and release memory more easily.
Oppo hasn't been as popular in India as it would have quite liked to, and the Find 7 couldn't really aid its cause. You can get an LG G3 for the same price as the Oppo Find 7. Let us see if the update can a small set of customers happy who bought the Find 7 and the Find 7a.