It has been almost a month now since Jio launched its Jio-LYF Preview offer through invite system. When it comes to 4G it is all about data speed. Incumbent operators like Airtel, Idea and Vodafone boast of their 4G speed and coverage they provide.

I have been using Jio Preview offer for last two weeks in Kerala and let's see how Jio match up to its competition in terms of network speed and coverage.
Jio 4G speed in Kerala:
For Jio 4G, I find the speed a variable factor depending on location and signal strength. However, speed is consistent throughout the day at least for the time being. I got speeds above 50 Mbps at many places around Trivandrum, while the speed was in range of 10-15Mbps at other locations.
I did further testing at my small town Kottayam, where the speed didn't crossed 24Mbps even when standing below a Jio tower. For file downloads using Orbit download manager, I could achieve download rate as high as 7-8 MB/s, which suggest I am getting speed above 60Mbps on Jio 4G.

The upload speed was in range of 6-9 Mbps at most location. But one of my friend got upload speed as high as 27 Mbps when tested at Cochin. One of the advantage of being on 4G LTE network is the low latency. When tested against Jio speed test server in Mumbai, the latency was in range of 50-80ms. The latency was below 100ms when tested against other servers. When compared to wired broadband, latency rates are equivalent to what you get on fibre connection.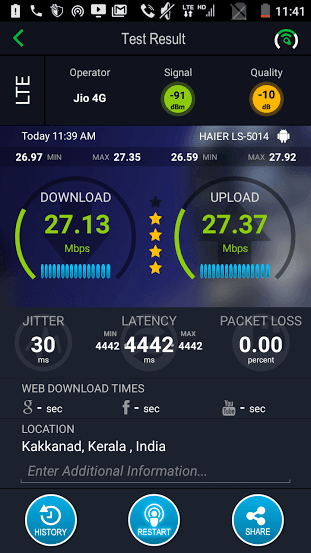 2300MHz Vs 1800MHz and Fibre connectivity
If my guess is correct, Jio has deployed 2300Mhz high-capacity spectrum only in major towns. While other locations will get 1800Mhz, which can provide better coverage but half the speeds of 2300 MHz. This is due to the fact that, Jio has just 5 MHz(paired) bandwidth in 1800Mhz band compared to 20Mhz(unpaired) in 2300 MHz band.
Tips: You can use Netvelocity Enterprise App downloaded from Jio App store to check which band you are getting signal. (Click + icon and select RF Information)
Another reason should be the fibre connectivity to Jio towers. Jio is laying an extensive fibre cable network across the country. Still not all 4G sites could be connected to the fibre network. For small towns like Kottayam, Jio hasn't completed the fibre network. Which would mean the towers has to run on microwave backhaul wireless connectivity which can't match fibre speeds.
Jio 4G Network coverage in Kerala
The main factor that will give Jio edge over its rivals would be network coverage. Airtel, Idea and Vodafone may have taken away the early mover advantage from Jio. But that doesn't seems to affect Jio as it has already deployed country's largest 4G network covering 80% of the population. For incumbent operators their network coverage goes something like 2G>3G>4G.
In Kerala, I would say Reliance Jio network coverage is comparable to Airtel 2G, which also runs on 1800MHz. But not as good as Idea or BSNL 2G which runs on 900MHz. Jio 4G signal was everywhere I went, but signal get significantly weak inside buildings if the tower is not near you. When travelling from Trivandrum to Kottayam by train, signal was lost only 3 or 4 times interrupting my Jio Play live TV streaming.
Also Read: Top 5 smartphones under Rs. 10,000 with massive battery and Jio VoLTE support
Final verdict
Jio 4G network in Kerala is fast enough with combination of 1800MHz and 2300Mhz airwaves. However, Jio has to solve the indoor coverage before it can go for a commercial launch. To get decent speeds on any 4G network, you need to get signal strength less than -105dBm. When I raised the indoor coverage issue with Jio care, I got the reply that they are waiting integration of 850MHz spectrum which would solve the coverage issue before launch.
If you are using Jio 4G, please share your experience of network speed and coverage through comments below.