Intex Technologies introduced the Cloud X1+, most affordable 3.5" smartphone in the below-Rs.3000 price category, and the Cloud Y11, one of the low cost 3G-enabled 4" smartphone priced below Rs.5000. Running on Android platforms, the Cloud Y11 and the Cloud X1+ is targeted at widespread rural populations who wish to replace their feature phones and use fully equipped smartphones to get a rich user experience at a much affordable price.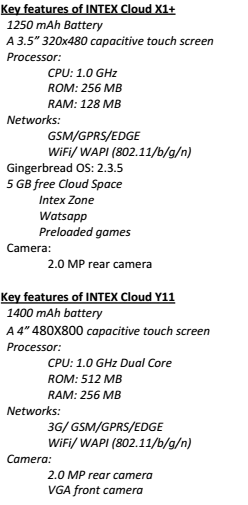 The launch of the Cloud X1+ is a fulfillment of Intex's promise last year to introduce a smartphone priced below Rs. 3000. The Cloud X1+, available in Black and White and priced at Rs. 2990, is the cheapest 3.5" device. The Cloud Y11, available in Black, Grey and White, is one of the lowest-priced 3G phone, pegged at an MRP of Rs. 4490.
The Intex Cloud X1+ and Cloud Y11 are both dual-SIM phones are pre-loaded with smart gravity sensors. The Cloud X1+ is powered with 1 GHz processor and Cloud Y11 runs on Dual Core processor which facilitate multi-tasking and provide an advanced gaming experience through enriched graphics support. Furthermore, both phones offer an 'áuto rotate' facility, which allows the phone screen to automatically rotate images, video playbacks and/or menus towards the direction the user is facing at that point of time.