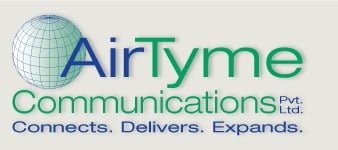 AirTyme Communications that specializes in integrated supply chain solutions for the wireless industry throughout the United States and China has officially launched their India operations on 10th January 2011 and are already making waves in the Indian telecom industry.
AirTyme is the exclusive distributor of the recently launched MILESTONE XT800 for Motorola Mobility in India.This is the first dual SIM android based handset in India.
Recently Telecom Talk went behind the scenes to have an exclusive 'talk' with Mike Narula, CEO AirTyme Communications.
TT : Brief on AirTyme Communication and their journey of more than two decades in USA?
AirTyme Communications is a multi-million dollar international distribution company, specializing in integrated supply chain solutions for the wireless industry throughout the United States, China and India. With over 20 years of extensive distribution experience and strategic partnerships with billion dollar companies, such as Motorola, and PCD, Airtyme is focused to become a leading supplier of mobile wireless devices in India.
AirTyme is headquartered in the US with offices in Hauppauge, NY and Gurgaon, India. AirTyme offers a full range of benefits and flexible terms that help every agent maximize their sales potential. Our competitive prices and excellent customer service will keep you as an AirTyme customer for years to come
Mike Narula, founder and Director of Airtyme Communications, Private Limited ("Airtyme") a highly motivated professional with 15 years of entrepreneurial business experience began his career in the mobile electronics industry in the U.S. at an early age. Mike co-founded Bean Rocket Mobile, a retail sales and wholesale distributor of wireless devices and accessories. Over a period of six years, many business relationships were established at the local and national levels, through aggressive sales and marketing programs.
In 2006 Mike was the sole founder of Reliance Communications, LLC (USA) ("the Company"), one of the nation's premier wireless distribution companies. Reliance soon acquired Quintex Wireless, further augmenting the business client base and supplier relationships. By 2009 the Company had moved to a 20,000 square foot warehouse and office building, and established close working relationships with the largest suppliers of cellular handsets, including such names as Motorola, Samsung, LG, PCD and RIM. In March of 2010, the company became an Authorized Verizon Wireless Distributor, one of only three in the country.
In 2010 Mike formed Airtyme Communications, Private Limited ("Airtyme"), to leverage his success in the U. S. market and to continue his path of growth in the Republic of India. In just a few months, Airtyme has purchased corporate office space and a warehouse facility, established supplier relationships with PCD and Motorola, and has formed a strategic partnership with a large original equipment designer of handsets
Mike Narual's keen insight into the mobile electronics distribution business led to growth and success based on exceptional management of product, inventory, sales and customer service; the building of relationships with business owners and decision makers to extract the specific business requirements of clients; aggressive marketing and advertising strategies to help drive clients' business goals; clearly understanding and monitoring the competition to increase market share.
TT : What challenges do you see as an emerging player in India?
The urban market in India is highly saturated. Rural marketing will be the key to growth strategy. But the factors which are restricting rapid roll out in rural areas are the low ARPU customers and high cost of distributing to these places.
TT : What is your distribution channel like ?
AirTyme and its partners have one common mission: to create the products that customers need, to build these products efficiently and with high quality, and to support their product portfolio throughout its complete lifecycle. Airtyme has accomplished this mission by having the ability to link product development, manufacturing and service processes together as one unit. It's important to look at how these processes combined support a product's entire life cycle – from the early design stages, through sourcing, to manufacturing, and then into the product's service life.
TT: What are your future plans for Indian market?
The immediate future plans of AirTyme in India are as follows:-
Products- AirTyme is a distributor of simple feature handsets, multimedia data devices, smartphones and USB modems. We are working on alignment of promoters and execution to be best targeted customer areas. The list has the top 100 retail outlets and 50 Modern Trade stores.
Service- To ensure consistent quality of service, each of our accounts is assigned a personal account manager who understands their business, who will be their single point of contact, and is dedicated to bringing you the highest quality of customer care.
Production- We have established the strict quality control system for every strategic stage in the production process. Our products and services have been acclaimed as the highest quality and the most trust-worthy in the wireless industry.
Distribution-AirTyme efficiently receives, manages, and ships inventory to retail and online customers across the country. We work hard to support and streamline every purchase and operational interaction.
TT:Are there plans to launch Airtyme mobile handsets?
We plan to brand our own handset. The profile will be a sleek design that has both a touch screen and a slide-out QWERTY keyboard. It also has multimedia features, HSDPA speed, stereo Bluetooth, A-GPS, and a full HTML browser. The difference is the device uses a capacitive touch screen which results in a very intuitive and responsive.
TT:What will be the positioning of these mobiles?
For the Smartphone Users: The MILESTONE XT800 will provide on-the-go information for consumers who want a device that matches the demands of a hectic lifestyle like that of a senior professional.
For the simple feature devices targeted audiences are;
Young Adults (18-24 yrs), busy, sociable and active. Want features and style but are constrained by their financial situation. They use their mobile phone for everything or "almost" (landline, clock, alarm clock, music player, camera etc.
For the 3G multimedia devices targeted audiences are;
Male: 25-40, Female: 20-30: Education background, student, white collar, IT professional, enterprise and the government employees.
TT:What will be your strategy for 2011-2012 For 3G and 4G:
Operational flexibility is not an easy or cheap option. It requires a company to establish the right balance between adaptability (changing according to circumstances) and stability. The wireless supply chain processes can leverage flexibility through sustainable cost reductions, cash management and tax benefits.
Moving into new markets has a profound impact on the supply chain (i.e., new import regulations, local country legislation, new customs processes, and customers). Respond quickly to consumers' needs, extending their market reach by exploring new technologies, new channels and new geographical markets.Have the flexibility to re-evaluate our business model due to sustainability pressures and understanding the impact of the changes to the supply chain.Through a high-performing supply chain, businesses will be able to increase the response to the market.