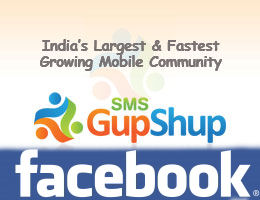 SMS GupShup India's largest social messaging platform is working with Facebook, the world's largest social network, to enable Indian Facebook users to go mobile.
SMS GupShup's messaging platform will enable Indian users to take Facebook with them, wherever they go, using SMS.
Facebook users can now update their status updates and message friends using SMS.One can also receive status updates, messages and wall posts instantly in their SMS inbox.
Users can activate Facebook on their mobile devices by visiting www.facebook.com/mobile.
Users can then update their status by sending a message to 92-FACEBOOK (9232232665). Users can reply to their friend's messages by simply replying to the incoming SMS. The service will operate on longcodes (i.e. regular 10-digit phone number). Facebook does not charge anything for the mobile service, but regular carrier charges may apply for messages sent to Facebook.