We all know that the year 2016 will be the year of LTE in India. Apart from Airtel, who started 4G services back in 2012, we will see several players to jumping onto the 4G services bandwagon in India this year. Idea and Vodafone have already launched their 4G services in selected markets. Jio, the telecom arm of Reliance Industries, will launch its commercial service anytime soon.
Idea Cellular:
Let's start with Idea Cellular by discussing its 3G as well as 4G spectrum. Idea won 2.1GHz spectrum in 11 circles in 2010, and those airwaves were used for 3G services. In 2015 auction, Idea grabbed a chunk of 5MHz spectrum on 2.1GHz band in Kolkata and 900MHz spectrum in Delhi.
In Delhi, Idea launched UMTS900 i.e. 3G services over 900MHz band (similar to Airtel's Platinum 3G). It should be noted that Idea Cellular has almost pan-India 3G presence via ICRA route through Airtel and Vodafone's 3G networks.
Idea 3G Map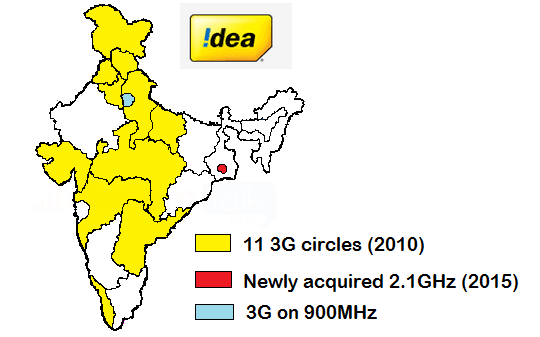 In past two years, Idea kept defending itself by saying that India's telecom market isn't ready for 4G/LTE services. However, sensing the threat from Reliance Jio's entry into 4G turf, Idea started rolling out 4G services in selected circles using it's technology-neutral 1.8GHz band.
In November 2015, Idea acquired spectrum in two more circles (Gujarat and Uttar Pradesh-West) from Videocon. Right now, Idea is capable of rolling out LTE-FDD on 1800MHz band in a total of 12 circles. It should be noted that Idea did not win any of 2.3GHz band in the year 2010.
Idea 4G LTE liberalised Spectrum details
In three circles – Himachal Pradesh, Uttar Pradesh (East), and Mumbai – Idea has less than 5MHz of spectrum, which can be used for Narrow-Band LTE deployment, but NB-LTE doesn't make sense in Mumbai due to large population.
From the chart above, it's clear that Idea has some circles with more than 5 MHz spectrum which were won in 2012. However, there is lack of transparency if this spectrum is tech-neutral or not. So, Idea has stayed away from rolling out 4G in these circles (Kolkata, West Bengal, Jammu & Kashmir, and Assam). Otherwise, Idea can serve 16 circles with LTE-FDD. 
World wide narrow-band LTE is getting importance as it can be deployed with just 200MHz chunk of air space. Experts believe that NB-LTE can be a game changer for IoT (Internet of Things). However, LTE-NB is not suitable enough for general data services in India. 
Idea 4G LTE Map
Vodafone India
Vodafone India has always been cautious about the amount of money being spent on useless stuff and they invest money in a very planned manner. In 2010, Vodafone invested for 3G spectrum only in 9 circles and opted for Intra-Circle Roaming Agreement (ICRA) to go pan-India through Idea and Airtel's networks.
In 2015, Vodafone invested in five more circles to acquire 3G spectrum. It did not receive any spectrum in 2010 on the 2300MHz band. However, they won technology-neutral spectrum over the 1800MHz band, which supports LTE-FDD. With this, Vodafone will be engaged into the war against Reliance Jio.
Vodafone seems to be seeing 4G as a business case in India, and hence they are in talks with Tikona to buy the latter's 20MHz of spectrum in 5 circles over the 2.3GHz band.
Vodafone India Liberalised spectrum details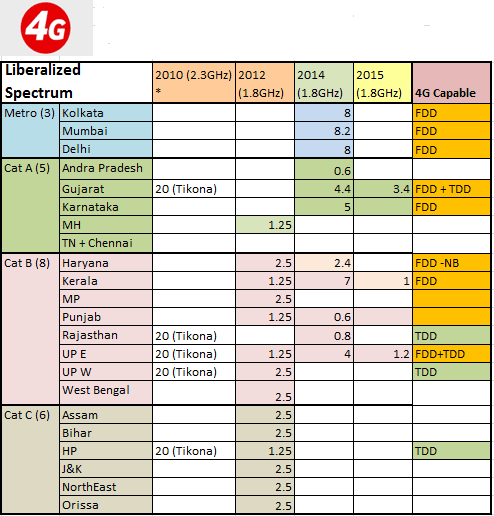 *The Tikona-Vodafone merger is yet to happen as of now.
Airtel
India's largest mobile operator, Bharti Airtel, has a huge spectrum bank across many bands except the 800MHz band. Initially, Airtel had a spectrum on 2300MHz band in 4 circles (Kolkata, Karnataka, Punjab, and Maharashtra). Later, they acquired four Qualcomm circles – Delhi, Mumbai, Kerala and Haryana – and it recently acquired one circle from Augere in Madhya Pradesh. Airtel is rolling out LTE-TDD in these circles.
In 2014 and 2015, Airtel bagged some tech-neutral spectrum on the 1800MHz band, which is being used for both 2G mobility as well as LTE-FDD services. Airtel has now launched LTE-FDD in some circles – Andhra Pradesh, Tamil Nadu & Chennai, North East, Himachal Pradesh, Orissa, and Rajasthan.
Airtel liberalised spectrum details
On the 3G turf, Airtel has its own 3G/HSPA network in thirteen circles. In 2015, Airtel bagged six additional circles and introduced Platinum 3G (over 900MHz band) in Mumbai and Kolkata. In Mumbai, Airtel has dual 3G network.
Airtel 3G Map India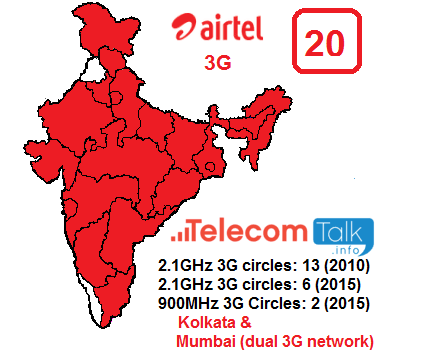 Reliance Jio
Jio, Reliance Industries' telecom brand, is robustly shaped with its spectrum bank. The company is yet to launch its commercial services, but it has already invested some thousand crore rupees to make everything right before the launch.
Here are Reliance Jio's spectrum ownership details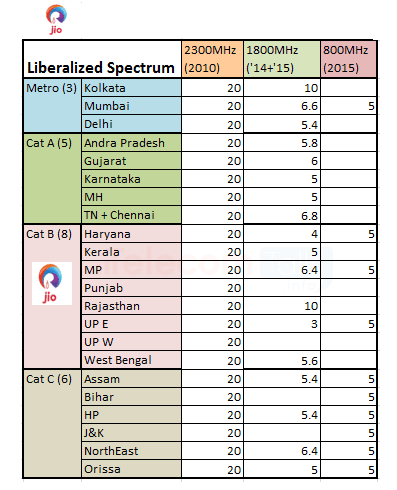 Jio has at least 5MHz in the 1800MHz band in most circles where it plans to roll out LTE-FDD. It has plans to roll out LTE-TDD over its 20MHz continuous spectrum in 2300MHz band in all the circles. Jio strategically bagged 800MHz spectrum in selected circles like Jio has 5MHz in all the 'Category C' circles where network deployment cost can be reduced.
Jio's 1800MHz and 800MHz Map:
Aircel
Aircel, the JV of India's Apollo Hospitals and Malaysian telecom giant Maxis, had invested a huge sum of capital 3G and BWA auctions that took place in 2010. However, grabbing such a huge spectrum did not make the company profitable. The spectrum price dragged them into the debts. After 2010, Aircel was never took a major participation in the following auctions.
Aircel 3G and Aircel 4G Map
Aircel grabbed the 2100MHz spectrum in 13 circles in 2010. In 2015, they did not win any 2100MHz spectrum. It grabbed 2300MHz spectrum in 8 circles. In 2014, Aircel bagged a fraction of the spectrum in some circles as a top-up. In the auction that happened in 2015, Aircel won 10MHz 1.8GHz spectrum in the Tamil Nadu circle, which is the company's strongest circle.
As Aircel has 20MHz 2300MHz spectrum in Tamil Nadu circle, we don't expect that Aircel will use the 1800MHz spectrum for LTE-FDD rollout in this circle. There have been some talks in the market that Aircel may be acquired by Reliance Communications.
Videocon
Videocon Telecom had acquired 1800MHz spectrum in six circles in 2012. Adding Punjab, they have spectrum in about 7 circles. Since then, they have not participated in any of the following auctions.  In 2015, they sold their spectrum in Gujarat and UP West to Idea Cellular. In 2016, Videocon may sell its entire telecom business in a phased manner.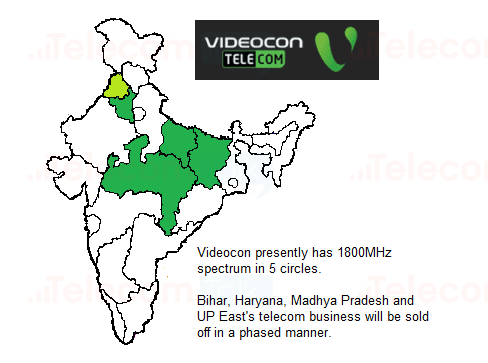 They did not confirm anything about their profitability in the Punjab circle where they have a strong presence in GSM and CDMA. With Videocon Group's strategy, it is sure that Videocon is not going to launch 4G in coming future, anywhere except the Punjab circle.
Telenor India
Telenor has a long and troubled history in the Indian telecom. In 2009, it invested in Unitech's mobile unit Unitech Wireless, and later commercially launched mobile services under the Uninor brand. In 2012, it lost all its licenses after Supreme Court's verdict.
However, they retained license in 6 circles and Unitech left the joint venture. The new entity of Telenor's Indian venture was named as Telewings when Indian partner was Lakhsadeep Investments & Finance. In October 2014, Telenor acquired full stake of Telewings, and Uninor was rebranded as Telenor India.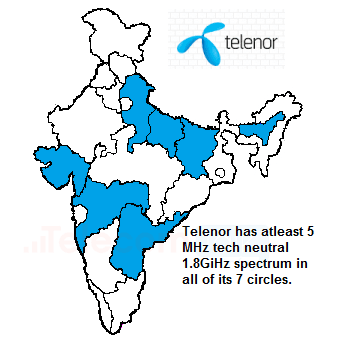 In the 2014 auction, Telenor bagged spectrum in its 7th circle – Assam. Telenor is now looking for some consolidations to grow in the Indian market. Tata Teleservices may be merged with Telenor as per market whispers.
Regarding 4G mobile services, Telenor has expressed to join the bandwagon, but the company has limitations as they are now more focused on voice and data. However, Telenor has plan to roll out narrow band LTE on the 1800MHz spectrum when the market demands. Telenor's 4G may wait till Tata Tele-Telenor merger happens.
Tata DoCoMo
Tata DoCoMo, the telecom brand of Tata Teleservices, is under a debt and a pressure to perform. Tata Teleservices has lost its foreign partner NTT DoCoMo last year. Now Tata Teleservices is looking for a new partner.
There are strong chances that Telenor India, the wholly-owned subsidiary of Norway's telecommunications giant Telenor may acquire it while Tata Sons will be a minor shareholder in the merged entity.
Tata Docomo 3G Map
Presently, Tata DoCoMo is present in nineteen circles of the country, and offers both GSM and CDMA services. Tata DoCoMo 3G is present in nine circles only. In earlier auctions, Tata Teleservices merely participated and bagged a fraction of the spectrum as a top-up in fewer circles.
Reliance Communications
Reliance Communications has its 2G GSM presence (900/1800MHz) and CDMA presence (800MHz) across all the 22 circles. However, in the recent auctions, the company did not spend much to bad the tech-neutral spectrum. As per DoT's calculation, Reliance Communications can make its 800MHz spectrum liberalised in sixteen circles.
Reliance 3G Map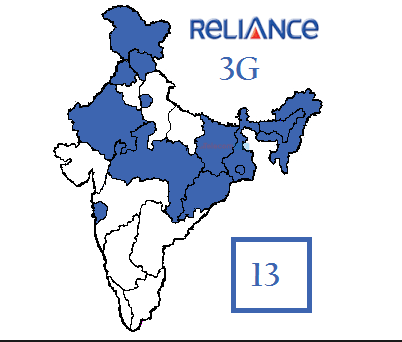 The telco is in advanced stages to merge with Sistema Shyam's telecom venture MTS India. MTS is currently present in nine circles with at least 3.75MHz spectrum on 800MHz band. The company has its 3G presence in thirteen circles since 2010. There are no new 3G circles that were added to the company's portfolio in 2015.
MTS India: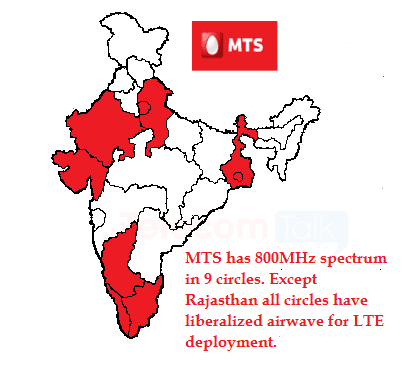 Sistema Shyam Teleservices, which operates under the MTS India brand, is the country's sole operator which operates only on CDMA technology. At present, it is present in nine circles. Except Rajasthan, all other eight circles have liberalised 800MHz spectrum, which can be used for LTE-FDD deployment. Sistema wants to sell out its business and Reliance Communications seems to clear the roadblocks one by one to get MTS India under its hood.
In this discussion, I intentionally keep BSNL and MTNL away. Firstly, BSNL and MTNL as a whole is present across the country with their 3G services, and their 4G plans are yet to be concrete enough. They hold the 2500MHz spectrum, which will increase their CAPEX to roll out 4G/LTE services and they are already offering WiMAX services on commercial basis in some circles like Kerala. So BSNL/MTNL's 4G is a long way to come.