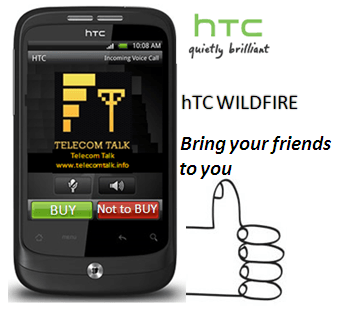 One of the most awaited Android phones, HTC wild fire, this phone initially made a lot of buzz with excellent features but the user experience is not looking like supporting its buzz as its only equipped by a QVGA 320*240-resolution screen which is too pixilated and low-res to run many apps from the Android market.
This phone looks sleek with a clean looking frame and an optical track pad, with very much comfort level while using the phone is low. For many reasons firstly the 3.5 mm audio-jack is placed perfectly at the top but the placement of the charging point placement makes it very hard for typing in landscape mode.
This phone also offers very little grip while using the on-screen keyboard and also it's harder to browse with the optical track pad. One thing which will truly be missed in this HTC shell is the LED flash.
The phone is comes with Android 2.1 version OS which is enhanced with HTC Sense and its widgets. In addition to that, there is a simple feature: Flashlight; this makes the LED flash into a torch with a simple press of a button. The Radio is standard with all the FM stations being crisp and clear.
The process of transferring data like contacts from one phone to another is usually a tedious and irritating task but the feature of 'transfer data' turns it into a child work, only if you earlier phone has Bluetooth.
The camera has some cool features - like Geo-tagging, smile detection etc. Though the camera quality is not excellent, the camera sure does click some decent pictures in the dark. The video sadly does not have LED support which makes video quality very blurry even with the in-built feature night-vision - but all in all not that disappointing. The audio recording quality is also pretty good, it should match the basic-mid standards.
The low QVGA resolution of the phone doesn't allow many games and features to function properly on the phone. You should not be surprised if many games which comes with super graphics don't work in this phone. Yes, one thing which you will definitely appreciate and will praise is its Wi-Fi and EDGE performance, Be it Nimbuzz,ebuddy,truphone,GTalk or all other applications worked @ par and connectivity was simply the awesome.
Last, but not the least. The battery life of this phone was above average despite frequent usage of GPS, Wi-Fi, EDGE, sync. I also tried putting brightness to the FULLEST and Bluetooth going full throttle it lasted for a substantial amount of time.
After reading all this, Ahh  Now if we talk of pricing, its bit disappointing. Keeping in mind about few more Android phone launches from Huawei and Samsung just some time later from now, purchasing this phone at a Street Price of Rs. 15k will surely be a costly affair. And if you really want to go and buy this phone, just wait for some time, prices will surely drop. If you are considering buying a latest android phone with Android 2.2v in it, just wait for some time and try Huawei's IDEOS which is priced affordably around 5k.