Olive Telecom today announced that it has partnered with India's largest GSM Mobile service operator Bharti Airtel for its handset 'Olive FrvrOn' V-G2300, India's first hybrid-dual powered mobile phone compatible with any AAA battery.
The users will have an advantage of a free Airtel connection with the handset. Olive FrvrOn GSM handset has the potential of providing the user 'Non Stop' telephony at a consumer friendly price of Rs1299. In the busy urban centers or in the remotest areas of the country the ability to stay connected even when the power (Lithium Ion) runs out.
As part of the initiative Olive Telecom and Airtel have started a marketing campaign to penetrate deeper into the rural markets through a Van promotion which goes way beyond 'off highway' to reach the heartland of the state. 19 vans are already in action from the Kolkata, Cooch Behar & Behrampur hubs. These vans have promoters on board who demonstrate the device and talk about the inherent advantages. The van purchase also gives villagers an added advantage of coming with a free gift, a battery powered LED lantern, a utility item which is matched with our battery operated phone.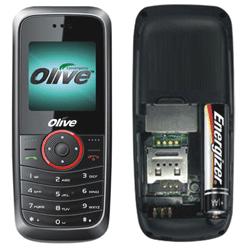 In sync with the company's vision to provide simple solutions to the everyday requirements in a world of connectivity, the new innovation in mobile handset category is aimed at giving unlimited 'power' in the hand of the users. A user upon running out of electricity charge in the supplied LiOn battery can simply slot in any AAA battery available in the phone and stay connected, thus keeping their mobiles phones 'forever on' by charging the main battery simultaneously.
"After its successful debut and huge customer response for Olive frvrOn we have partnered with Airtel, country's largest mobile phone operator offering a free Airtel connection with the handset at a consumer friendly price. The Airtel offer will be available in the West Bengal region We now have a chance to take it to areas where the quality of electricity is not always very good. In effect we will take it to markets that the phone was intrinsically designed for" said Arun Khanna, Chairman Olive Telecommunication.
"We are pleased to offer our services to Olive Telecom for its innovative handset Olive frvrOn making it available to the Indian consumer at an affordable price range". Olive Telecom is an innovative device maker and this handset is one of the most successful offering in its portfolio", said PD Sarma, CEO - WBO, Mobile Services, Bharti Airtel .
With a delightfully affordable priced tag of Rs1299, the Olive FrvrOn mobile handset is a must for all. It comes in a compact design with essential mobile phone features such as FM radio, polyphonic ring tones, 1.5" color display, stereo handset and speaker phone. This is the first Indian device to be covered by Engadget".
This is a pretty sweet deal if you're living/travelling in an area without consistent power. Throw in a decent price point and we're guessing this would do pretty well in Tier II towns. Get a closer look for yourself after the break."