Google is working on a standalone Reply application, which brings the Allo's Smart Reply functionality to a wider number of apps. While Google is planning to release the app in the coming days, APK file of the Google Reply application already surfaced on APK Mirror. The application can be installed on Android smartphones running Android 7.0 Nougat and above, and it works flawlessly. But do make a note that it's a beta build (closed beta build to be precise) and sometimes, it may not work.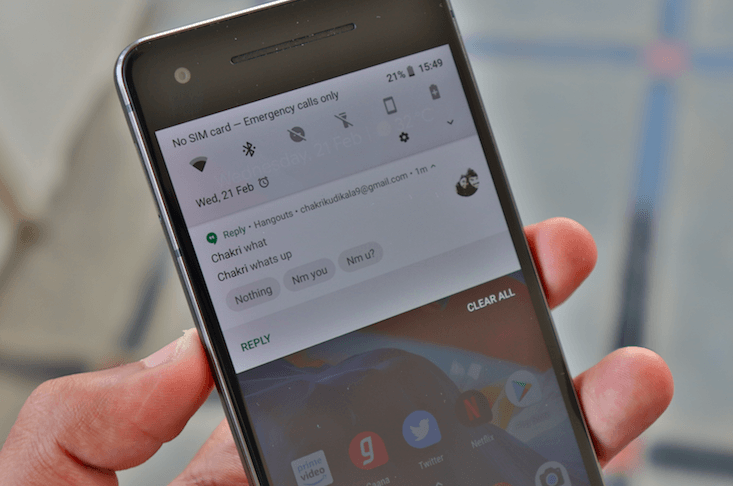 Google Reply App Features
As the name itself suggests, the Reply from Google allows you to send smart replies with just one tap in third-party applications such as WhatsApp, Hangouts, Instagram, Slack, etc. For example, if you receive a 'Whats Up' message, the message in the notification center will display smart reply options such as Nothing, Nm you? Not much, you?. Tapping on any of the replies, the message will be sent automatically.
But that's not all. The Google Reply application even sends automatic replies for some phrases. Example, 'we're waiting for you' text has been sent by any of your contacts and the Reply app will automatically reply to that message as 'This seems urgent. If you want to reach Chakri, type "Urgent" to make their phone play a loud sound." If they reply to the message as 'Urgent', your phone will play a loud sound to grab your attention.
Then there's this Message Screening menu, which will automatically detect your current position and replies to the message right from your pocket. For instance, you're in a vehicle, and someone texts you, it will automatically send a reply as Chakri is in a vehicle right now. However, this feature didn't work for me though.
In addition, you can set up your Home and Work address, so that when someone asks you when you're reaching home or vice-versa, it will automatically reply to them by tracking your current location.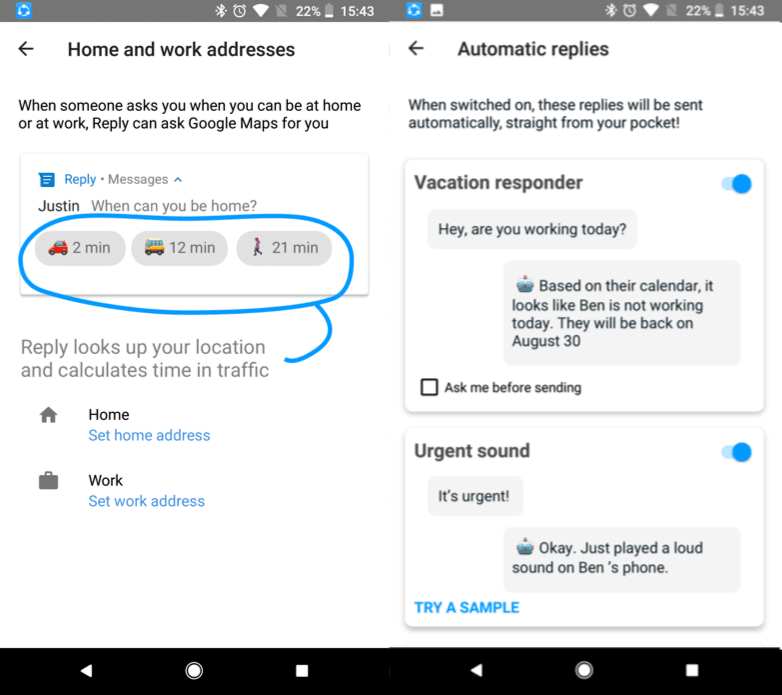 How to Get Google Reply App Right Now
As stated, Google is yet to release this application officially, but for now, there's the closed beta APK leaked on APK Mirror and you can download it by heading over to this link. To install the APK file, make sure you have enabled the unknown sources feature in the Settings app.
After installing, the application will ask you to connect your Google account, do that and follow the on-screen instruction. For now, there's no way you can edit the automatic reply or smart replies. Hopefully, Google will add it to the final version of the application. Google is also allowing you to delete the account right from the application itself.