Reliance Jio preview website went online few days ago, but it was quickly pulled down. We have managed to pull some in depth information regarding partnership with RCOM from Jio website FAQ page. The partnership has gone beyond passive infrastructure sharing to vital operations of Jio services. Reliance Jio holds 20 MHz of spectrum in the 2300 MHz band in all 22 circles and 5-7 MHz of spectrum in the 1800 MHz band in 14 circles.
Reliance Jio will use the 2300 MHz spectrum to deploy TDD-LTE for offering enterprise solutions as well as for home broadband and TV services where fibre optic connectivity is not feasible. The 1800MHz spectrum will be used to provide FDD-LTE for handheld devices like smartphones, tablets and MyFi portable routers. Jio will be using its own 1800MHz spectrum to offer voice over LTE (VoLTE) where voice calls are also carried over the LTE data network and provides better voice quality than analog voice signals.
Below is the screenshot which talks about the roaming charges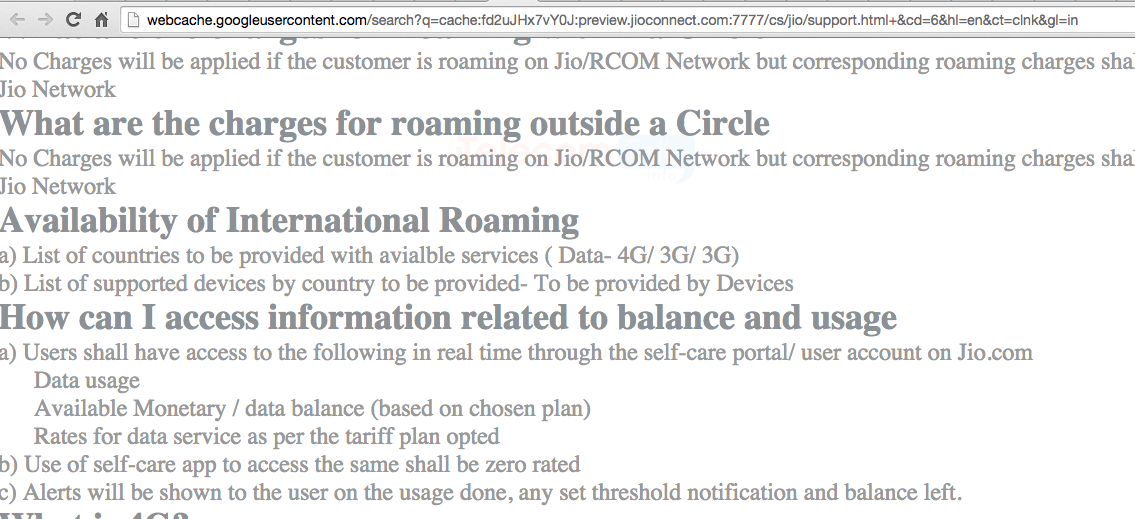 But there are very few devices in the market which support VoLTE, also Jio does not have 1800MHz spectrum in all circles. To overcome this Jio has partnered with RCOM for using their 2G and 3G network to fall back for voice calls if the subscriber's phone does not support VoLTE or where its own network is not present. Jio has clarified in its FAQs that national roaming on RCOM's network will be free while roaming on other operator's networks will attract roaming charges.
Also Read : Reliance Jio Play : Next gen TV
It is not clear at this point if this is a unilateral network sharing deal where only Jio's subscribers get access to RCOM's 2G and 3G network or bilateral deal where even RCOM's subscribers will get access to Jio's superior 4G network. In any case this indicates that Jio will keep away from bidding for 2100 MHz spectrum to prevent rise in base price due to increased competition, it will only bid for 1800 MHz spectrum in the 8 circles where it doesn't have spectrum in that band. RCOM on the other hand will bid aggressively in the 2100 MHz auction to win spectrum in thee 9 circles where it currently doesn't hold 3G spectrum so as to become a pan India 3G operator.
Also Read : Reliance jio Plan details
All in all the passive and active infrastructure sharing deals between the Ambani brothers could spell some trouble for the AVoId group and give them a run for their money. As the commercial launch of Reliance Jio draws close we will keep updating you with more insider news and giving you a glimpse of their upcoming products and services. Keep reading and commenting, we are as excited as you are to witness the dawn of a new era in the history of Indian telecom.