According to the regulator, congestion on POIs has improved for the reporting three months, compared with that for three months ended March 2009 during the reporting period cellular mobile telephone subscriber base has rose to 427.29 million, as against 391.76 million in March 2009.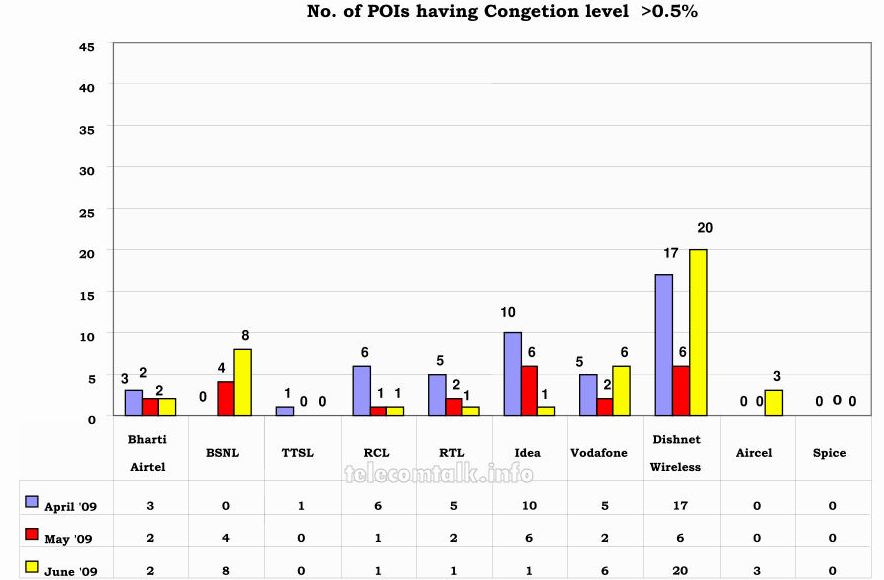 TRAI's benchmark for congestion at POIs is less than 0.5 per cent, meaning every 200 calls between two operators, only one call should face interconnect problems.The report is posted on the regulator's website a POI is a point where two networks exchange traffic (interconnect or handshake in telecom parlance).
Dishnet Wireless, a subsidiary of Aircel group and a GSM operator in northern and eastern circles, had 20 congested points of interconnection (POIs), making it the most congested network in the country. This was followed by state-owned Bharat Sanchar Nigam Limited (BSNL) with congestion in 8 POIs and Vodafone in 6 POIs, Telecom Regulatory Authority of India (TRAI) said in its Network/PoI Congestion Report for April, May and June 2009.
The number of worst-affected POIs where the level of congestion is over 10 per cent is 22 in June 2009, whereas it was 24 in the month of March 2009. Out of these 22 POIs, in 3 POIs the level of congestion is more than 40 per cent whereas it was 6 in the month of March 2009.The circles and states affected due to POI congestion are Bihar (9 POIs), followed by Uttar Pradesh-East (7 POIs) and Orissa (6 PoIs).
Comparing BSNL/MTNL with private CMSP's the number of POI's having congestion has decreased from 27 in March 2009 to 14 in the month of June 2009,during the same period the number of POI's having congestion among the private CMSP's has decreased from 49 in March 2009 to 28 in June 2009.
This post was last modified on May 31, 2016 5:11 pm