Direct-to-the-home television operator, D2h, has been on a roll since the last few weeks. After introducing a variety of channel packs to the subscribers, D2h has now come up with LTR (Long Term Recharges). Upon recharging the D2h LTR Packs, subscribers will be able to get extra 150 days or five months of extra subscription. But the extra subscription period depends on the LTR plan you're choosing. For example, D2h is providing up to 55 months of LTR subscription which provides users an additional five months of service, totalling 60 months of service. However, do make a note that you'll be locked to D2h for a period of five years or 60 months. Overall, D2h is providing seven long-term recharges to its users and also the new customers who're joining the operator.
Long Term Plan Offers for D2h Subscribers
As per the new offer rolled out by D2h subscribers who opt for long term plans will be able to enjoy extra days in their subscription. D2h has also listed all the available options for long term subscriptions. The DTH provider has detailed that subscribers getting 3-month subscription will get seven extra days, 15 additional days on six months, 30 extra days on 11 months, 60 extra days on 22 months, 90 days on 33 months, 120 days on 44 months and 150 days on a long-term subscription of 55 months. This offer means that subscribers who are hooked on a long-term plan for an entire year will get their 12th month free and they won't have to pay for it. Similarly, on a long-term subscription plan of two years, the last two months will be free for the subscribers.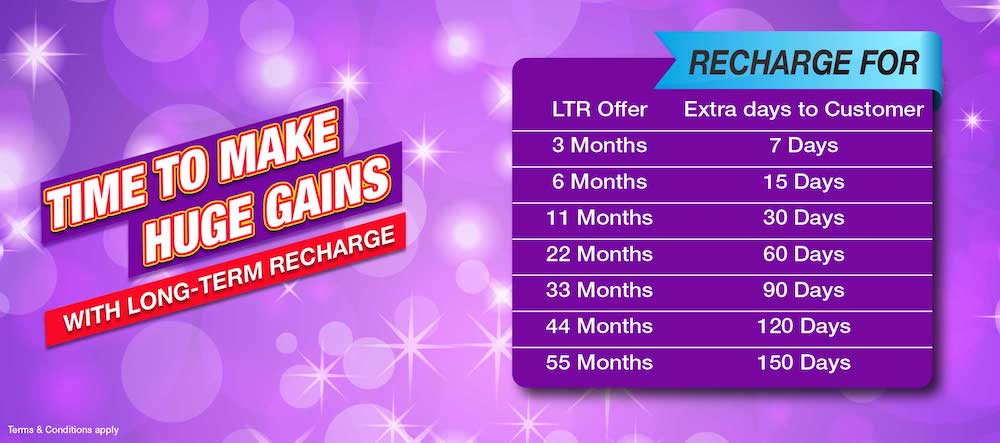 Dish TV and D2h Introduce All-in-One Plan for Subscribers
In another related move, D2h parent company Dish TV has introduced a new "all-in-one" plan for subscribers. As part of this plan, Dish TV is also bundling a Cricket service for all the cricket fans as the IPL season is approaching. Under this service, which will be available as an add-on for the subscribers, they will be able to watch all the three formats of cricket – ODI, T20 and test matches along with their other channels. The Bharat Cricket Combo will be available for Rs 1,270 exclusive of taxes for Dish TV subscribers. The DTH provider has also introduced 'India Cricket Service' on Dish TV and 'India Cricket' on D2h which will be available for the subscribers.
Talks of Dish TV and Airtel Digital TV Merger Floating in Industry
News has also surfaced from sources which hint towards a likely acquisition of Dish TV by Airtel Digital TV. Although there has been no confirmation about the same from both the companies, the sources suggest that the talks for this deal might be in the initial stages. If the merger goes through, then Dish TV and Airtel Digital TV will make the biggest DTH entity of India with 38 million subscribers and 61% market share.