Cyanogenmod is perhaps the most famous custom ROM that tech savvy people and geeks have loved for its customisability over the years and is the most flashed custom ROM after unlocking the bootloader and flashing custom recovery. Cyanogen had last year taken a step in a new direction when it partnered with Oneplus to come up with its own operating system called cyanogen OS which came as the default operating system on all Oneplus One devices across the globe except for China.
Earlier this year Cyanogen signed an exclusive deal with Micromax in India for bundling its operating system on its 'YU' series of phones of which Yureka and Yuphoria currently run it. This had led to bitterness between Oneplus and Cyanogen and forced the former to bake their own version of android which they later named Oxygen OS. The current version of Cyanogen OS is 12 which is based on Android 5.0 Lollipop. Cyanogen has finally declared that the much awaited Cyanogen OS 12.1 will arrive for the Oneplus One, Yureka and Yuphoria phones in August.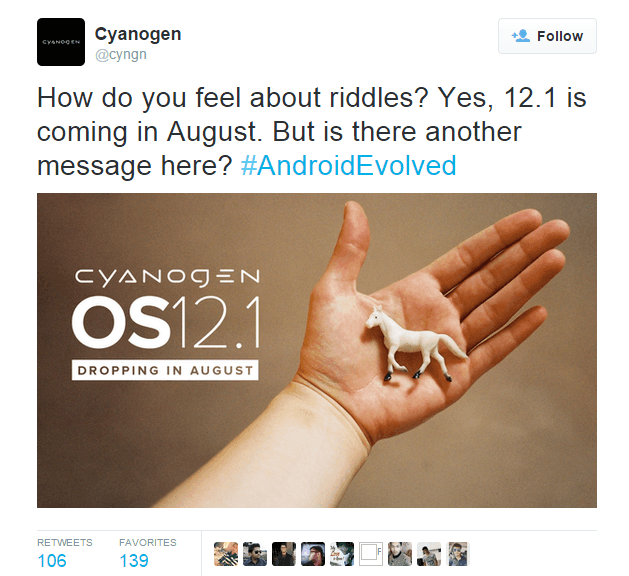 Cyanogen OS 12 has a few productivity apps which come bundled with the operating system like swift keyboard for fast typing, Boxer app as a better email client, baton for continuity between different android devices similar to Apple's handoff feature. Cyanogen will also be bundling its own homegrown chromium based browser called Gello and boxer calendar app to replace chrome browser and google calendar in the future releases of OS. Cyanogen OS 12.1 will also bring the innate features of Android 5.1 like VoLTE support for devices that are LTE capable
The tweet by cyanogen which confirms the release timeframe of Cyanogen OS 12.1 also teases the users with a riddle. It is not clear what cyanogen is hinting with the picture of a toy horse in the palm of a hand. Is it hinting at the impatient users and asking them to hold their horses? or is it a hidden clue towards a release date? What do you reckon and decipher from the image in the tweet? let us know your thoughts and conclusions in your comments below.