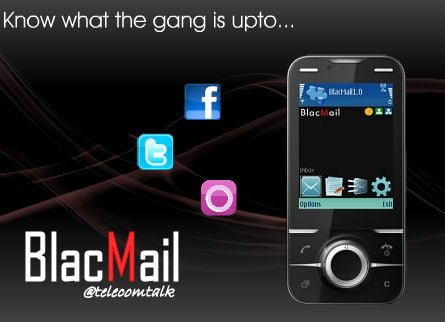 Fifth C India based global mobile applications firm, has launched BlacMaiL a e-mail client which will help subscribers to send and receive emails from their existing phones without the need for GPRS or a data plan .BlacMail works with handsets which supports Java.
As per the company spokesperson BlacMail works on SMS technology, GPRS, and will soon work on 3G .When we asked them regarding email security they quoted – The BlacMail server is protected behind a world class firewall which is constantly upgraded. The data is encrypted- level 2, and even our staff doesn't have access to it.
BlacMail occupies roughly 250 KB of phone memory once installed.
BlacMail has been launched through the mobile retail channel by UniverCell and Sangeetha Mobiles, leading mobile retailers in India.
For the next couple of days BlacMail application can also be experienced for free by downloading the application from its official Website.The pricing for BlacMail service starts at just Rs. 49, a fraction of the cost of alternatives such as the BlackBerry service available only for high-end "smart" phones with GPRS data plans.
For Downloads of BlacMail Apllication Visit www.blacmail.in