While private telecom operators are providing data-centric offers to lure customers, state-run telco BSNL steers itself towards an entirely different league as it launches another plan that provides voice, data, and SMS benefits. BSNL has announced 'Ananya,' for prepaid customers at Rs. 85.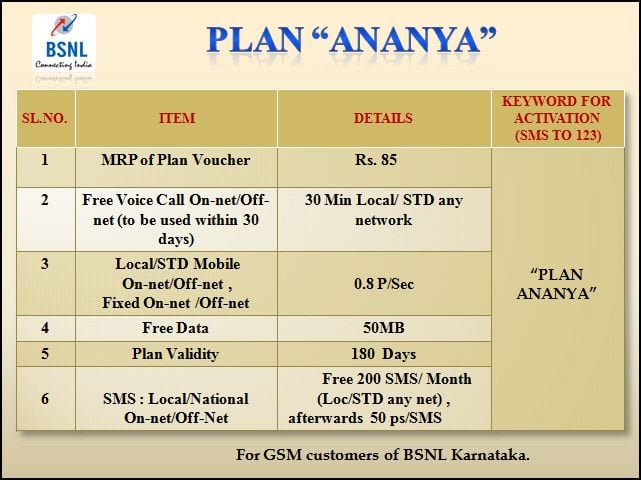 The Ananya plan gives 30 minutes of voice calls, which should be used within 30 days from the date of recharge. Post the 30 minutes, voice calls will be charged at 0.8 paise/min. The plan also gives 50MB of 3G data, and BSNL claims that the highlight of this scheme is that it offers 200 SMSs per month. You heard it right, it offers 200 SMSs per month and not per day.
This plan will be valid for 180 days and on the 30th day from the date of recharge, 200 free SMS will be credited to your account. Also, only the 200 SMS benefit will be added every month and not the data or free minutes, which is a letdown.
Also, this plan is valid only for the residents of Karnataka. BSNL Karnataka on its Twitter handle has posted about the offer and said that it would be effective starting May 14, 2017. Prepaid users can also activate the plan by sending an SMS to 121 as 'PLAN ANANYA.' However, there should be a minimum of Rs. 85 primary balance on their SIM card.
Do make a note that each SMS will be charged 50 paise if you exhaust the monthly quota of 200 free SMS. BSNL has introduced some good plans such as the Rs. 333, Rs. 395 plan, and the all round Rs. 339 plan recently.
But, this plan from BSNL doesn't stand a chance against private telecom operators offers. BSNL's Rs. 339 plan gives 3GB data per day, 25 minutes off-net calling for 28 days. The Rs. 333 plan offers 3GB data per day for 90 days and the Rs. 395 plan provides 2GB data per day and 1800 off-net minutes for 71 days.