Back in 2007, BSNL made an excellent move which marked as benchmarking event in India's broadband sector- to upgrade to wired broadband speed to 2 Mbps minimum in most plans. Though that time was Manmohan Singh's era, many argue that main game was started during Atal Bihari Bajpeyi's time. Whatever the man stood behind BSNL's growth is actually Dayanidhi Maran, who was the minister of communications and information technology (May 22, 2004, to May 16, 2007).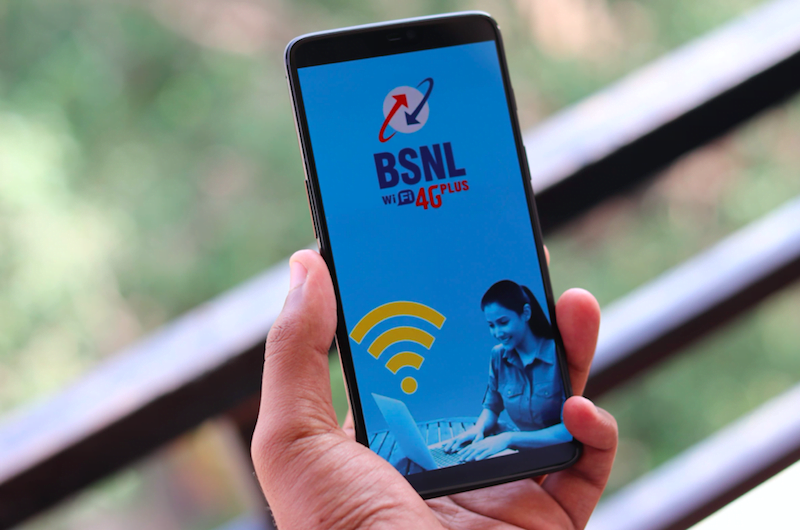 When BJP came at the power, I thought that it would mark another success story of BSNL – however, that's not the case, rather government is on the way of privatisation of other assets like Air India is going to be sold. BSNL may see the same fate with no proper planning and investment.
Anyway, the loss-making state-owned PSU telcos – BSNL and MTNL are continuing to make losses against the competitive mobile market of Airtel, Jio, Vodafone-Idea.
In February 2018, the telecom minister Manoj Sinha clarified that there is no plan at present to merge these two state-owned telcos, but there will be steps taken to create synergy between the two, including effective utilisation of human resources as well as land and buildings.
Currently, BSNL has close to 9.44% share of the mobile market (data of March 2018) and has plans to invest Rs 9,300 to Rs 10,300 crore for 2018-19. A whopping Rs 4,300 crore will be invested for network expansion like strengthening the mobile network, upgrading broadband infrastructure and strengthening the core network; and another Rs 5,000 to Rs 6,000 crore for governmental telecom projects BharatNet, Network for Spectrum, the Comprehensive Telecom Development Plan for North East and connecting the islands of Andaman and Lakshadweep.
In early May 2018, Vanu India and HFCL (Himachal Futuristic Communications Ltd) won a contract from BSNL worth Rs 579 crore to create the network in North East which includes installation of 924 solar powered base transceiver station (BTS) sites.
With the mobile revolution, BSNL, which had a great market monopoly in landline and broadband sector has lost the game as people left landphones for mobiles – and so the ADSL broadband which comes with a landline connection. People started migrating to mobiles and shifting to private ISP' services.
BSNL was the frontrunner to launch 4G services in India in 2009 starting from Ajmer, Rajasthan- with fixed WiMAX BSNL's 4G services was limited to few other circles including Kerala, UP, West Bengal, of course, with only with the limited service offering. But in February 2016, BSNL announced to shut down WiMAX services in most circles where subscribers base is too less.
In 2010, when BWA auction happened, Qualcomm, Tikona, Aircel, Airtel, Augere, Infotel (Jio in disguise) bagged 20MHz spectrum on 2300MHz while BSNL and MTNL were given spectrum on the 2500-2600MHz band for the 4G rollout. Later both PSU surrendered their BWA spectrum in 2011 (BSNL retained spectrum in Maharashtra, Gujarat, Andhra Pradesh and Haryana) and got a refund of Rs 6700 crore and Rs 4500 crore approximately in 2014-15.
In September 2016, BSNL tried for getting the very efficient 700MHz spectrum for the 4G rollout, but it did not work out as the auction was unsuccessful and reserve price was not fixed.
Cut to February 2018, BSNL has its 4G LTE signals live at Kerala's Idukki district on 2100MHz band, and in March the trials expanded to Karnataka (first 4G tower of BSNL installed in Shivamogga city).
In the middle of March 2018, The Standing Committee of Information Technology headed by BJP MP Anurag Singh Thakur recommended that government should allocate 4G spectrum to BSNL and MTNL at earliest to help them to compete against private telcos. The committee also noted that nearly 80% Indians are accessing the internet over 4G and without 4G services PSU duo is losing the data customers as well as huge revenues.
End of April 2018, it is been heard that BSNL will be alloted 5MHz of 2100MHz spectrum in 21 circles except for Rajasthan (where 800MHz spectrum will be given). While MTNL is seeking 10MHz in Delhi in the 1800 band and 5MHz in Mumbai in 2100 band, and is keen to start its 4G services in the current financial year, there is no definitive news regarding MTNL's spectrum allocation.
Will BSNL 4G Work Against all Odds?
First thing is BSNL will be a late entrant in the 4G market which is already taken of by Jio and Airtel. And many Vodafone & Idea customers stick to their operators as they were pretty much happy with them.
Presently BSNL is with 3G which is not as good as 4G, but BSNL is not sitting idle. They revised their tariff plans, rolled out new recharge vouchers to match with 4G operators' tariff plans. In some circles, especially in North India and metro cities, BSNL is not performing well, and all 4G offering operators are offering almost similar plans.
But the entire subscriber base of BSNL is waiting for the 4G services launch, but the telco is silent on the rollout. With 3G service itself, BSNL is increasing its subscriber market share and with the implementation of BSNL 4G, the telco will also be able to increase its market share alongside its revenues. Even the CMD of BSNL, Anupam Shrivastava clarified that BSNL is not looking for profits at this point of time and the primary goal for this year is increasing the subscriber base. BSNL is on the verge of gaining 10% market share in the competitive Indian telecom market.