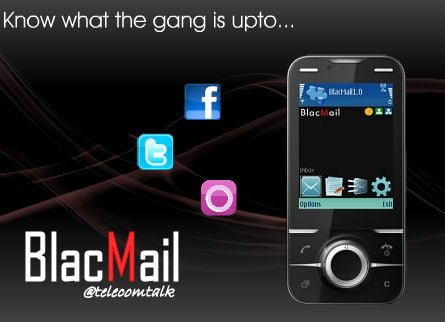 BlacMail, an easy way to enjoy push mail services .It enables users having multiple e-mail accounts to instantly receive emails on a wide variety of phone models.
So, we feel this App as a gift to the users who do not own a High end Smart phone with built in push mail servicing. BlacMail has two versions of software available. One works using GPRS i.e. BlacMail-G and the other works purely on SMS i.e. BlacMail-S.
For the GPRS based application your normal Data charges apply, while for sms based application every time to send an e-mail it charges the cost of a National sms, while incoming email is free.
Currently BlacMail is offered free and there is no charge to send or receive an email on GPRS based application or even a monthly rental for sms based application, only normal sms rates apply.Now-a-Days as all operators are providing National Sms packs this app might be benefitted by those packs.
BlacMail-G is the latest version of the pioneering Push email service. It is the world's first push email solution that is agnostic through the mobile channel of communication those use of Dual channel GPRS and sms based communications.
The installation of the software is very simple. You can download it directly from the application website to a PC or to a mobile directly via GPRS.
What make BlacMail 2.81 special?
Instant Push mails-No GPRS Plan required
Dual Mode- No connectivity Issues- supports
Dual Mode switching automatically
Range of phones-Making your phone smart
Share-you can share pictures where some pictures can't wait for tomorrow.
Leading mobile operators will soon unveil BlacMail as a VAS offering with attractive tariff plans. So you can enjoy all your communication needs of voice, text and email messaging services with the operator offering BlacMail.
BlacMail services is partnering with leading phone manufacturers to have BlacMail in-built on the new phone that you purchase. So you can have a true 'out-of-box' push mail experience.Already BSNL is offering subscription packs for using this application in sms mode.
The GPRS version excels the SMS version in a lot more features like Video tweet (Attach video), picture share, and Attachment viewer and much more. The GPRS version even works in DUAL mode enabling user to use the SMS mode in case of No GPRS availability.First day in college! Don't just tell your friends what happened! Show them using Video Tweets!
Quick Look at BlacMail Features:
* BlacMail-G also is India's first dual mode push email platform, which means if a user is stuck in an area where there is no GPRS connection to push emails, BlacMail-G will automatically switch to non GPRS ( SMS mode) and push emails seamlessly.
* It does not need an 'Always On' GPRS connection, to push emails, videos and pictures as required by traditional mobile platforms.
* The App for now works on All Java and Symbian Phones. Shortly we will release an Android and Windows Mobile version too.
Pros:
1) Strong Encryption between Data transferred both in GPRS and SMS modes.
2) Quick and Easy to set up
3) Phone contacts Backup and Sync to Personal contacts in email system
4) Provides Blackberry type service even without a continuous GPRS network
Corns:
1) A Very dull User interface, should be improved