Bharti Airtel, India's leading telecom operator recently launched it's Prepaid Promise Offering with the tagline "Everyone gets Everything". As the core of the offering, the operator has made all its user-specific unlimited combo plans as open market plans and made them available to everyone. Any Airtel user in a specific circle can recharge with any of the packs available in his/her circle. Airtel also has a 360-degree campaign running across various marketing channels. In a very recent move, Airtel has made voice calls truly unlimited on its prepaid promise unlimited plans but reserves the right to modify the offer in cases of any commercial use.
Looks like Airtel had made every move considering the customers' feedback and the market dynamics. Just yesterday, Airtel has also launched its much-awaited 84days pack at a price point of 509 under its Prepaid Promise which offers 1GB/day for 84days along with unlimited voice and SMS.
Airtel is also offering lucrative offers as a part of its segmented category "Best offers For You" to customers following different usage patterns which is a different story. But as on date, to keep up the promise, Airtel has made every plan available in the open market to counter the brutal competition in the prepaid segment. We have tabulated them below for the ease of understanding.
Prepaid-Promise Plan Details:


Starting from a per day pack to a yearly pack, Airtel has made a wide range of packs available to customers. Based on the requirement, a customer can now choose one among *13 of the available packs under the unlimited offering and proceed with a recharge. Though some price points slightly vary across circles, the difference is negligible. Although these packs are not viable or organic for the industry, it is very evident that Airtel now has a counter pack for every competitive pack in the market.
Data Top-Up: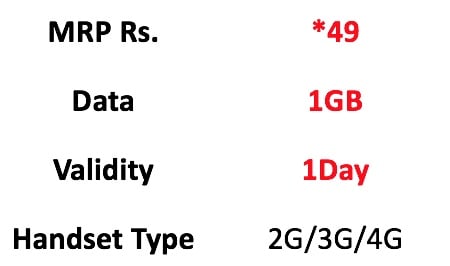 The 1GB data top-up is an open market offering and can be availed by any customer on any handset irrespective of the customer's *active pack.
As of now, on Airtel, you don't need to compulsorily have any of the above packs to continue using services such as local/STD/Roaming calls/SMS/Data. Even if the validity of any of the above packs active on your number expires, you can continue using the services if your account has core/monetary balance for outgoing calls/SMS/Data on a Pay-As-You-Go base tariff as per the grace period norms.
FYI, this kind of Compulsory Base Pack T&C discussed above is already implemented in the market and one can't make outgoing off-net calls/SMS with just core balance unless a Base Pack is active on the customer's number. This move, if implemented by all the operators will turn out Good to the Indian Telecom Industry in terms of guaranteed minimum ARPU.
Notes:
Voice is truly free - No charge towards any calls(VoLTE/2G/3G/4G) on any of the plans above.
Tariffs are inclusive all taxes as applicable.
All customers irrespective of any Handset can opt for the above plans.
Plans are only meant for personal and non-commercial use and are not intended for any commercial use. Airtel reserves the right to end/ suspend/modify the Offer at all times, as well as in specific cases of commercial use, or any fraudulent use (applicable for all circles except TN/CH).
Unlimited SMS referred in the plan benefits will be capped at 100SMS/Day as per TRAI mandate. Free SMS can be used in Home and Roam scenarios.
Unutilized free data will be forfeited at the end of the day in case of per day benefits.
Data used for any of the airtel applications, video calls and any other content on the internet would be uniformly deducted from the pack data benefits.
The above benefits can be used on any Handset (2G/3G/4G/VoLTE).
Free data can be used in Home and Roam scenarios.
Please check with CC for call/SMS charges to premium numbers.
Roaming benefits are not available for the state of Jammu & Kashmir
Apart from these packs, Airtel also has voice only and data only packs made available to customers. Sadly, after the data quota is exhausted there is no FUP speed breaker, but we expect Airtel will start offering the FUP benefit once it's PAN India VoLTE rollout is complete.
Dear Readers, this is what Airtel has packed in for all the customers as the core of its Prepaid-Promise Offering across India. Do let us know your opinions on the packs via comments.