Smart speakers with digital assistant aren't new in countries such as the US, but in India, it's a novelty. Thanks to Amazon, we now have entered the era of smart speakers. A couple of months ago, Amazon launched its trio of Echo speakers- Echo Dot, Echo, and Echo Plus. As the names suggest, the Echo Dot is the smaller one while the Echo Plus is the larger one of the three.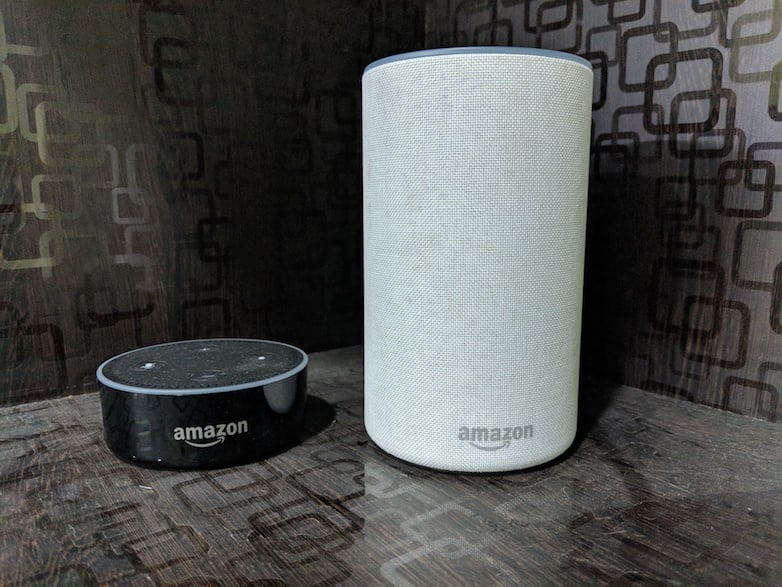 All the three speakers come integrated with Amazon's digital assistant Alexa, which performs tons of things. We have spent a considerable amount of time with the Amazon Echo, which costs Rs 9,999. Earlier, Amazon offered three products at 30% discount, but that ended on December 31 itself. Now the three products are back to their original prices of Rs 4,499, Rs 9,999, and Rs 14,999.
I have been playing with the Amazon Echo model for more than a month now. For the most part, am impressed with this smart speaker as it allows to get the things done remotely, but there are some areas where it just doesn't get the job done. Read on to know whether should you get an Amazon Echo device in 2018 and in India.
Amazon Echo Specifications
Let's get the basics done first up. The Amazon Echo features a 2.5-inch woofer and 0.6-inch tweeter. And it has an array of seven microphones that use beam-forming technology and enhanced noise cancellation to detect the hotword even in noisy situations. And the Amazon Echo looks better than the Amazon Echo Plus and Echo Dot.
The Echo delivers decent sound quality, on-par with several other standard Bluetooth speakers available in the market. The microphones are always active, and they work really well. Whenever you say the hotword, it just detects it and starts listening. Even while playing music at maximum volume, it recognises and starts looking for the command.
Amazon Alexa- the Architect for Echo
The USP of the Amazon Echo is its ability to respond to voice commands and give you information. Echo devices are powered by Amazon's own digital assistant Alexa which answers all your queries. Just like Google, you can use Alexa, but here you ask questions and Echo dispels information via the speaker.
Setting up Alexa is pretty simple. Amazon has its application named 'Amazon Alexa' which instructs you to set up Alexa. And it also has separate things to try section which displays all the tasks which can be performed with the speaker.
You can ask Alexa for info on anything from Wikipedia. For example, you want to know string theory is, you can say Alexa, Wikipedia: String Theory and you'll get information as per Wiki page.
You can ask Alexa to perform some basic mathematical tasks or spell out a word for you. You can also ask Alexa about the score of an ongoing game. Much like Google, it will give you live updates.
News
Amazon Echo can also be set up to give you your daily dose of the news briefing. You can ask Alexa to read news from configured publications with commands such as: "What's the news today?" or "What's my Flash briefing"?
Almost all international publications come with pre-recorded news segments. With Indian publications such as TOI, Hindustan Times, Alexa will use text to speech function. To customise the Flash Briefing, go to Setting > Flash Briefing, and you can tap the boxes to include services you want or add more tapping 'Get more Flash Briefing content'.
Alarms, Reminders, and Lists
Alexa can be used to set alarms and remind you of things. You can have an unlimited number of alarms and reminders. Setting reminders is a very cool feature since Alexa pings you back with a voice which feels very realistic. You can also check these reminders in the Alexa app.
Lists include to-do lists and shopping lists. You can ask Alexa to add items to the shopping list, and when in the market, you can check the list within the app.
Routines/Schedules
Amazon' Echo also comes with a relatively new feature called Routines. This feature helps you trigger a series of actions which will happen on your command or at the scheduled time.
You could configure, Alexa to respond to a "Good Morning" command with News and Weather update and when you say "Alexa, Good Night", it will turn off the lights.
Shopping
Amazon Echo is also great for shopping. All Echo devices are configured with your Amazon account, and Voice Shopping enabled by default. You can ask Alexa to search for products, and you get top results, which are also shown on the app.
You can order things instantly if you have enabled "One Click Shopping" feature. Alexa automatically deducts payment from your Amazon Pay Balance or choose "Cash on Delivery" option if it's available.
Home Automation
Another USP of Echo devices is home automation with IoT devices. Amazon's top line Echo Plus houses a Zigbee radio, making it a home hub for your connected devices. This means Echo can directly talk with your connected gadgets and relay your voice commands.
For example, Philips Hue light bulbs can be controlled via Alexa. Configuring these lights with Echo allows you switch on and off the lights with simple voice commands. However, as of now, there are only limited Smart Home appliances available for Indian customers.
However, the standard Echo doesn't come with Zigbee radio, which is sort of a letdown considering the price tag. But you can control Wi-Fi-based smart home devices such as Yee Bulbs, etc. You can ask Echo to 'change the living room light to red' and so on.
Overall, Amazon Echo is more than just a Bluetooth speaker for playing music. Amazon has added more than 11000 skills for Indian customers while there are over 30000+ skills available globally. These skills range from booking a cab to a getting a table at your favourite restaurant. You can discover more of Echo's abilities as you continue using their service.
Conclusion
The Amazon Echo is a perfect device for many out there as it offers the similar functionalities as the Amazon Echo Plus. I was disappointed with Echo Dot's speaker performance and had least expectations with the Echo. But thankfully, the speaker is better in the Echo, and it easily fills an entire home.
But the primary reason to purchase an Echo device is not for listening as there are several cheap and better alternatives. The reason of Echo range of speakers existence is to build a smart home, where you can do everything remotely.
And it gets the job done for the most part. There are some instances where the Echo did not respond, and in some cases, it failed to answer the query. However, the fact that it detects the voice so effortlessly is something surprised me in the first place. Another primary aspect is the smart home.
In the US, Amazon is selling millions of Echo units thanks to the aggressive pricing. And most of the users in the US use Echo for setting up a smart home. So, if you're looking to set up a smart home in 2018, just get the Amazon Echo. There are several smart home products such as Philips Hue bulbs, Syska LED bulbs, etc. available in the Indian market. Amazon is working hard to improve the skills and Alexa for the Indian market. So the ecosystem gets only better going forward.
This post was last modified on January 8, 2018 3:23 am