The Indian Telecommunication Industry is considered one of the most competitive as well as most marketed industries in the world. Cheap rates and brilliant advertisement campaigns have become synonymous to all the telecom operators.
Talking about the customer base Airtel is on top in India and is very focused when we talk about customer service.
Which can also be seen when it comes to Social Media, "Airtel has employees responsible for manning the Facebook, Twitter, LinkedIn & orkut addressing complaints, queries & requests from customers."
Airtel uses social network analysis to determine which customer is facing problem, any and every mention on social media is captured and they get intouch with the customer to get the issue resolved. Airtel Presence has done very well engaging people and answering them instantly.
Just five months back, we had reviewed on mobile operators and its presence in social media in the article Vodafone, Tata Docomo and Idea has the Most Social Media Presence.Over the months, things have changed currently, Airtel is significantly making news, what not, even on Social Media!
With Facebook growing over 500 Million users, and Airtel, having quarter the count of Facebook users as its Subscriber base in India, Airtel's Presence on social media has definitely improved!
Not only the Zuckerberg's Facebook, twitter too is playing a crucial role for mobile operators in India.Some people even measure the Network Quality by looking at their Branding, Official Webpages, and the Quality of their Social Media Profiles like Facebook and Twitter.. (Yes Really!!)
Here is a Happy Twitter user who tweeted this Pic after getting his balance refunded from Airtel.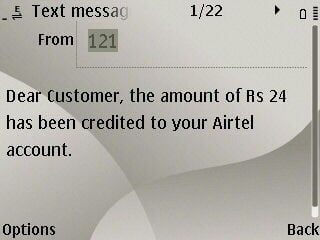 Though Airtel joined the Social Media race very lately, Now it Seems like Airtel is dominating the twitter world with its intense "Presence" by having the Official Verified twitter Profile @Airtel_Presence and scanning for every tweet which contains the word "airtel" in it and giving appropriate replies to the Customers and solving the Issues!
Here are few happy airtel users!
Mobile customers in India, these days are quite advanced (This is a Good thing), Weak Signal? Excess Bill? Call Drop? Have your say , just in a tweet, and your problem will be brought to light and rectified(Hope so).
We think Airtel's rebranding is working well for them, New Signature Tune, New Refreshing Logo, New TV Commercials are added advantage. On the day of airtel's rebranding, #airtel had topped the Twitter's trending topics list!
We hope the Social Media service by Airtel and all other Mobile Operators (Much like a customer care service, Isn't it? ) continues in the same way, Giving the best of quality service for its users.
We have to wait and see, how MNP could enhance or diminish the Mobile Operator's "Social" Care for its Customers!
Summarizing, here is a conglomerate that has let Airtel Presence its own social media identity. Most of their social media outposts are brimming with two way interactions.
Airtel can bring people together around larger than life social objects to form strong communities with a shared purpose not only because that would mean more economic rewards for Bharti but also because big corporations like them can do it with their resources and brand power
The easiest way to get hold of them is www.twitter.com/airtel_presence and www.facebook.com/bhartiairtelltd
Drop a mail at news @ telecomtalk dot info