It's time to speak out the results of Airtel - Voice of the customer initiative. Stunningly we have received more than 430+ customer feedback submissions which is the highest when compared to other operators till date. The document was flooded with responses as soon as the submission form went live on TT pages.
coming to the results of Airtel
Q1.What is your connection type with Airtel ?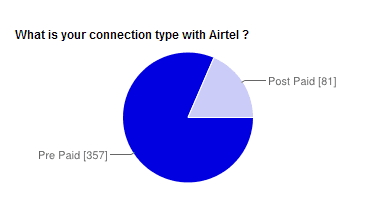 Surprisingly there are also the highest number of post paid users in Airtel when compared to other operators whose submissions are taken till now.
Q2.To Which Telecom Circle you Belong?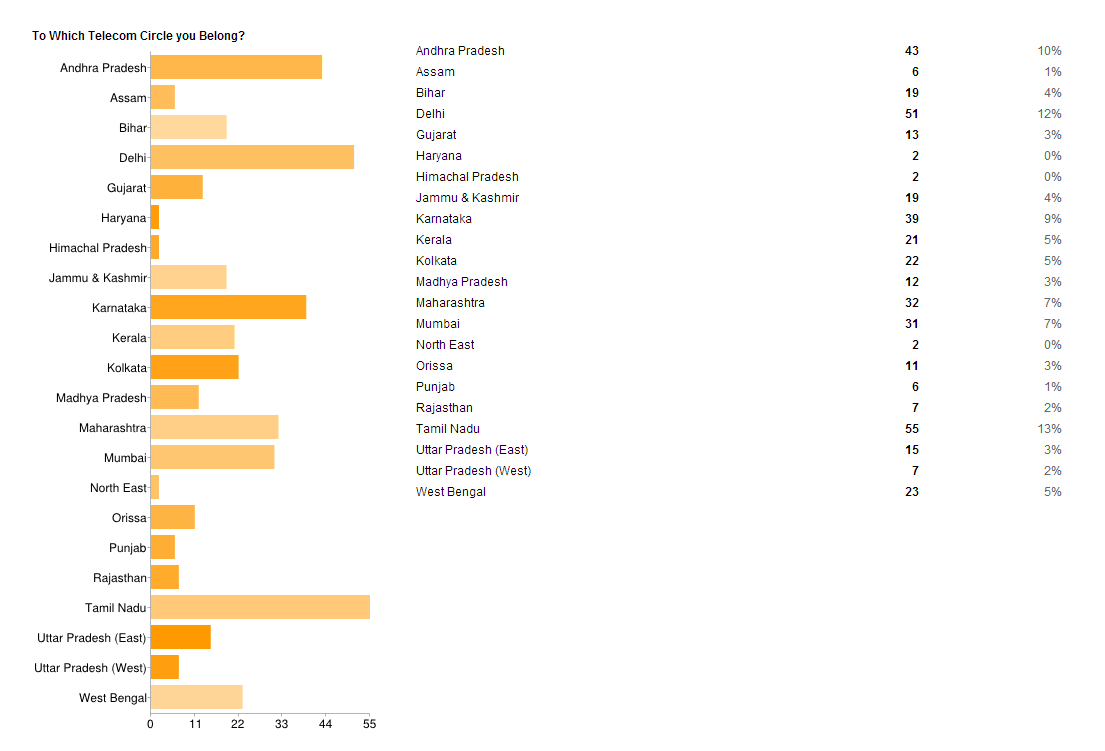 It can be noted that highest number of Airtel users showed up from Tamil Nadu followed by Delhi and Andhra pradesh.
Q3.What is your Age on Network?
The average age on Network by all the users is approximately 5 years while the highest and lowest age on network stands 12 Years and 1 month.
Q4.What is your Base Tariff Plan?
From the feedback it can be clearly observed that most of the users are enjoying the benefit of 1.2p/sec and 1p/sec tariffs from Airtel.
Q5.What is the main reason for you to opt for Airtel Services ?
Users feedback reports Network as the main reason for them to opt for Airtel Services.
Congrats to Airtel Network team for building a strong Network and it's presence.
Q6.Is your Choice and Reason for selection of this Operator Fulfilled?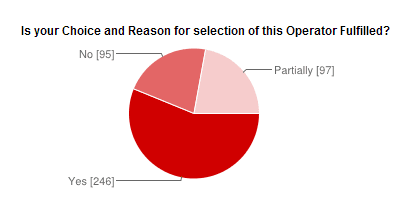 56% of users report that their selection of this operator is fulfilled while 22% reports NO and Partially.
Q7.Average Monthly expenditure on your Number?

Around 42% submissions report that their average monthly expenditure is above Rs100 and below Rs300.
Q8.What is the most you like in Airtel ?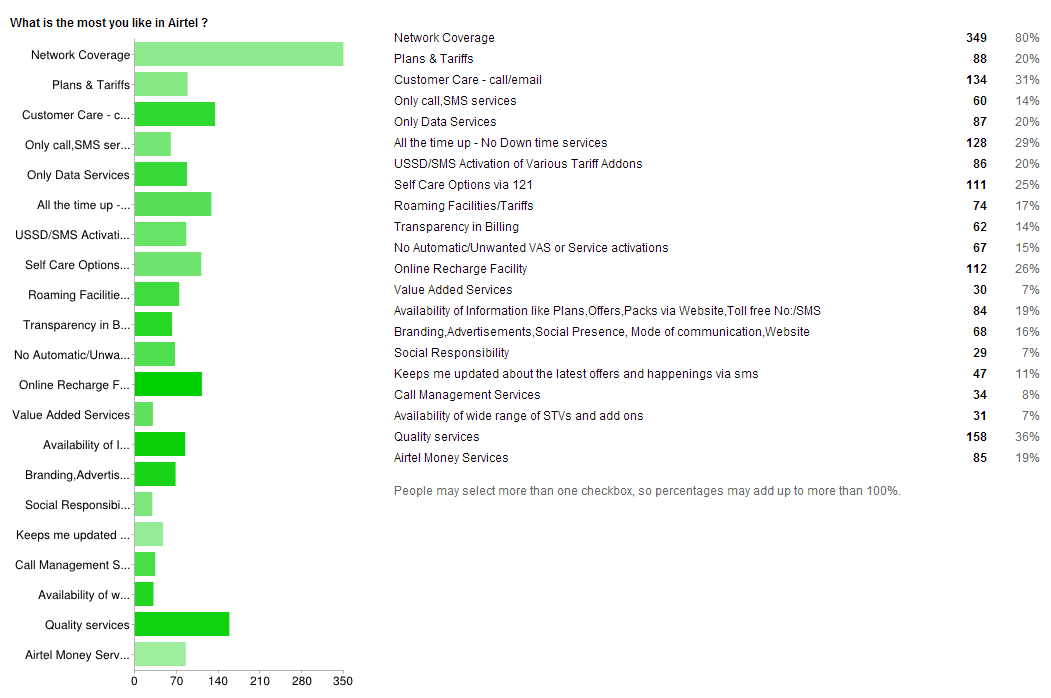 Network is the most liked aspect/parameter from Airtel users with a whooping of 80%, while it is also a bad sign that no other parameter is atleast close to it or half way close to it. This shows that Airtel concentrated only on Network and no other parameter in satisfying customer's needs.
Q9.What is the most you Dislike in Airtel ?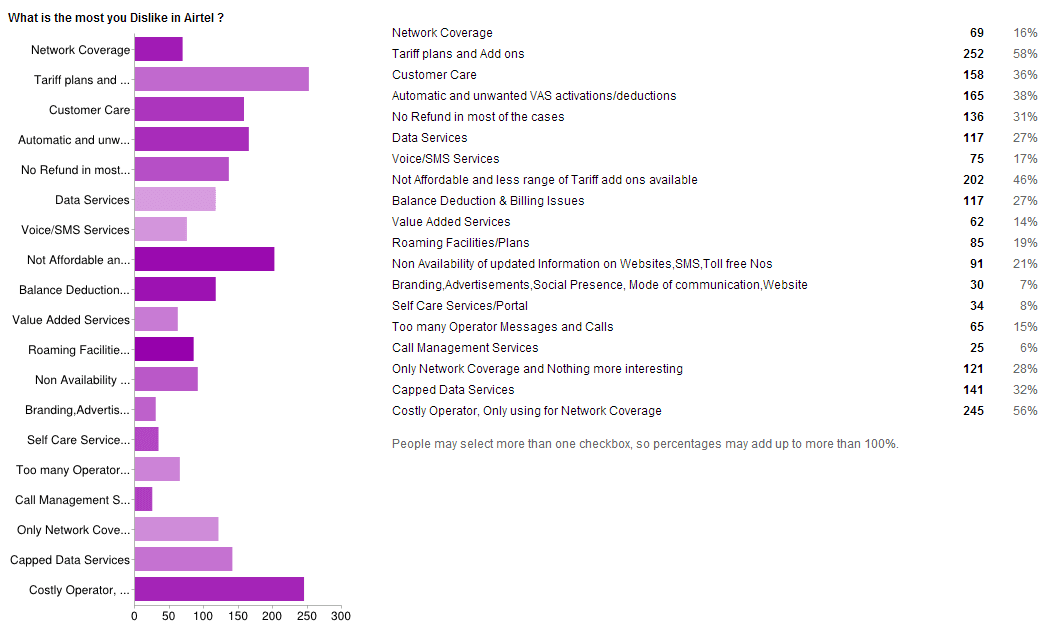 There is almost similar share between different parameters when asked customers about what they dislike in airtel services.Surprisingly the highest among all ie. 58% of Airtel users Dislikes Tariff plans and Addons. Airtel really needs to provide attractive tariff plans.
Q10.What is the most you like about Airtel - 3G Services?

51% of users who gave their voice speak out that they like High Speed uninterrupted Data services in Airtel 3G services.
Q11.Any further improvement required on Quality of Services according to you?
Availability of wide range of STVs
Improve Self Care portal web/sms
Improve Data speeds in 2G - EDGE
Provide affordable Packs
are the most suggested and requested improvements from Airtel users who gave their feedback via submission form.
Q12.Are you presently facing any Problems With Airtel Services? If so what are they?
Unwanted VAS activations and Deductions
Slow GPRS speeds
Very costly Tariffs
Frankly speaking i have experienced all the above three problems myself on my Airtel number. GPRS speed is capped as far as i'm experienced (constant speeds of 5-9kB/s through out all times of the day and in every different place i used), experienced automatic and unwanted VAS activations and no refund is also provided on repeated complaints to CC. These are the aspects where Airtel should really concentrate and improve on.
Q13.If you would like to Thank/Regret any Service from Airtel, you can go ahead.
There is a common message from the feedbacks received which i can portray in just one sentence for this question-
"I thank for the network and regret for tariffs and add-ons"
Q14.Ported from any other Network to Airtel, Which Network and Why?
Majority of the user's feedback shows that AirTel is their parent network while there are major portings from operators like BSNL,Vodafone, Reliance,Aircel based on requirements.
Q15.How far are you satisfied with Airtel Services?

Q16.Are you planning to Port to a different Network?

39% of users say that they are planning to port to a different Network, while 38% of users are with a No and 23% are confused about their porting decision.
Dear Readers after discussing the results how did you feel about the poll and services from Airtel?