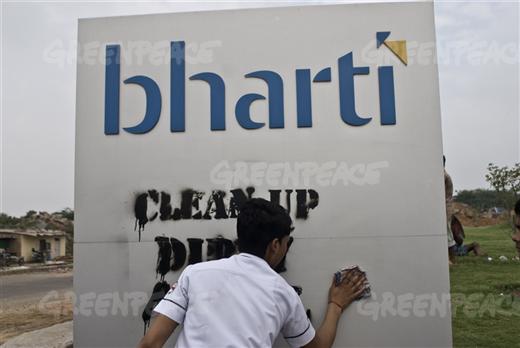 Greenpeace activists today intensified their campaign by blockading the entrance of Bharti's group headquarters at Vasant Kunj New Delhi and unfurled banners displaying the message "Airtel- Switch off Diesel".
Greenpeace quotes this is because Bharti Airtel backtracked from its earlier assurance to commit to a timeline for the public disclosure of its carbon emissions from its entire operations and the phase out of diesel in powering its telecom tower operations.
Greenpeace demanded a written assurance from the company to a process through which they would act to phase-out diesel.
COAI has come forward and made a statement on 10th June  which quotes the targeting of individual mobile companies by Greenpeaces was a case of misplaced zeal.
It also make us now wonder why is Greenpeace targeting only Airtel  firstly the towers are run by different companies  and the infrastructure is shared jointly by all operators secondly.
But if  we take the case of automobiles in India, there are an estimated 20 million automobiles in India other than two-wheelers produce about 100 million tonnes of CO2 every year compared to the 5 million tonnes of CO2 the entire telecom tower business produces.
So why a individual operator has to be targeted ?