In a surprising move Reliance Communications, country's one of the largest telecommunications company has reduced the 3G data tariff lower than their 2G packs. The new 3G data packs from Reliance Communications are available for Rs 123 for 1 GB, Rs 246 for 2 GB and Rs 492 for 4 GB and available for smartphone and tablet users only.
This move will push Reliance in a better place in the market where 3G got lukewarm response. The big question is: Does RCom start a tariff war on data front?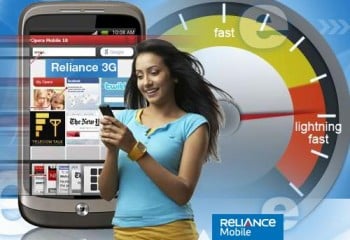 If you are following Indian telecom for last few months, operators are hiking voice and text tariff but the data offering is showing cut on the tariff. Airtel, Vodafone, Idea, Tata Docomo has slashed the Pay-As-You-Go data tariffs. Airtel revised their 4G plans - they are now cheaper than Airtel's 3G plans.
Though many experts are saying Reliance's move may not create pressure on incumbents, I like to say different. First of all Reliance has 3G presence in 3 metros - Delhi, Mumbai and Kolkata where 3G adoption will be higher than other places. Secondly RCom has 3G presence in some low ARPU circles including Assam, North East, Bihar, Orissa, Himachal Pradesh, West Bengal and Madhya Pradesh where 3G is to be pushed to break the price barrier.
One thing goes against RCom, that's they have few no. of 3G BTS compared to Airtel, Vodafone and Idea, who work as cartel to share the BTS to cut down the cost. But with money from the deals with Reliance Jio, Rcom can deploy more 3G BTS in circles where the demand is high with this newly launched plans.
Airtel responsed immediately, and now offering 1GB data for Rs 124, but with a catch that this plan is available for once in a mobile number. Basically Airtel is looking for the market feedback. In coming days I will not be surprised to see similar plans from Vodafone, Idea and Tata Docomo have been launched.
With the continuous revision (read, reduction) of 3G/HSPA data pricing, I think CDMA operators are in a great threat. Though Reliance and Tata has quite good high speed EVDO plans for mobile users, MTS fails to lure me with their HSD data plans. Currently RCom is offering 1.5GB data (or 2GB in certain circles) with SMS benefits for just Rs 94; while Tata Docomo CDMA has cheapest high speed plan 4.5GB for Rs 95. MTS is going against the tide - they don't allow HSD data access unless you are buying a smartphone from them. You simply can't use your imported smartphone with MTS to get HSD data. Also HSD data plans from MTS are way costly and often confusing with so many plans.
From the very first I am saying about low cost, affordable plans which would ultimately help to consume more data by the customers and therefore the profitability of the companies will be increased. RCom has finally learnt the lesson. But it would be nice if they come up with unlimited plans like Aircel, say 1GB 3G+ UL 2G at 128kbps for Rs 150. I am looking forward to Aircel's moves unless Reliance withdraws these plans out of sudden, just like they brought them.