We are all aware of Virgin Mobile's One of its kind Plan "Get Paid for Incoming".
Ranbir Kapoor, the Bollywood Star in a TV ad released by virgin demonstrates the Virgin Users how effectively could one use Virgin Mobile to Get Paid for Incoming calls and use the same to make Outgoing Calls.
Method No.1
Make a Status Update in facebook: "Cousin in Town" and Upload a Beautiful Pic
(PS: Cousin should be a Girl)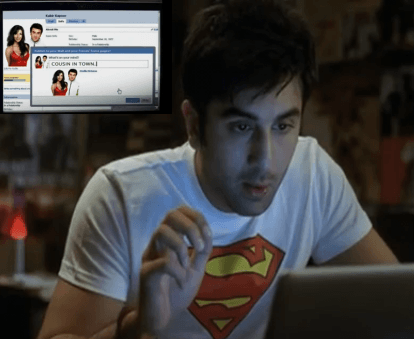 Ranbir uses this Trick to get attention of all his friends. His Crazy friends starts calling him like never before, pleasing him, caring about his well being and asking him whether they could meet his Beautiful Cousin.
After receiving hell lot of calls from his friends, Smart Ranbir uses the Amount Credited  to make Endless calls to his Girl Friend through out the Night!
Method No.2
Change The Contact Numbers in Attractive Public Posters
(PS: Carry a Bold Marker with you)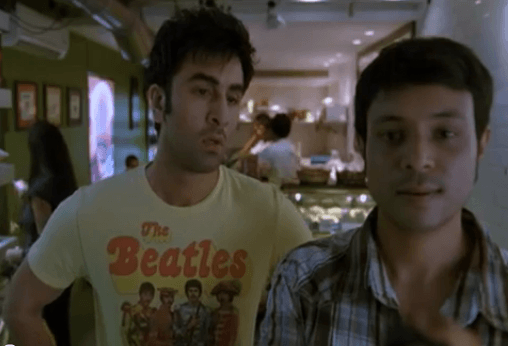 A Poster which is featured by women always gets extra attention by a Viewer rather saying the same thing in Plain Text.  This Time, Ranbir Notices a  guy who is very curiously looking at the women in Poster at Shopping Mall and reads " Come, Salsa with Sasha" with a contact number placed below.
Ranbir, to make the Most out of it, Behaves as the Shop Keeper, Changes the Contact Number in the Poster to his own number and apologizes the Guy!  Happy Guy says THANKS as he could reach her easily!
Even here  Ranbir succeeds to get plenty of calls asking for Sashsa to do Salsa Ranbir Earns Plenty of Talktime through incoming Calls  adding his humor  "Poster Wali Hi Sikhayegi Aapko!"
Method No.3
Stick a "For Sale" Poster at the back of Costliest/Antique  Car.
(PS: Don't get caught by owner)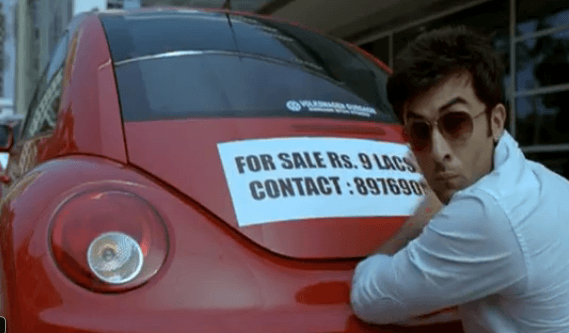 Can you believe, a Beetle Car is for sale  for just rupees 9 Lacs? Yes, You have to, when somebody has posted a banner at the Back of Car.
Ranbir thinks of  yet another innovative method to get paid for his incoming calls and sticks a poster at the back of a Beetle Car standing in a Street which reads "For Sale: 9 Lacs"  with his contact number below.
As the car roams around the City, Ranbir gets calls on his phone asking about the Price of New Beetle car... What's More.. Ranbir Continuously enjoys the Incoming Calls as he gets Paid for incoming and tries to maximize the call duration by talking on negotiation of Price!
Of Course, Ranbir's last Call will be from the Owner of the Car :P
All The Above Methods demonstrated by Ranbir Kapoor works only with Virgin Mobile which boasts of its Unique Plan " Get Paid for Incoming at 1op/min"  and "Outgoing calls at 20p/min".. So you got to have Virgin Mobile to try these Crazy Tips..
Have You Tried any of this methods to earn talktime by Incoming Calls? What are the other methods one could try to make most out of Virgin Mobile's Get Paid for Incoming Plan ?