TelecomTalk conducted a nationwide survey on "Will you PORT your primary number to Jio via MNP ?" Our nationwide survey received an incredible response [considered 2329 responses] from our readers across all the telecom circles. While the poll is already closed, we have come up with a detailed analysis of the much-awaited results of the survey. Continue reading to know more about the insights.
Q1. Which Circle do you belong to?
Most of the respondents were from Karnataka [253], followed by Tamil Nadu [234], Delhi [231], Andhra Pradesh [227] and Maharashtra [175] circle. No wonder, metro cities are a part of these circles. As IT penetration is more in these cities the usage of mobile is also heavily penetrated.
Q2. What kind of connection are you currently on?
62% of respondents were prepaid users and 38% of users were postpaid users. The responses are in sync with the current state of affairs where a majority of the mobile users are prepaid customers. Most of the mobile users in India are inclined to prepaid than postpaid segment and so as the results.
Q3. What is your monthly average expenditure on mobile usage? (all figures in INR)
A majority of respondents are from Rs 300-500 monthly expenditure segment which doesn't come as a surprise considering nature of the market type, and behavior of consumers in metros. The results show that a major share of mobile users are actually spending fairly good amount on a monthly basis on their mobile usage be it for voice or data. The numbers show that there are actually less number of users spending less than Rs100 and fall under the Rs100-200 range on an average monthly basis. Also from the *Am an incoming only user numbers, we can come out of the assumption that most of the users are using their primary number for incoming only purpose. Even if a small % of users are present their share is negligible and can be ignored in this segment.
Q4. Who is your current primary mobile operator?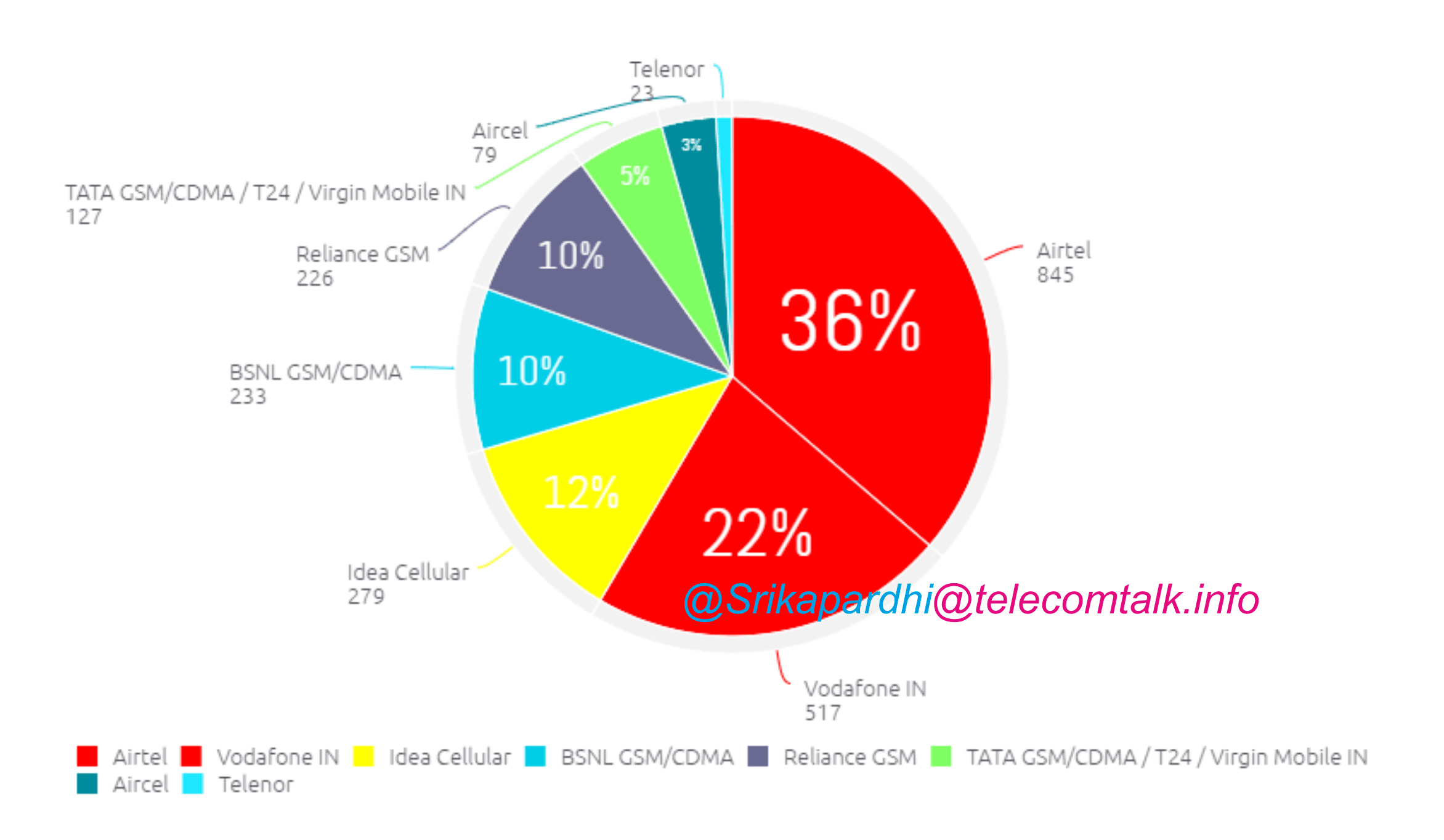 Most of the survey respondents mentioned Airtel as their primary operator, followed by Vodafone and Idea cellular, which doesn't comes as a surprise considering these operators occupy and enjoy the respective lead positions in the Indian telecom industry.
Most of the respondents are customers of incumbent operators that may lose a significant share of customers when there is a new entrant, which kicks off competition in the market. It is highly expected that Airtel, Vodafone and Idea Cellular are going to lose their customers which in turn will lead to decrease in their share of revenues and profits.
Well, I have planned an analysis for it in a different article and for now we will assume it the survey result way only. Yes, most of the respondents are customers of the leading operators and these operators may loose a significant share of customers when there is a new entrant and competition in the market.
Q5. What kind of user you are?
The number bars above predict a very positive result that shows a growing trend of mobile usage and the monthly expenditure of users on mobile usage. A majority of users are Moderate and Heavy+ with a less share left to Light - segment of users which leaves a clear message to quote - Indian telecom industry has lot of growth potential.
Q6. What is your usage pattern?
I assume most of the readers or respondents are actually knowledgeable enough to distinguish between various use cases of data and voice. A very strong positive message to the telecom industry - Voice has it's solid share and still stands as a primary revenue generator for Indian telcos.
As per the results, a few subscribers use mobile either for just voice or just data, which is a very good indicator or parameter for business potential for both voice and data segments. Also from the numbers we can predict the growing demand for data as 'Less Voice and More Data centric usage and Voice and Data" are equally competent enough and that the voice share in Indian market will not die anytime soon. Users are actually using their mobiles both for voice and data equally.
Usage pattern Circle Wise :
I actually wanted to know if there is any change in the usage pattern circle wise. The bar graph above graphically answers my curiosity with a 'No' and that the consumption pattern or usage scenario is same across all the circles. Volume of usage may differ from circle to circle but usage pattern is same across all the circles. So, India speak and use Data a lot in equal share*.
Q7. Will you PORT your primary number to Jio via MNP?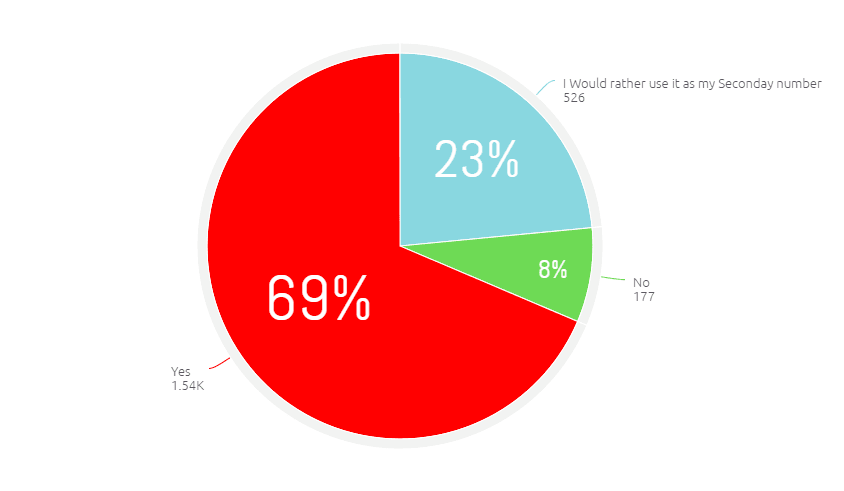 The much awaited result for the survey question is 'YES'. 69% of the respondents replied with a Yes, while 23% of respondents said that they would rather use Jio as their secondary number. Only 8% of the respondents said that they wouldn't port their primary number to Jio. The results demonstrate the excitement of a new entrant in the market.
Through this poll, I also wanted to know which price segment users are actually planning a shift and hence derived this bar chart*.
The bar chart speaks more than words I suppose. The PORT opinion is equally captured by users in almost all segments. So, the new hype or the fragmentation of market share is equally distributed across users of all price segments.
Q8. What is your smart-phone device model?
As already tweeted, Apple, Moto, Lenovo, Samsung, Oneplus One, YU, Redmi, Asus, HTC Desire, LeEco 1S are the most used devices by the survey respondents. So, a major share is captured by branded handset makers well known in the e-commerce market. This also throws light on the the use case of data potential in the market and 4G/LTE growth in the market.
Q9. Will you PORT your primary number to Jio via MNP?
9.1 Results for Answer "YES - I'm porting my Primary number to Jio"
a)Reason for PORTING your primary number to Jio ?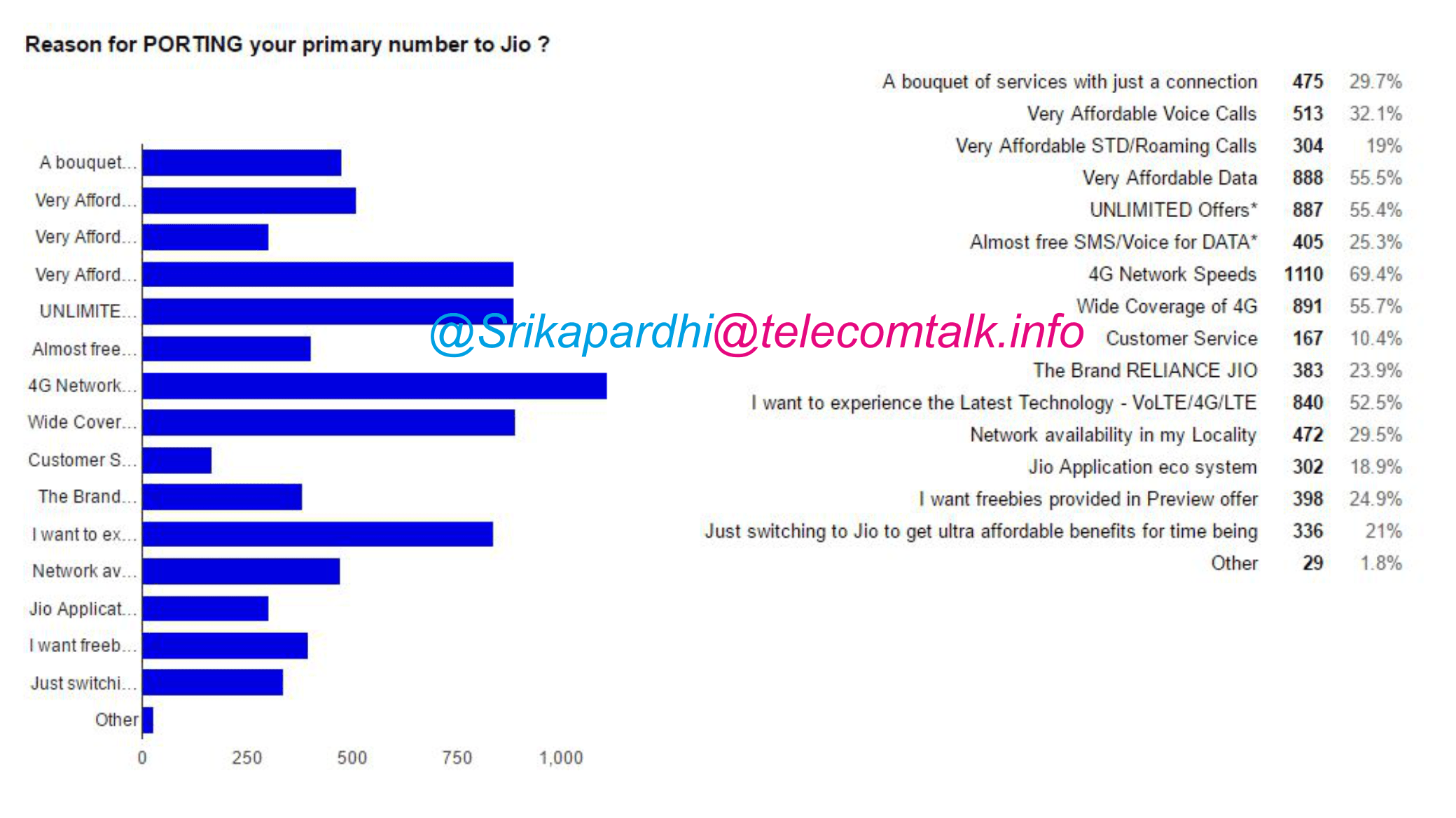 4G Network Speeds, Wide Coverage of 4G, Very Affordable Data and UNLIMITED Offers* are the prime reasons survey respondents have chosen to switch their primary number to Jio.
As already mentioned earlier, I have a separate analysis in my perspective for all these reasons and use-cases which is pipe-lined next.
So, for now these are the reasons respondents have chosen and it is also worth a mention that Jio Application eco System is not going to bring a drastic change or blow to the already existing operators and the survey result of 18.9% share also speaks the same. 
b)What is lacking in your current operator?

Allow me to end in one sentence - "Majority of users opinion-ed to switch just because of attractive wireless 4G/LTE data plans". Consumers are looking for wired broadband experience along with similar price tags in wireless broadband category on 4G/LTE as well.
The 41.8% share of No 4G/3G Network availability in my locality also gives us a clue on the need for Network expansion by the existing operators.
9.2 Results for Answer "NO - I'm not porting my Primary number to Jio"
a)Reasons for NOT PORTING your primary number to Jio?
More than half of the users who responded No, are actually satisfied with the overall performance of their current operator including Network, Plans and Service. So, operators need to work out in satisfying the rest of the share to withstand the competition in the coming days.
9.3 Results for Answer "I would rather use it as my Secondary number"
a)Reasons for taking Jio as a secondary connection?
57.1% of users are actually more concerned on the performance quality parameter rather than just to jump into a new network. So, Jio performance and word of mouth matters to these share of customers to make a switch on their primary number. Also, next major share of users just wanted to use Jio as their secondary number to enjoy very affordable data/voice rates. Not a good reason to rejoice for Jio, but a sign of revenue loss to the current primary operator.
So, from the numbers accumulated via TelecomTalk survey, we can infer that consumers are looking for very affordable Data packs equally competent with that of wired broadband and on the go broadband experience is what they are looking for. The application eco-system or bouquet of services with one connection is not what consumers are looking for and doesn't significantly pose a threat or impact the existing operators. So, the existing operators need to very much lower their price points till the market scenario changes to withstand the shift in the market share/trend and to face competition.
Dear readers, have you already made a switch to Jio via it's various device bundled offers? If so, how is your experience ? Do share your experiences/opinions via comments or tweet me @Srikapardhi .
Note : This survey is based on the inputs received from TelecomTALK readers across India. The results and analysis are only derived from the survey inputs received and hence no personal opinion or interest is involved. The results and analysis are just assumptions from the survey inputs and may or may not depict the actual market scenario. The survey is just to analyze the pulse of consumers across India. *Numbers may slightly vary due to various reasons. Care is taken to avoid any significant changes in the result graphs or numbers from the inputs received. Manual work involved may or may not contain errors.